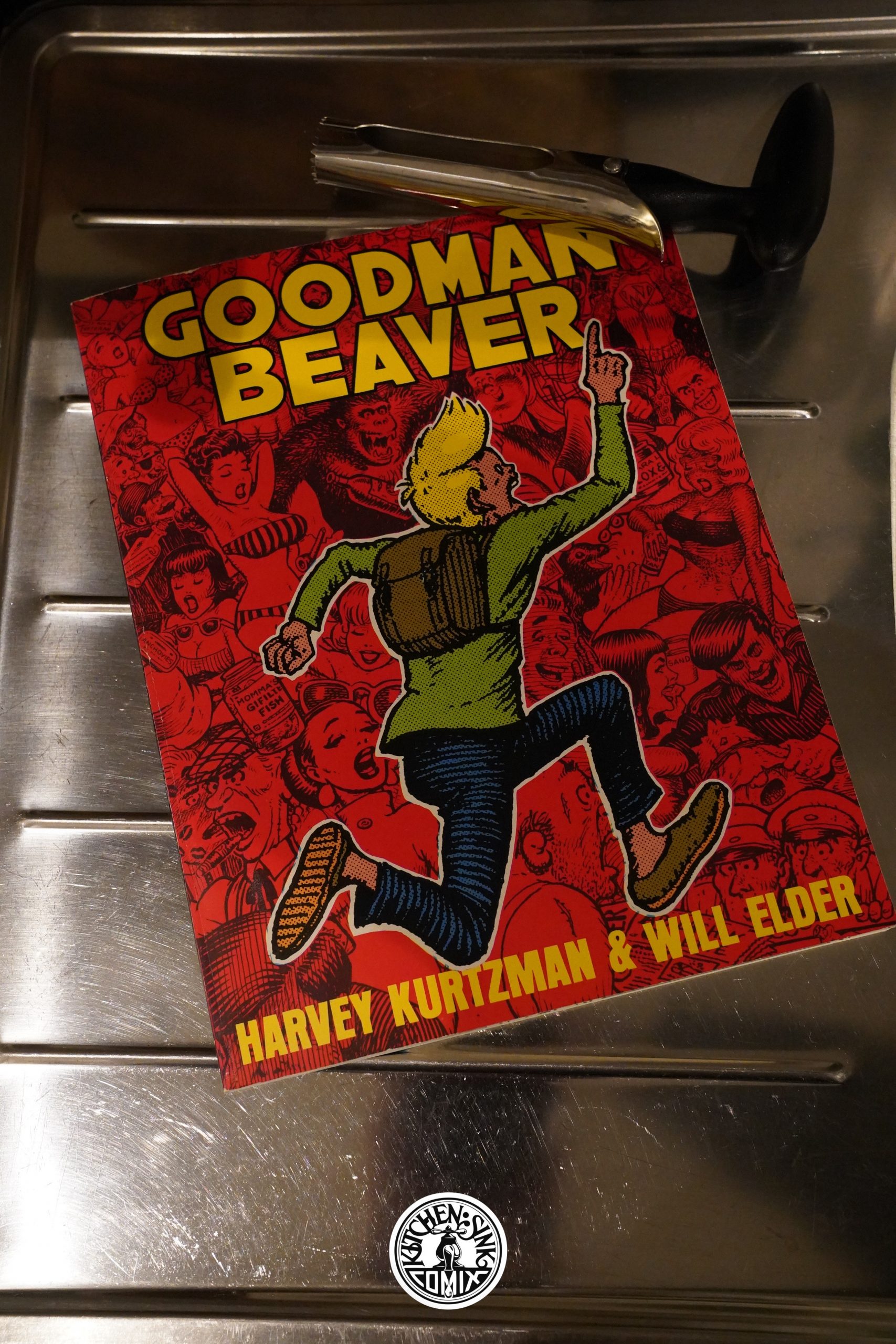 Goodman Beaver (1984) by Harvey Kurtzman and Will Elder
I had this book as a teenager, but all I can remember about it is a vague feeling of dissatisfaction with it. Which is rather odd, because I was a big fan of Mad magazine.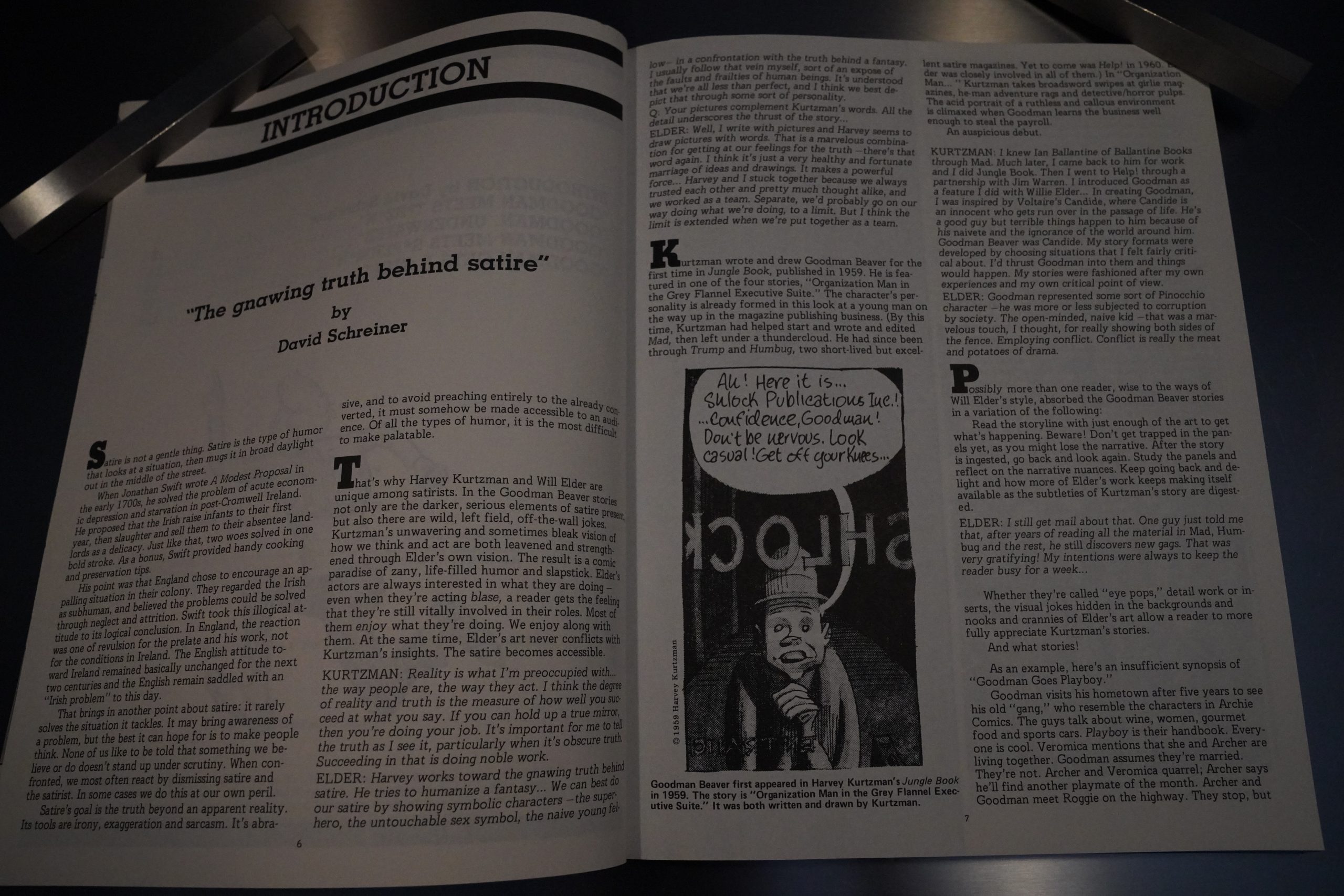 This is an album-format book — I don't think Kitchen had published anything that wasn't either magazine, standard US format comic book, or standard European album format at this point? The well-written introduction explains how the book came to be: These are stories from Kurtzman's Help magazine, which were then reformatted for a pocket book, and this is a reprint of that pocket book. Which makes the choice of format rather puzzling.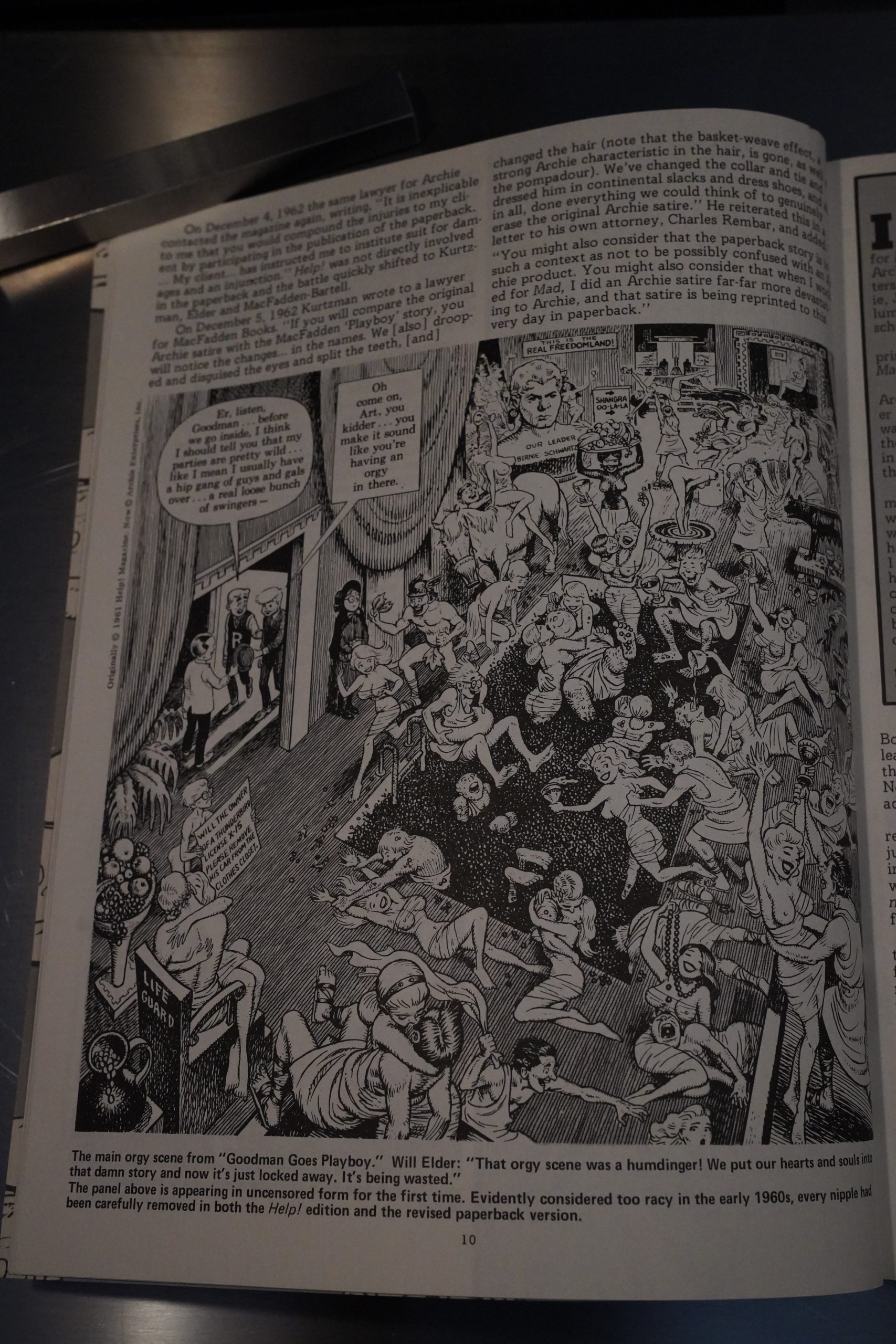 And it doesn't include all the Goodman Beaver stories: One of them, Goodman Goes Playboy, had been surrendered to the mighty Archie corporation to stave off a lawsuit from them.
Gary Groth finally reprinted the story in 2004:
After Comics Journal co-owner Gary Groth discovered that Archie Comics had let the copyright on "Goodman Goes Playboy" expire, he had the story reprinted in The Comics Journal #262 (September 2004). It was also made available as a PDF file on the magazine's website. The story has yet to appear in any reprint collection since the lapse of copyright.
Weird.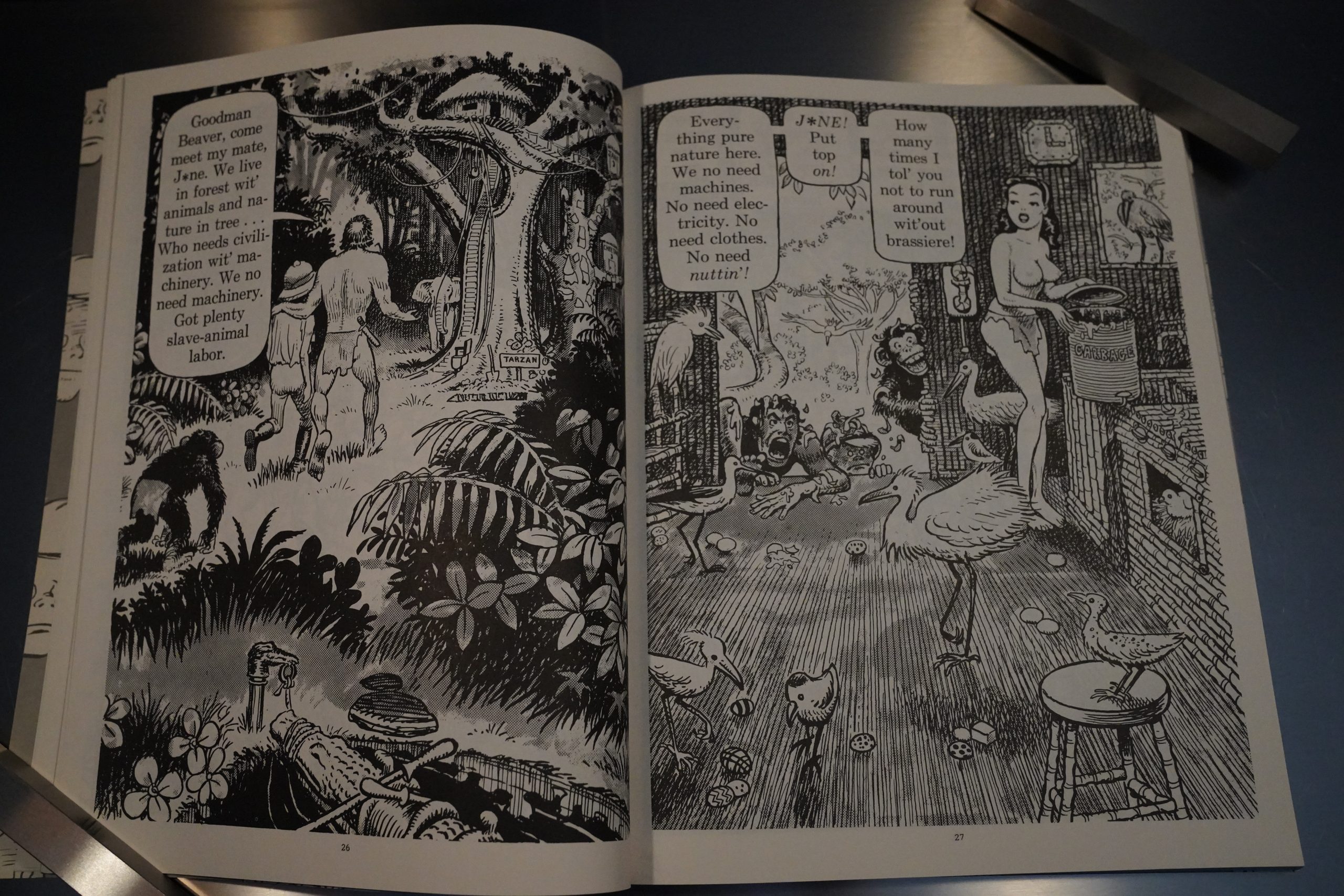 These panels were originally horizontal in Help magazine, but Elder added stuff to the bottoms of the panels to make them suitable for publishing as a normal format paperback book. So all the action takes place on the top half of the pages, which leaves a lot of… dead air at the bottom of the pages.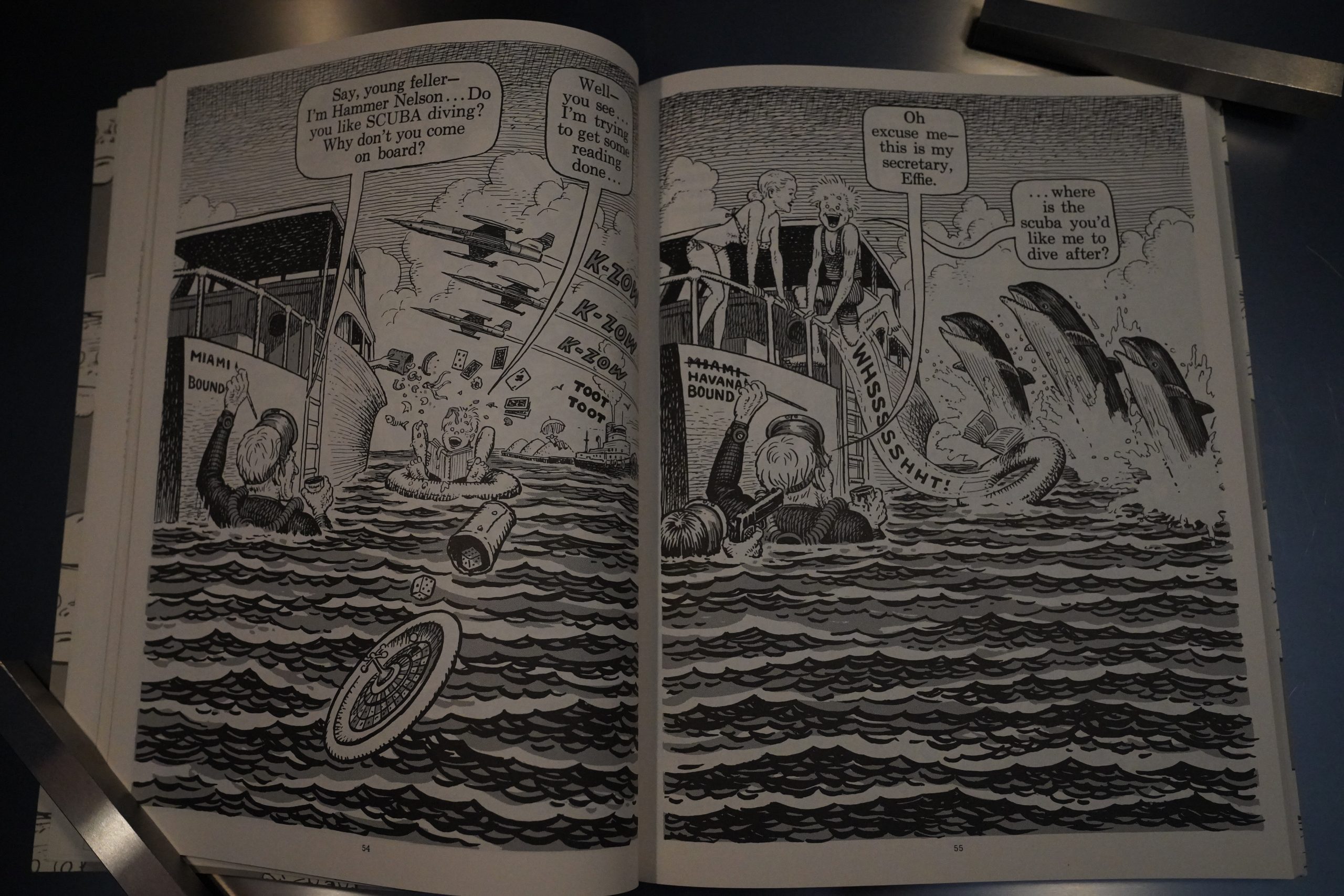 Perhaps this was less of an issue in the paperback version, but printed this large, it makes for a strange reading experience.
And I'm guessing this had something to do with how I looked at the book as a teenager: It's a big, thick book, but there's so little in it. It's basically just four stories that would fit into half an issue of Mad, but magnified to ridiculous proportions.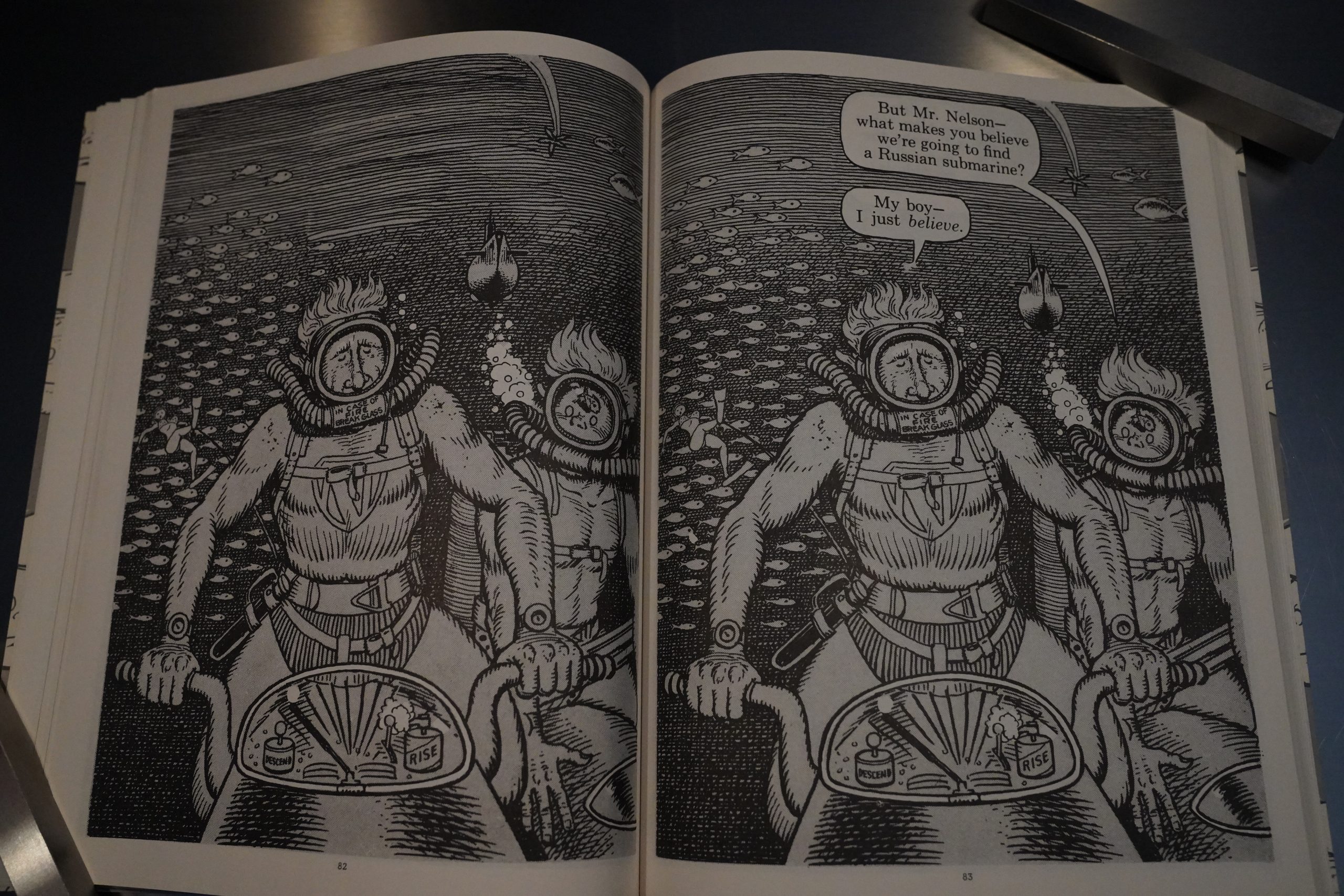 And there's also oddnesses like this. I'm guessing it's a … storytelling beat? Or a glitch?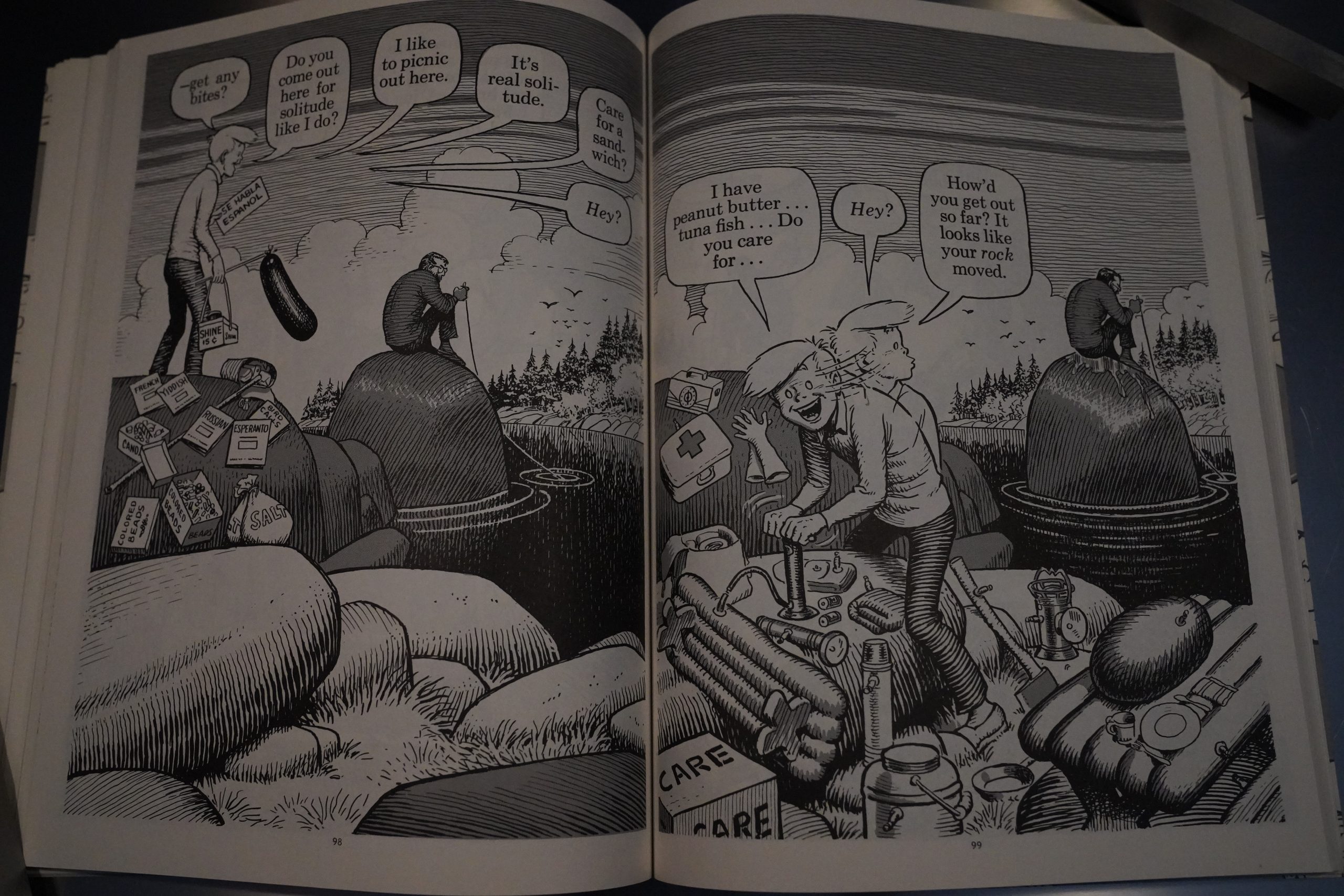 Sometimes Elder livens up the formula with added emptiness at the top of the pages instead, but…
And Elder is known for adding little itsy tiny gags all over the place, and you'd think he'd excel at filling these pages with funny nonsense? At sometimes he does, and it's amusing, but mostly he doesn't seem to bother.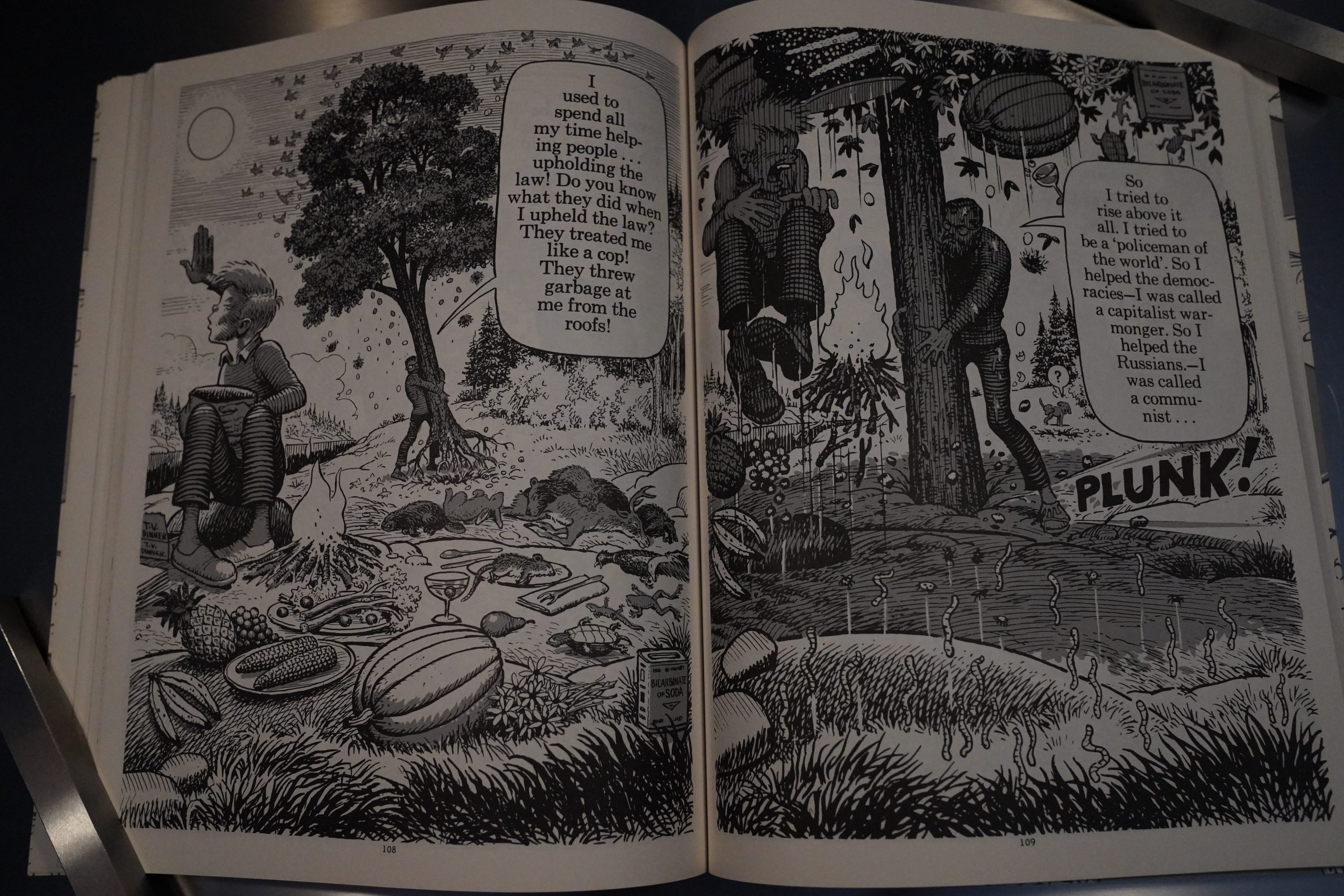 Oh, yeah, the stories…. the introduction waxed excessive about satire, but these stories aren't very biting. They're standard Mad fare. With nice artwork by Elder, so they're nice Mad stories, but that's basically all they are. The gags mostly aren't hilarious, and the plots aren't that interesting.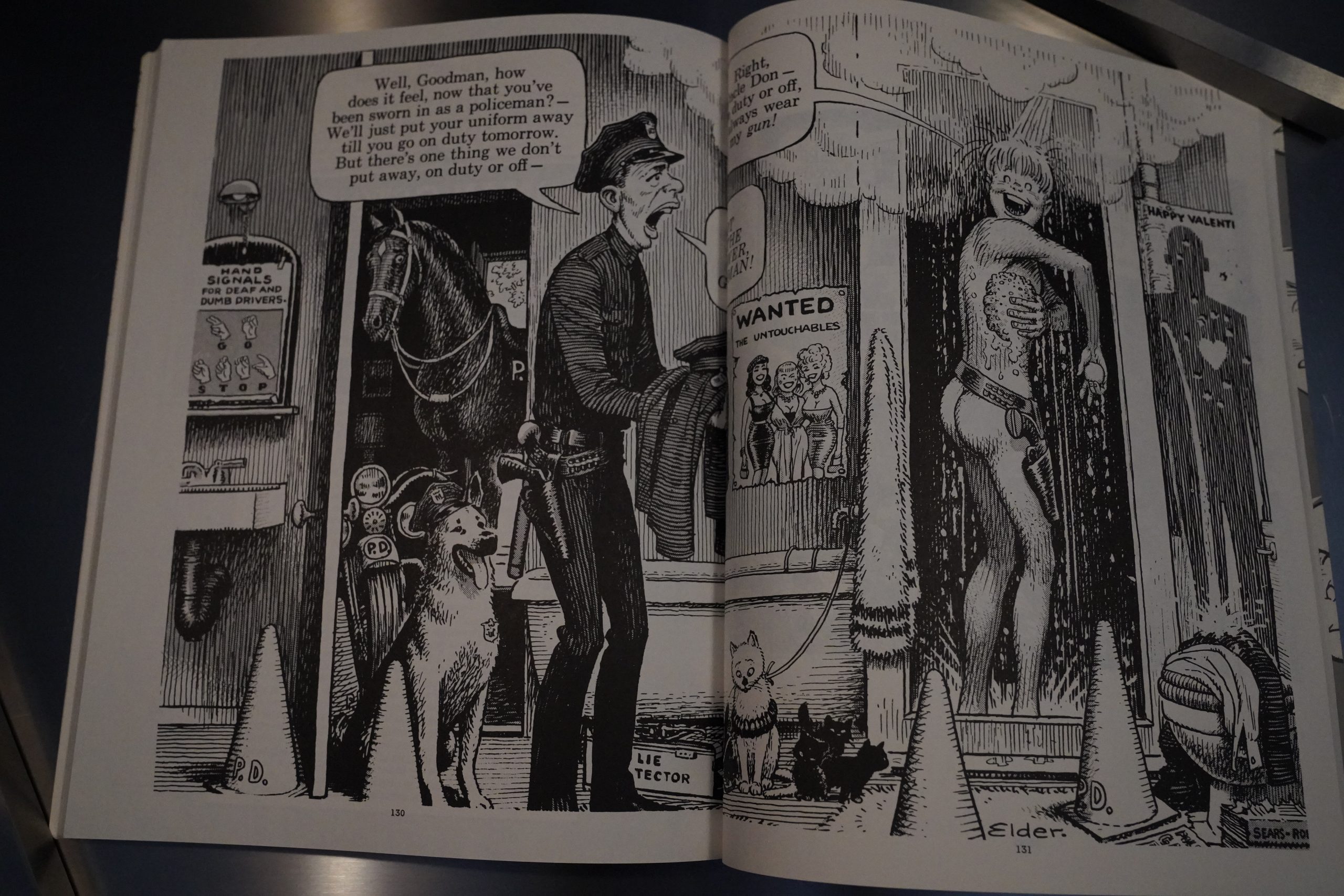 The final story wasn't included in the paperback version, so it's reprinted from the Help panels. Which leads to problems with gutters obscuring stuff….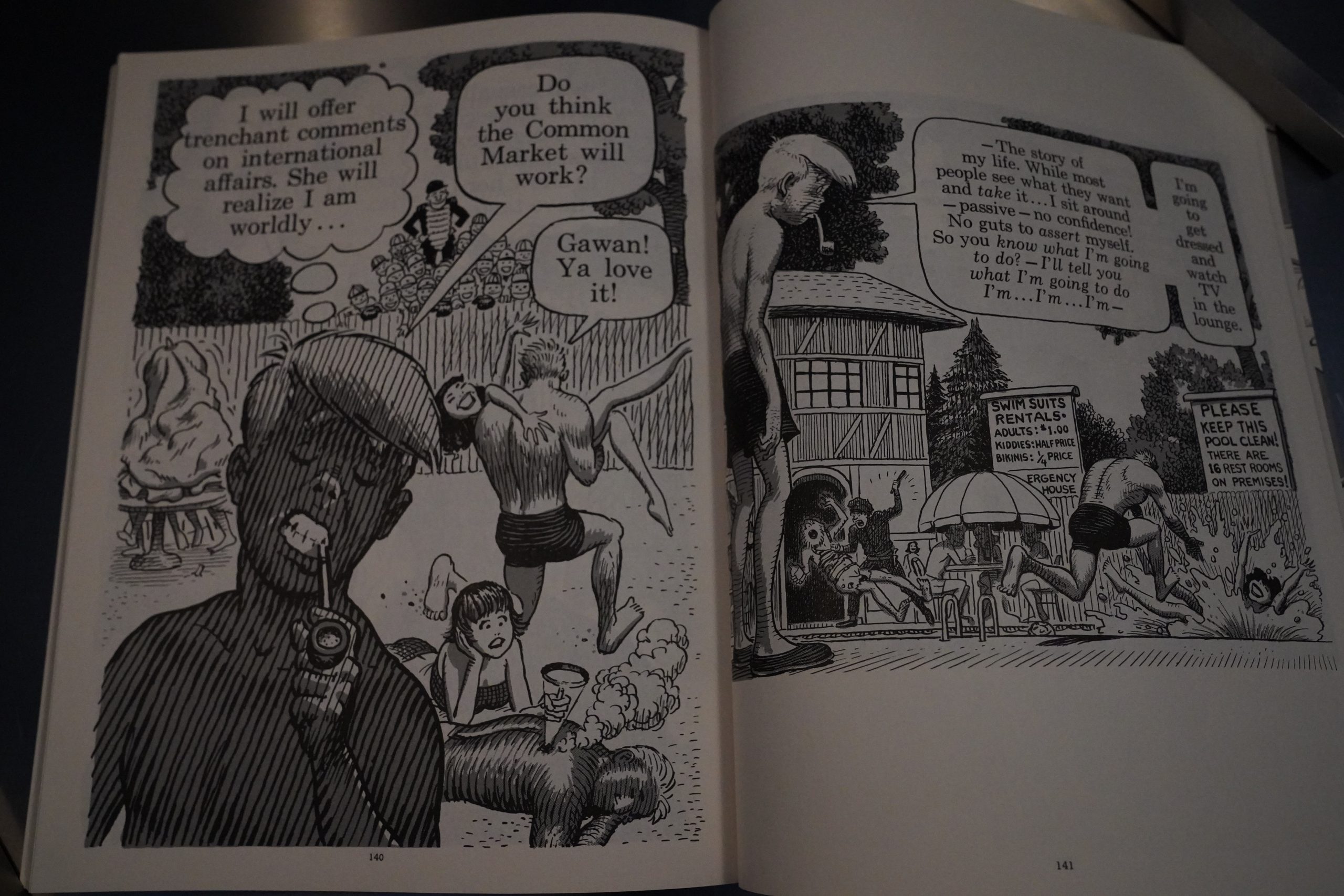 … and then blowing up some panels to a ridiculous degree.
As a reading experience, and as a physical object, it's just not that attractive. But as a collection of four mildly amusing Mad stories, it's OK.
It's number 64 on the Top 100 comics in The Comics Journal #210, page 56:
The commonjudgment ofthe team
ofKurtzmanandElderamongcom-
ics fans is that their best work was
the satire they created for the early
issues of Mad. However, this per-
ception glosses over five tales that
stand out as the best satire ever
conceived for the comic medium:
The Goodman Beaver Stories.
These stories that appeared
originally in Help! Magazine offered
views of modem society that work
even better now than they did in
1962. While four ofthem dealt with
subjects that were lampooned earlier
in Mad (or could have been), each
one tackled deeper issues that re—
flected the dilemma Ofmodem man.
"Goodman Meets S*perm*n"
explored the fact that a real super-
hero would give up on humanity
after realizing that "people are no
damgood!" "Goodman Goes Play-
boy" features a look at Archie and
his gang grown and striving to live
the life of modern, hedonistic,
swingers, and eagerly willing to sell
theirsouls to get that life. "Goodman
Meets T*rz*n" puts a stamp of
harsh modern reality on romantic
perceptions of jungle intrigue and
adventure, and "Goodman, Un-
derwater" grapples with the idea of
actually altering dull realities to be-
come full ofintrigue and adventure.
"Goodman Gets a Gun" is an odd
story wherein Goodman himself
tries to live out his fantasies as op-
posed to just observing others.
All of these stories are pointed
as hell, clever and would be hysteri-
cally funny even if they were all text.
But Elder's artwork is utterly master-
ful, done by a draftsman at the height
Ofhis prowess. Each and every panel
contains incredible detail — not just
n the inking technique — but in the
thousan& oflittle "throwaway" gags
he delightfully squirreled into them.
Each can keep a reader occupied for
hours. I've been re-reading them
regularly for 37 years and haven't
gotten tired of them yet.
Pap pap comics never die.
This is the seventy-first post in the Entire Kitchen Sink blog series.