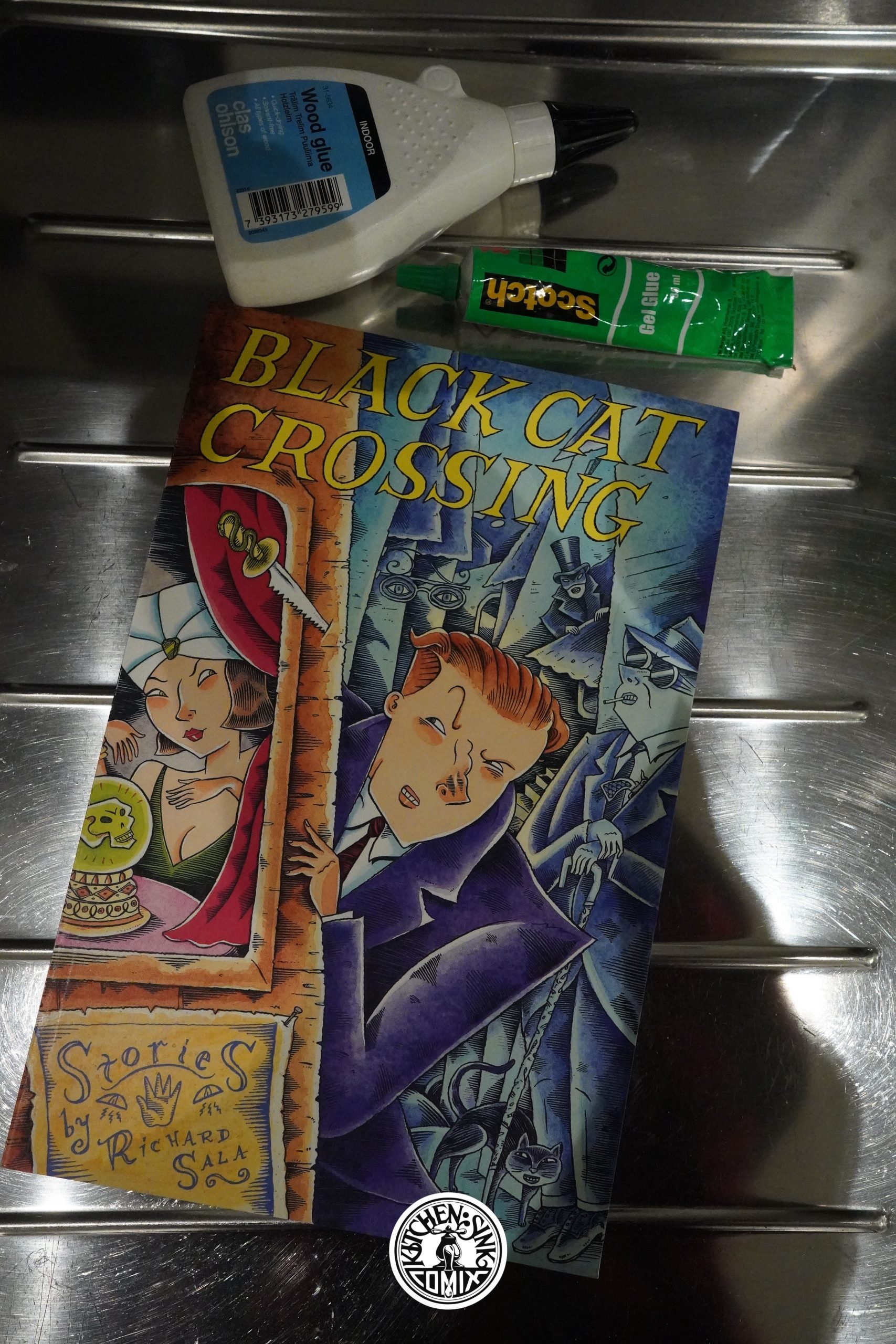 Black Cat Crossing (1993) by Richard Sala
We're back to what Kitchen Sink does best: Reprint stuff.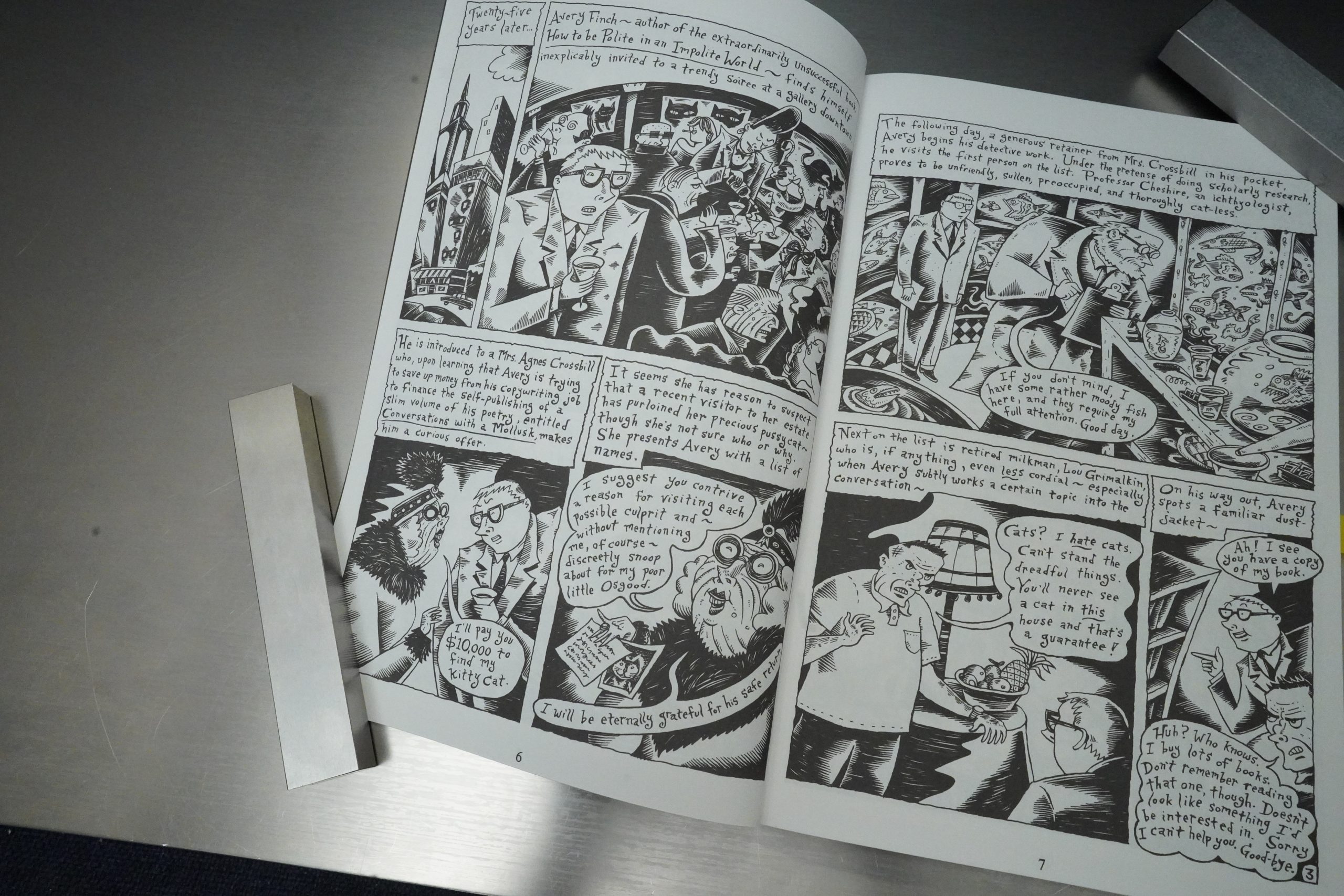 OK, slightly snide remark there, but that's indeed been Kitchen Sinks bread and butter since the 70s. The trend started off by basically reprinting everything in Bijou Comix, but exploded as single-author collections, and then continued on with The Spirit and a myriad of comic strips.
So this collects various bits and bobs from Blab, Drawn & Quarterly and Raw (vol 2). I was a huge fan of Sala back then — who wasn't? That art style is so incredible and seems to hint at all sorts of depths and mysteries.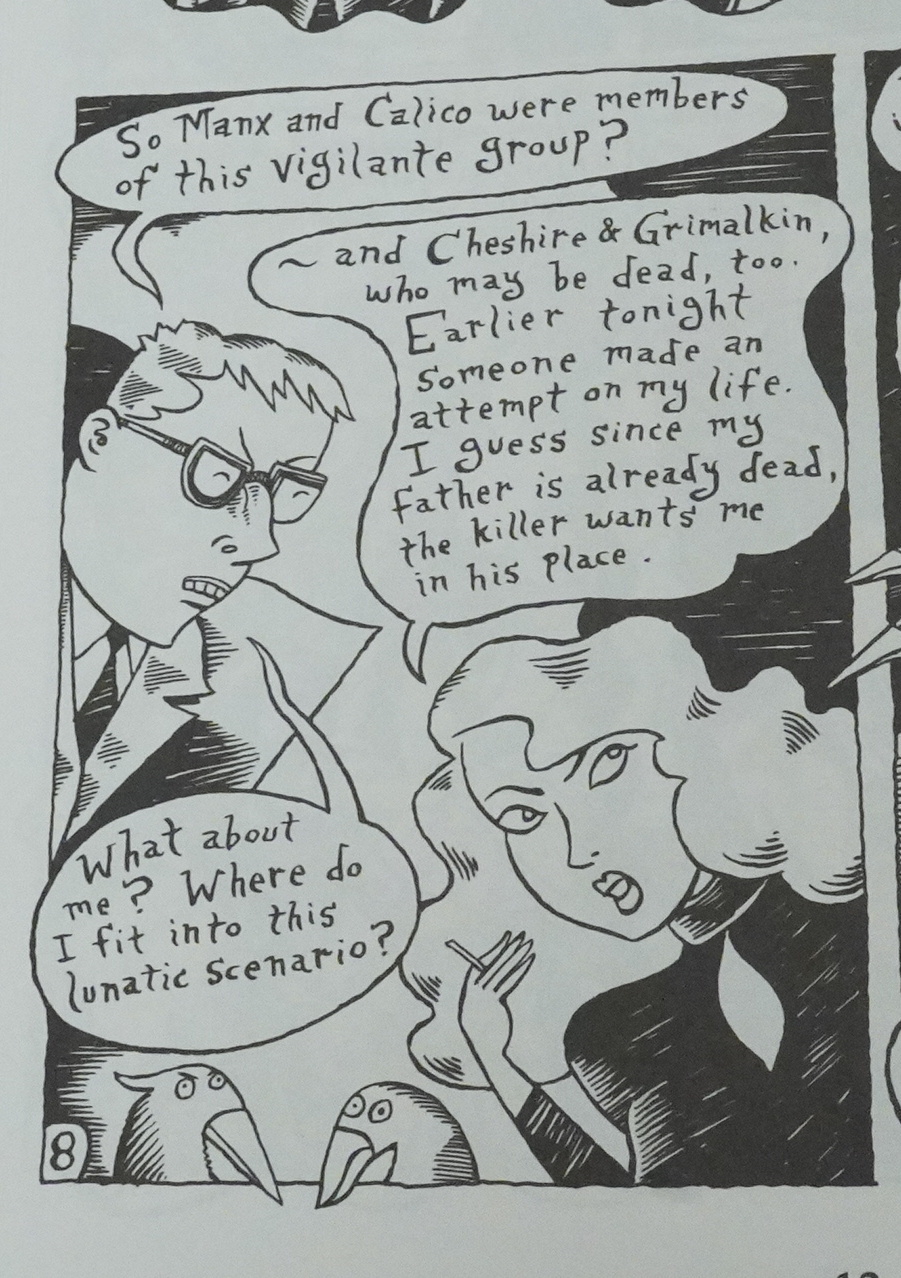 Unfortunately, Sala rarely delivers. In an anthology, it's find, because you get a burst of mystery and it's over, but in a collection like this, you get one lunatic scenario after another, and few have any sort of satisfying storyline, really.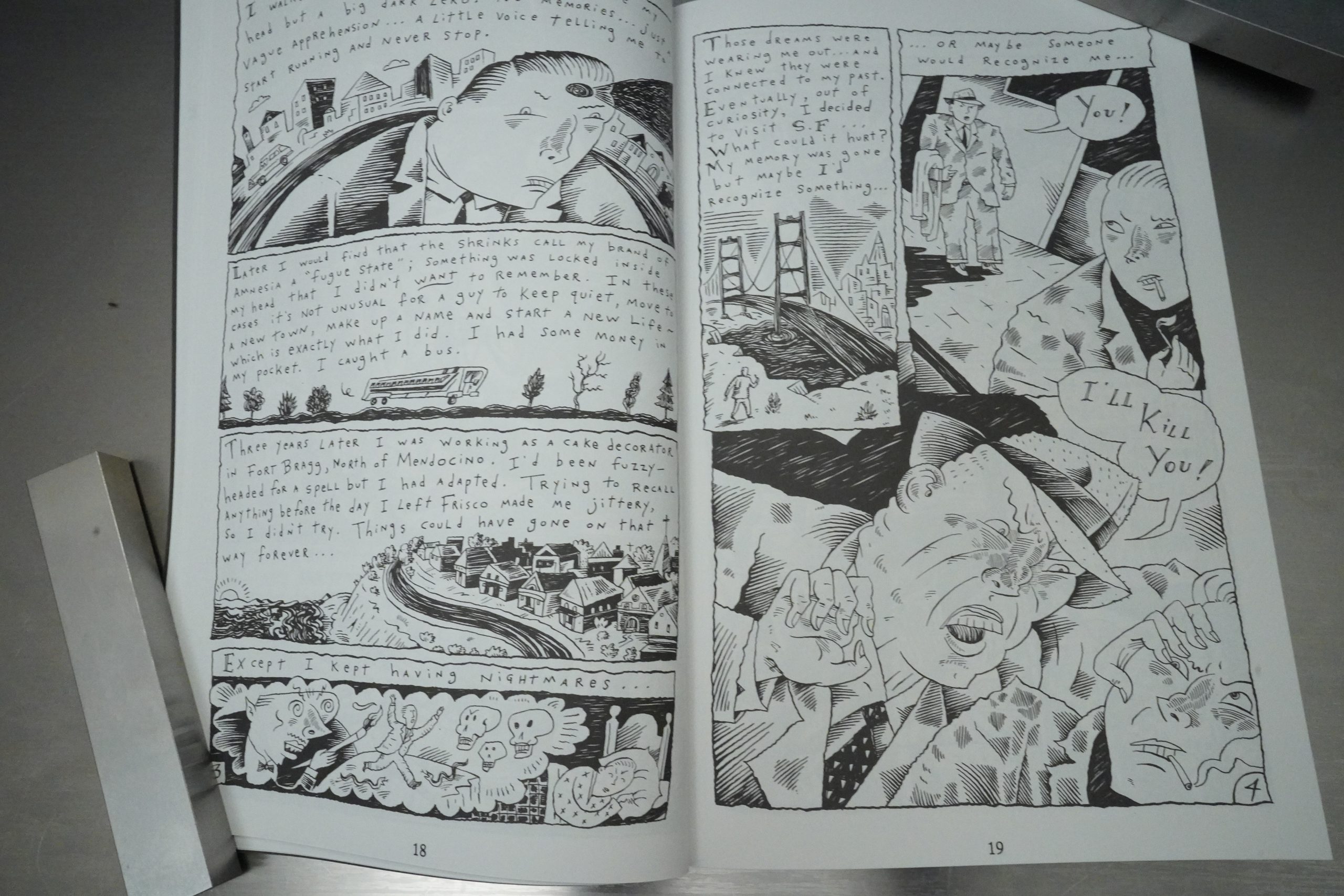 I'm guessing virtually all of these pieces are improvised until Sala has the right number of pages, because many of them just seem to stop. And when Sala gets text heavy, it gets downright tedious.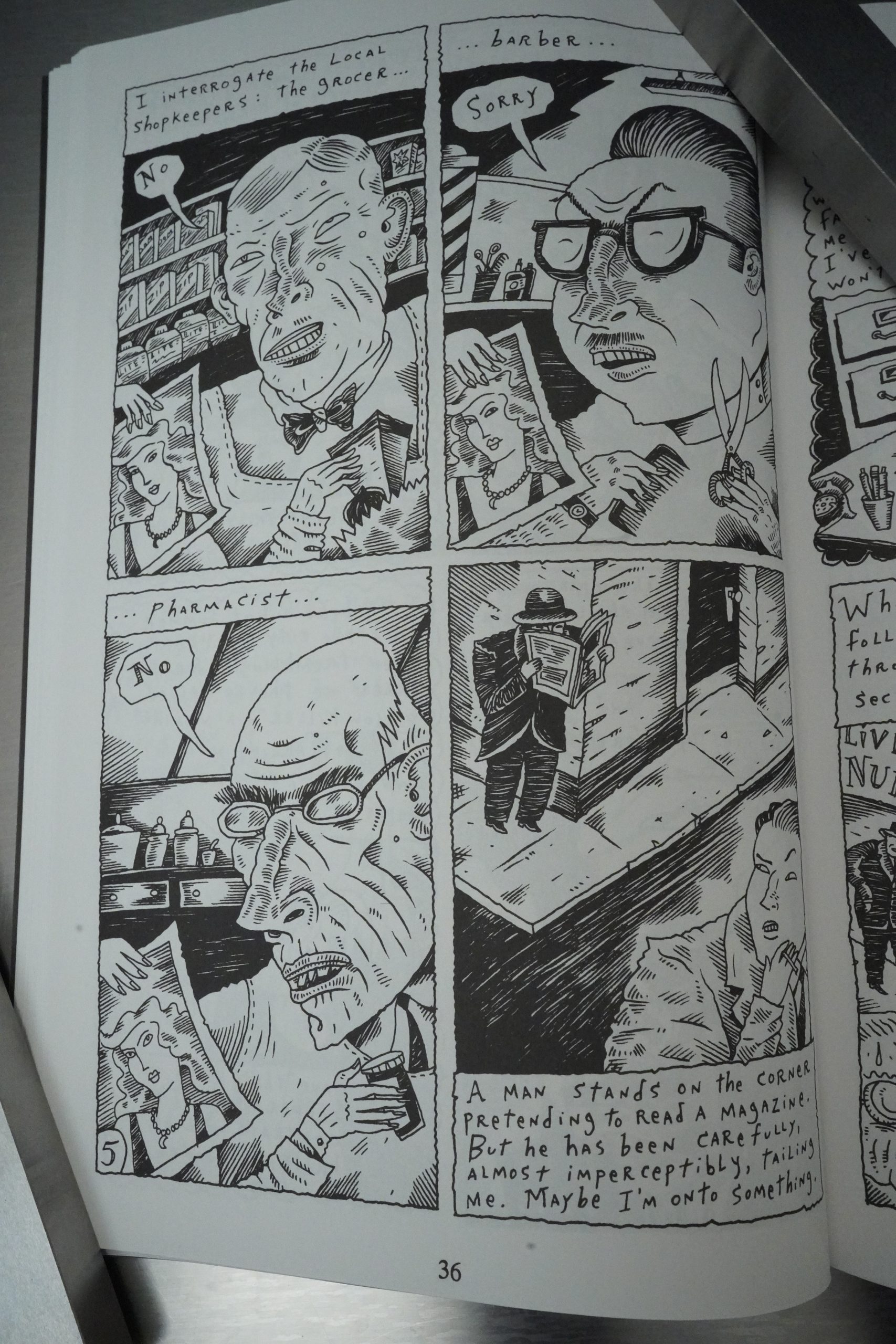 But that artwork… it's so amazing. It's one of the most distinctive, mind-boggling styles — it seems so primal; so… important somehow.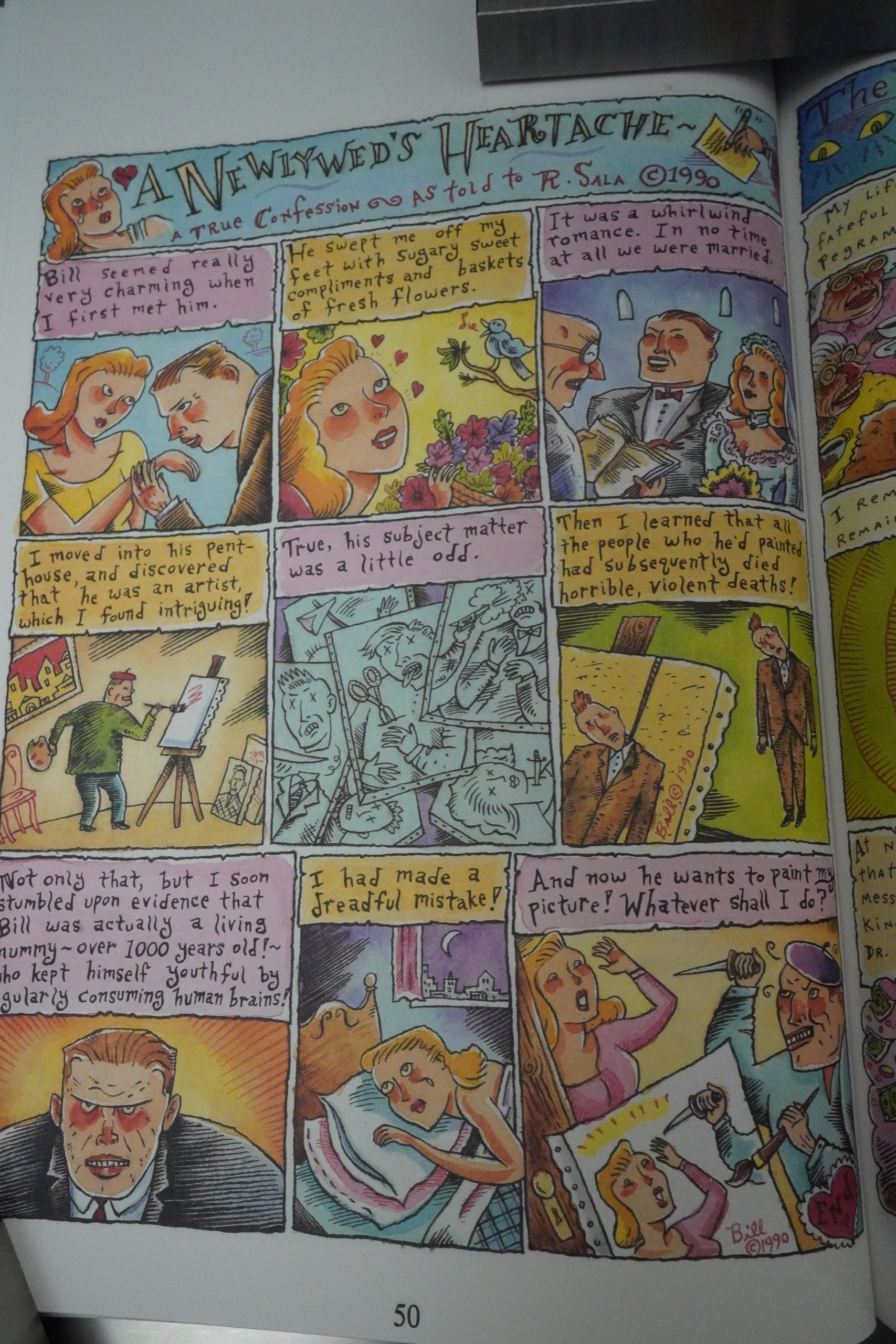 And Sala can be quite funny.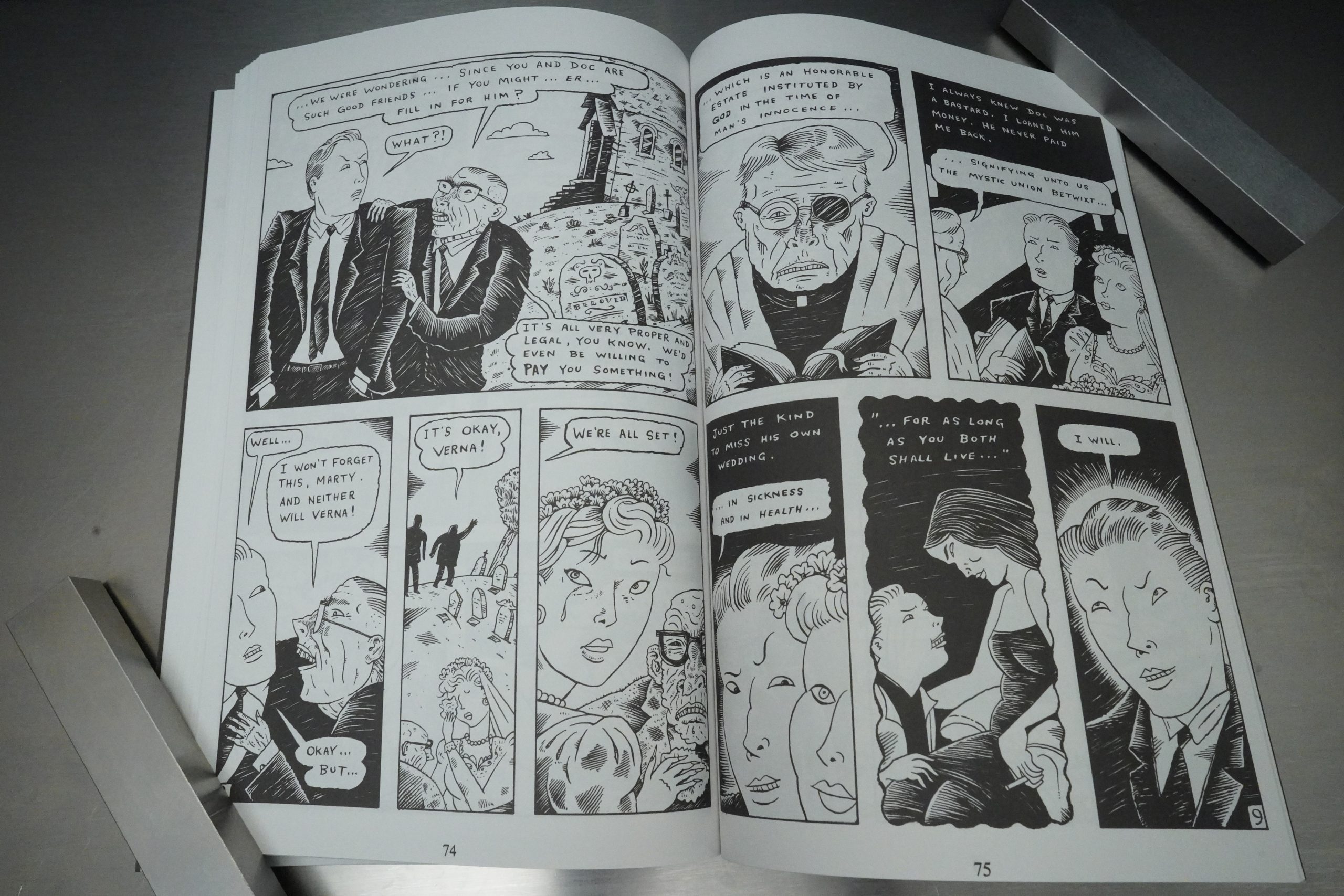 One story stood out here — it has a conventional descent-into-claustrophobia structure, with a real ending and all. It turns out to be written by Tom DeHaven, which explains that.
The Comics Journal #163, page 24:
Sala's Mysteries Collected
Richard Sala, whose work has regularly ap-
peared in comics anthologies for the last eight
years, is following up his two 1992 releases,
Hypnotic Tales and Thirteen O 'Clock, with a
new 96-page collection, Black Cat Crossing,
from Kitchen Sink Press. The book is a collec-
tion of mystery genre short stories, reprinting
strips from Blab!, Drawn & Quarterly, and
RAW and featuring 21 pages of new material
drawn especially for the book.
"In comics it's hard to write fiction that's'
not associated with something strongly," said
Sala. "You're either in the MAD school, or the
superhero school, or the undergrounds… Wlth
Hypnotic Tales I was twing to do something for
myself. Black Cat Crossing is a little moie en-
tertainment oriented.
"A recurring thing in my work is a fascina-
tion with the enigmatic. A character is trying to
solve a puzzle. Usually the world outside is
threatening. There's a certain paranoid sensibil-
ity that comes through. By working in a genre
like mystery I'm able to channel those images
-into a plot and make something out of it.
"A friend of mine calls it 'whimsy noir."'
Sala further distinguished his new collection
from previous work, such as that which appeared
– in Hypnotic Tales: "By working in a genre like
mystery I'm able to channel images into a plot and
make something Out of it. Something that was
pointed out by myself in Hypnotic Tales is there
were mysteries that didn't have solutions. In fact,
the mystery was more interesting than my solution
could have been. Butl feel working in the genre
of mystery you have to come up with a solution.
I find you can come up with fun and clever so-
lutions that have a kick to them that make the
mystery worthwhile. It's not that life is an enigma
and we' II never understand it, it's more like play-
ing the whole genre and having solutions that do
work."
Sala traces his adult involvement in comics
from his interest in RAW magazine, which
started publishing in 1982. "Obviously as a kid,
I was interested in comics. I thought comics
can do all these great things. Being back in the
world of comics, I got re-seduced by the genre
and the fun you can have with it."
Sala resisted the artyness of RAW, however,
and turned to earlier comics, movies, and pulp
sources for his inspiration. He grew up as an
avid fan of thriller films #dåed from stories by
Edgar Wallace, monster comics by Stan Lee
and Jack Kirby, and crime fiction by the likes
Of David Goodis and Jonathan Lattimore.
' 'I remember back in the early to mid-'60s
there was a monster craze with The Addams
Family?' said Sala. "I havea•lot Of affection for
that period. There was aplayful innocence with
monsters and mystery which seems to have
gone completely. Monster movies these days
are so serious. There's no tongue-in-cheek feel
to them.
"Even though there's a lotof irony in my
work, I feel I'm happy to be part Of comics
rather than one of those snooty art guys stand-
ing on the Outside."
THE FUTURE
Like so many cartoonists' working in alternative
comics, Sala makes his living as a commercial
illustrator. His drawings have appeared in Play-
boy, Business Week Land Sassy, "Comics can
really spoil you if you're used to doing com-
mercial art, It's hard to go back taking orders
from art directors. I like drawing these creepy
to go back and draw a money tree for a story on
banks."
Sala, who lives in the San Francisco Bay
area, recently turned 38 and is now trying to
decide what he'll do next. "I didn't get into
comics until rather late. I self-published Night
Drive in 1985 which got me into RAW. I guess
in my mind I'm still 23. My ideals haven't
changed much since then. So I forget I'm so
Old. It doesn't bother me much except that
comics is a young man's field. Entertainment in
any form is a young man's field."
Sala has recently appeared in the first three
issues of Nickelodeon, a new children's maga-
toonists such as David Mazzucchelli and Kaz.
Sala looks to his new neighbor Dan Clowes
as an example of the perseverance that a car-
toonist requires io succeed. "He didn't get suc-
cessful overnight. He worked really hard and
put everything he had into it. He had a book
[Lloyd Llewellyn] that didn't work out and put
together another one [Eightbal[]. That's inspir-
ing to me. You realize that if you really want to
do something you should keep at it even if at
first people don't seem interested.
"We'll see how this book does," Sala con-
cluded. "I'd like to do more of these mystery
stories. I have a ton of them written."
I'm not sure whether these stories have ever been collected — has somebody done a real Sala Library kind of thing?
This is the one hundred and fifty-ninth post in the Entire Kitchen Sink blog series.