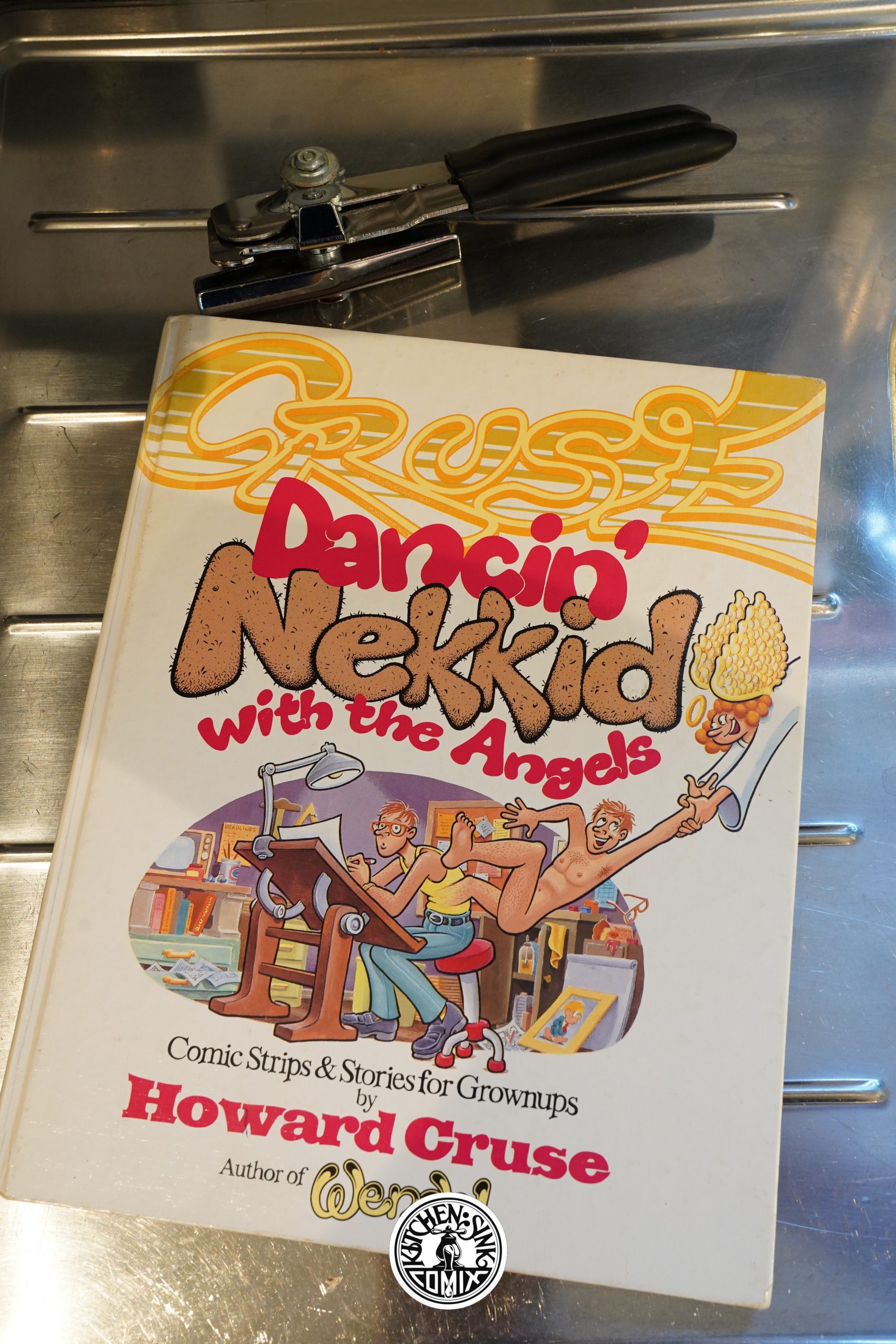 Dancin' Nekkid With the Angels (1987) by Howard Cruse
This is a collection of shorts — mostly from earlier Kitchen Sink anthologies, so I've already talked a bit about many of these pieces. So this is going to be brief.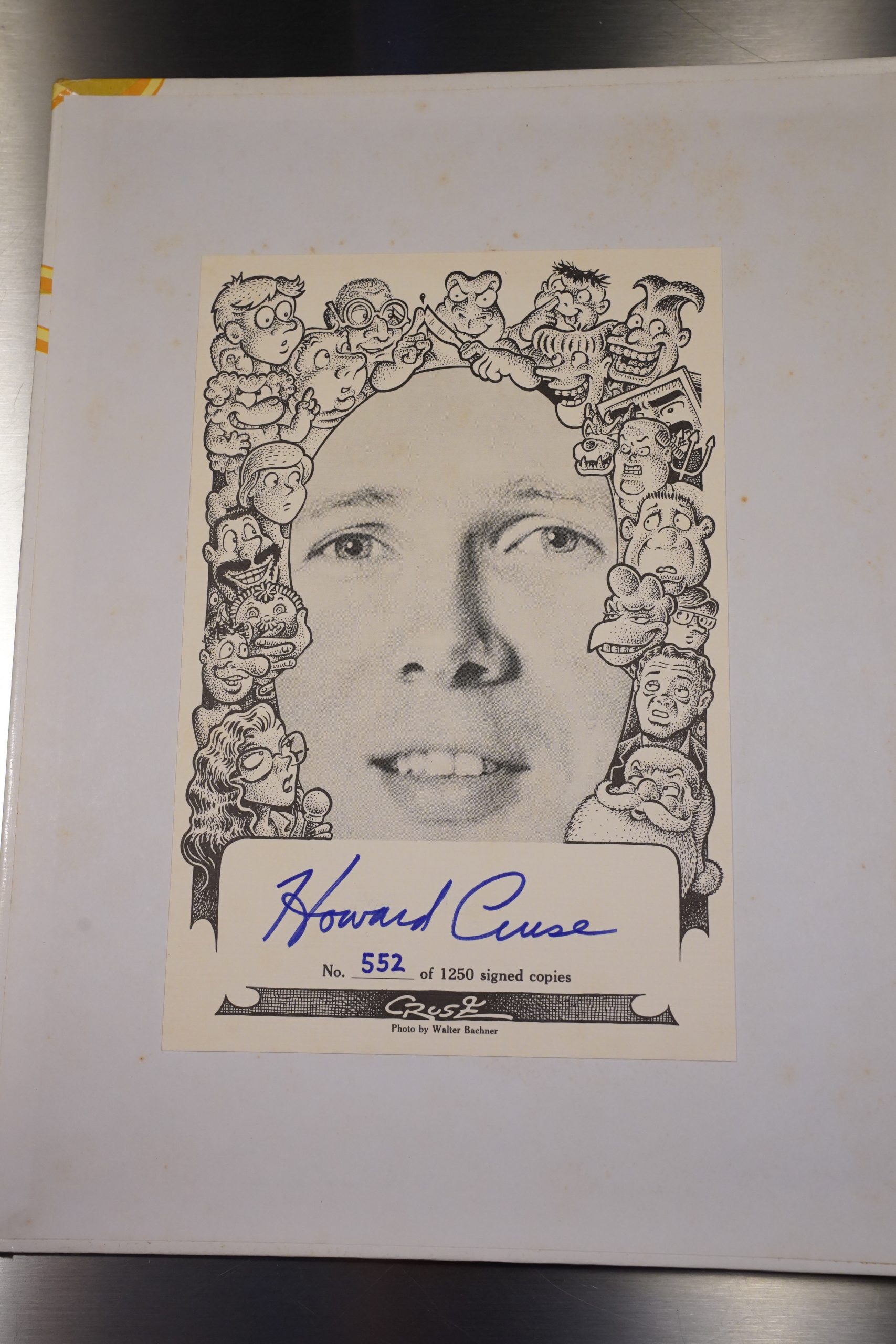 Heh heh.
I had the softcover version of this as a teenager, but it seems to have gotten lost over the years, so I bought the hardcover version now. It's quite handsome — it's in not quite in the European hardcover album format (it's slightly smaller), but it looks very nice.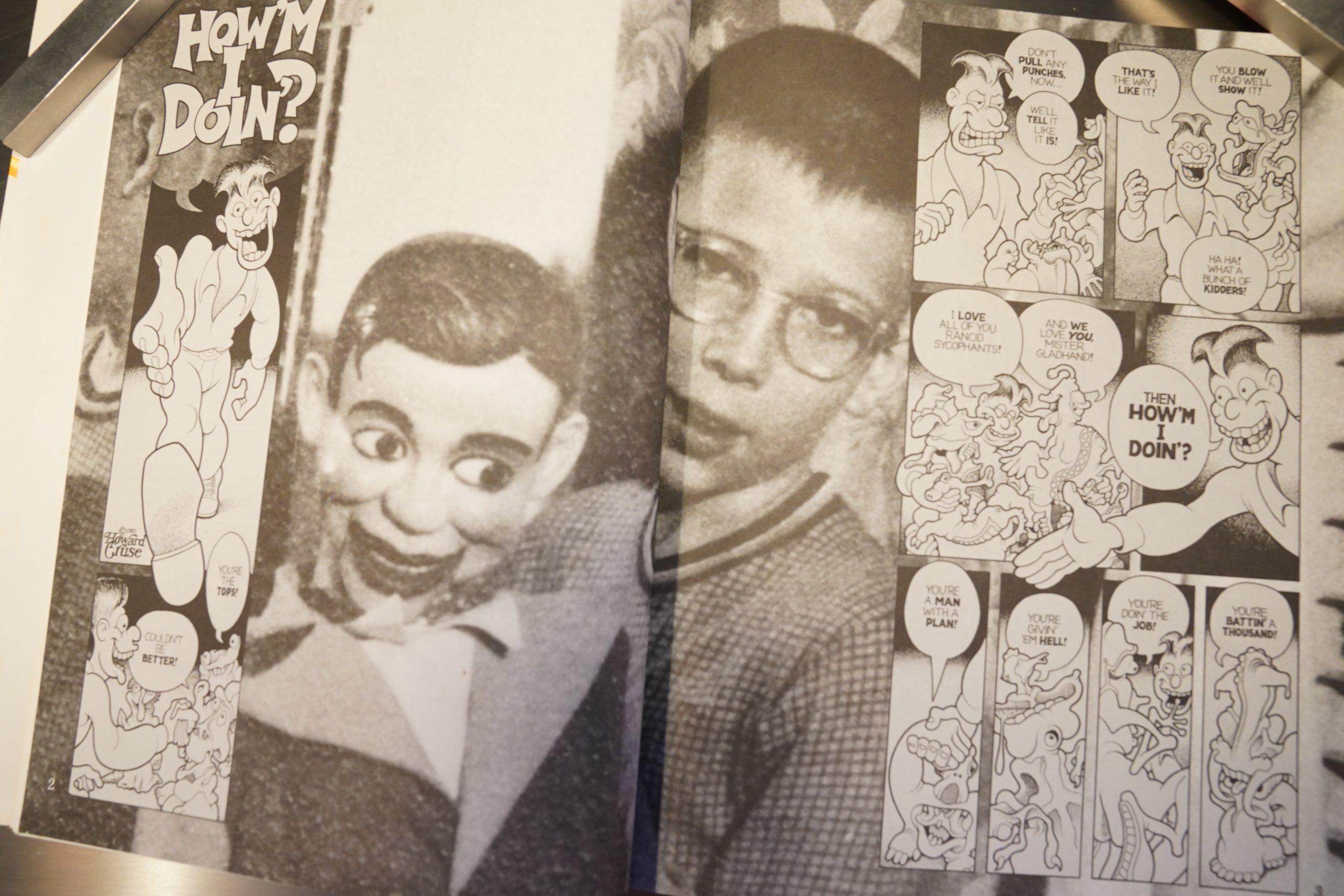 The reproduction is great, too. And… did this piece used to look like this? With the snapshots in the middle? It's very nice anyway.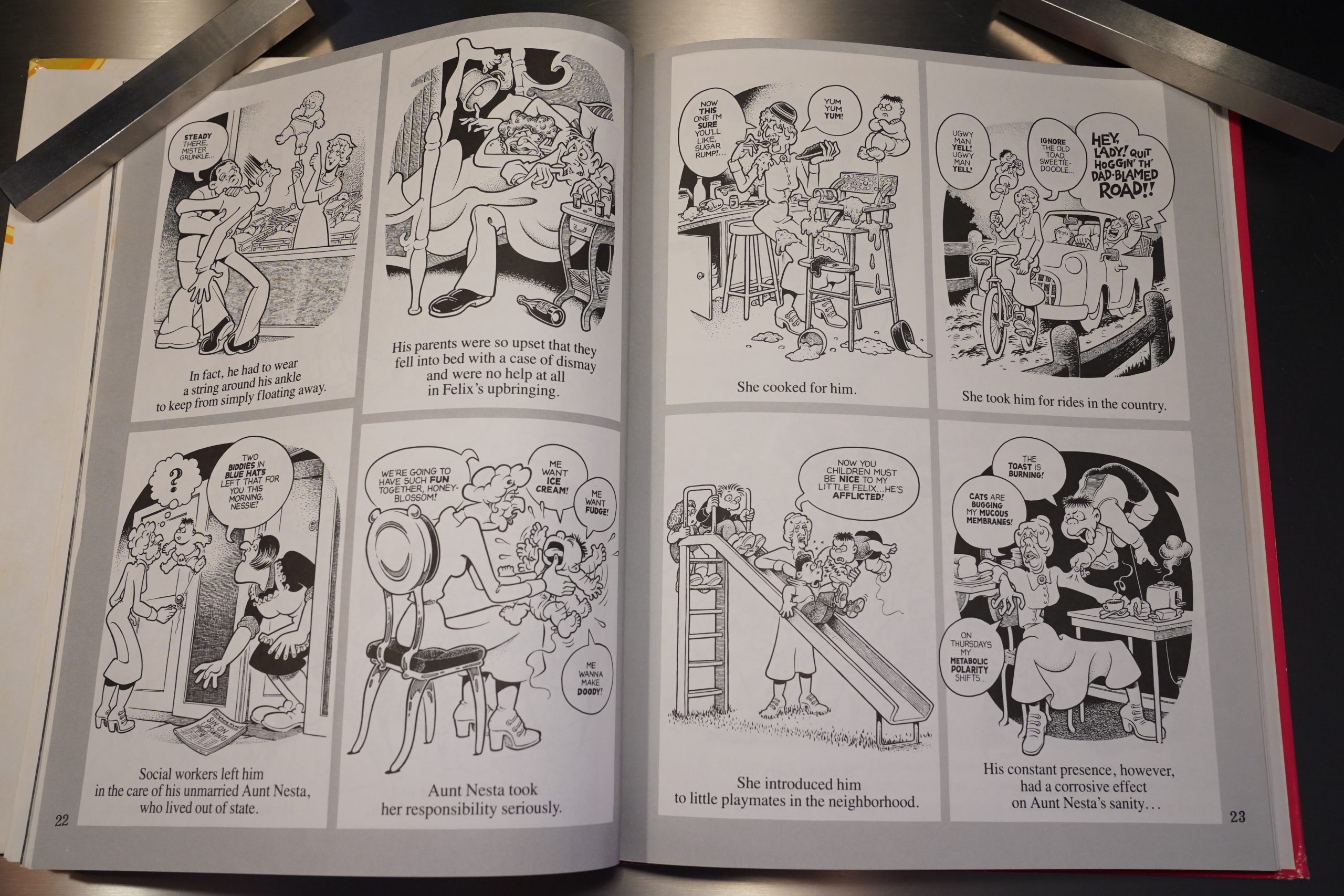 There's one new pieces — Felix' Friends — and it's quite amusing, but not among Cruse's weightier pieces.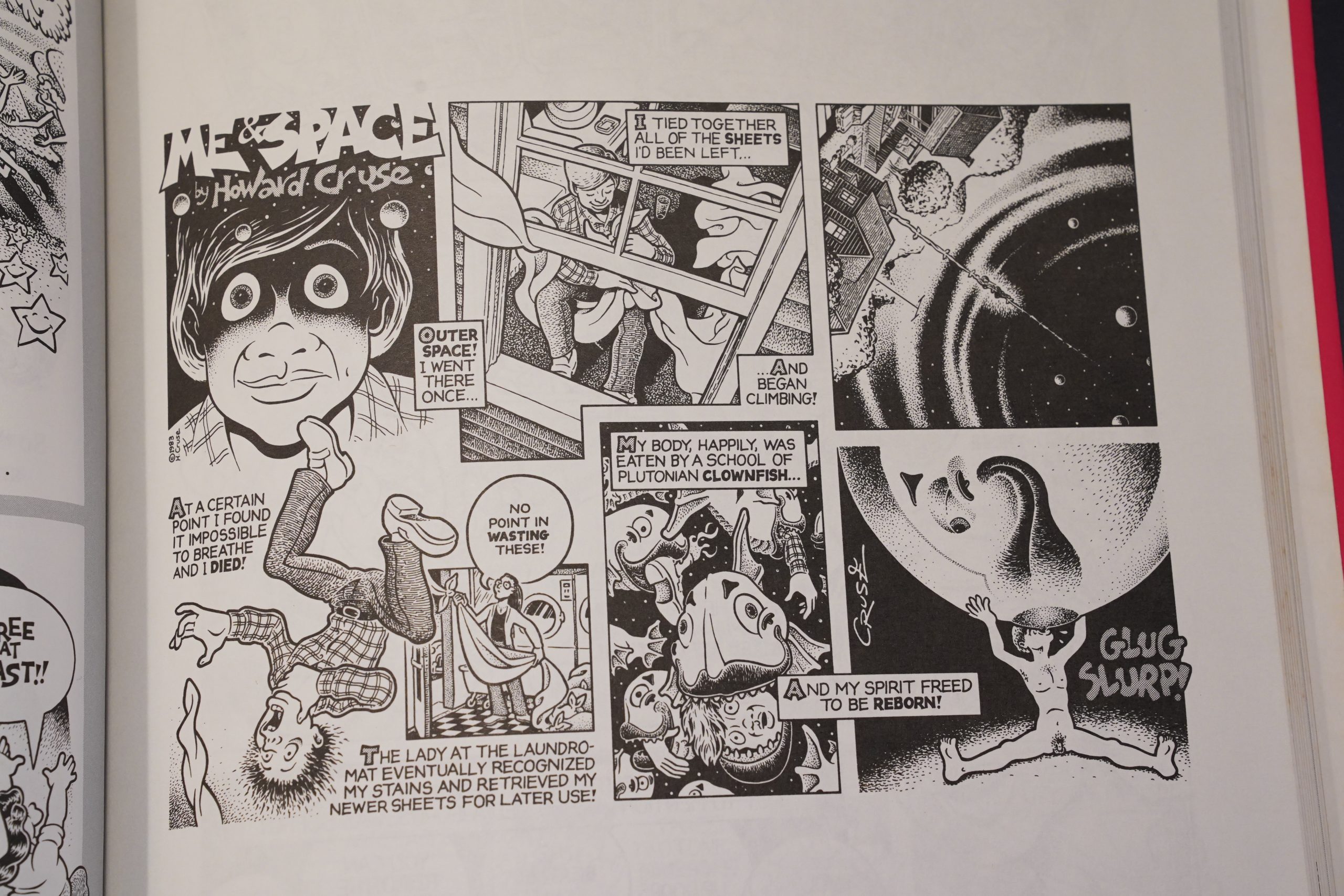 This isn't a complete retrospective — it eschews most of Cruse's earliest works, and collects mostly his late-70s/80s stuff. Which makes sense. But there's a couple psychedelic pieces included.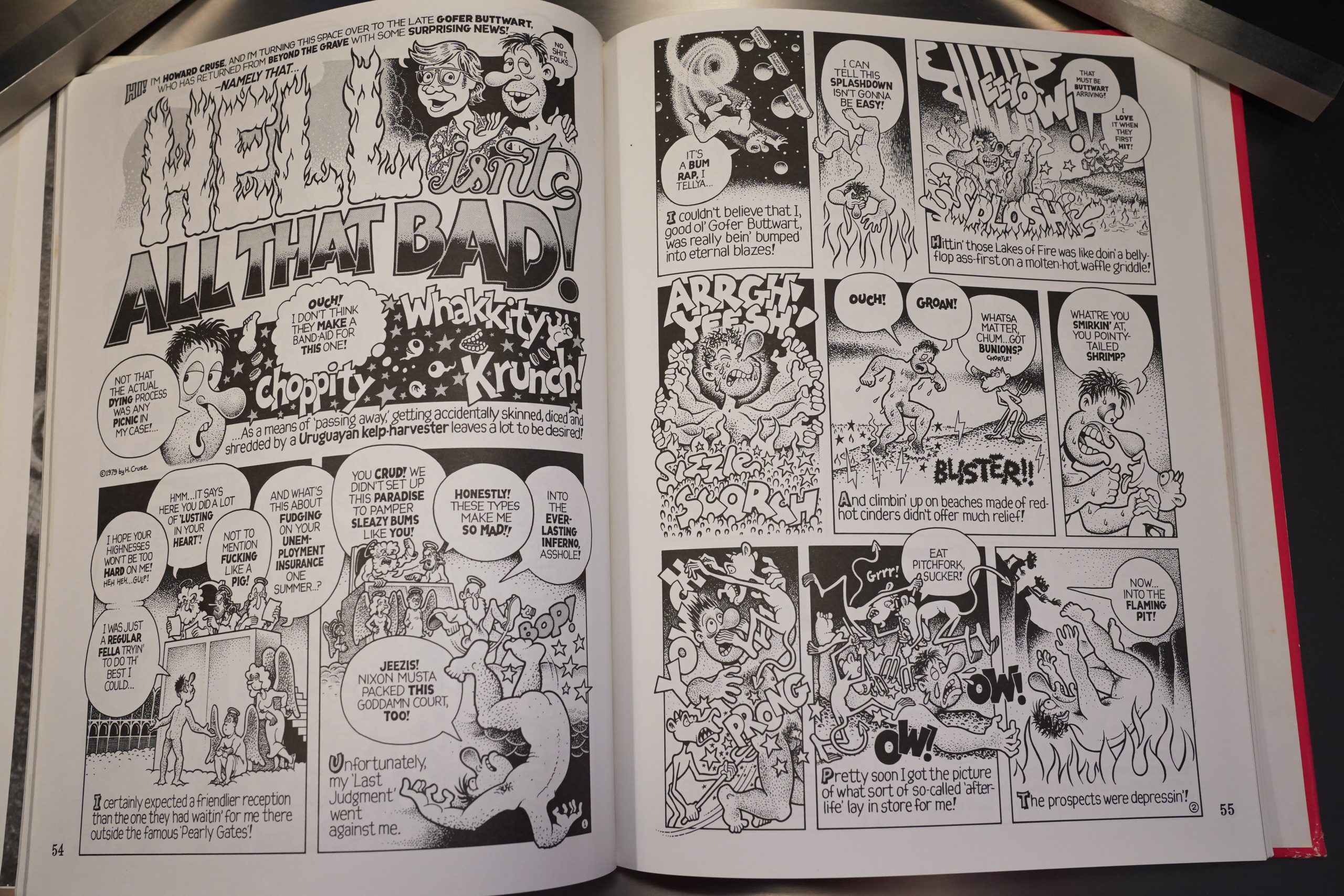 What's striking is how well the book coheres. It's not a chronological collection — Cruse has arranged the pieces according to how well they read coming after another, and it reads so smoothly. We get funny, moving, angry; all in a mix that seems, well, optimal.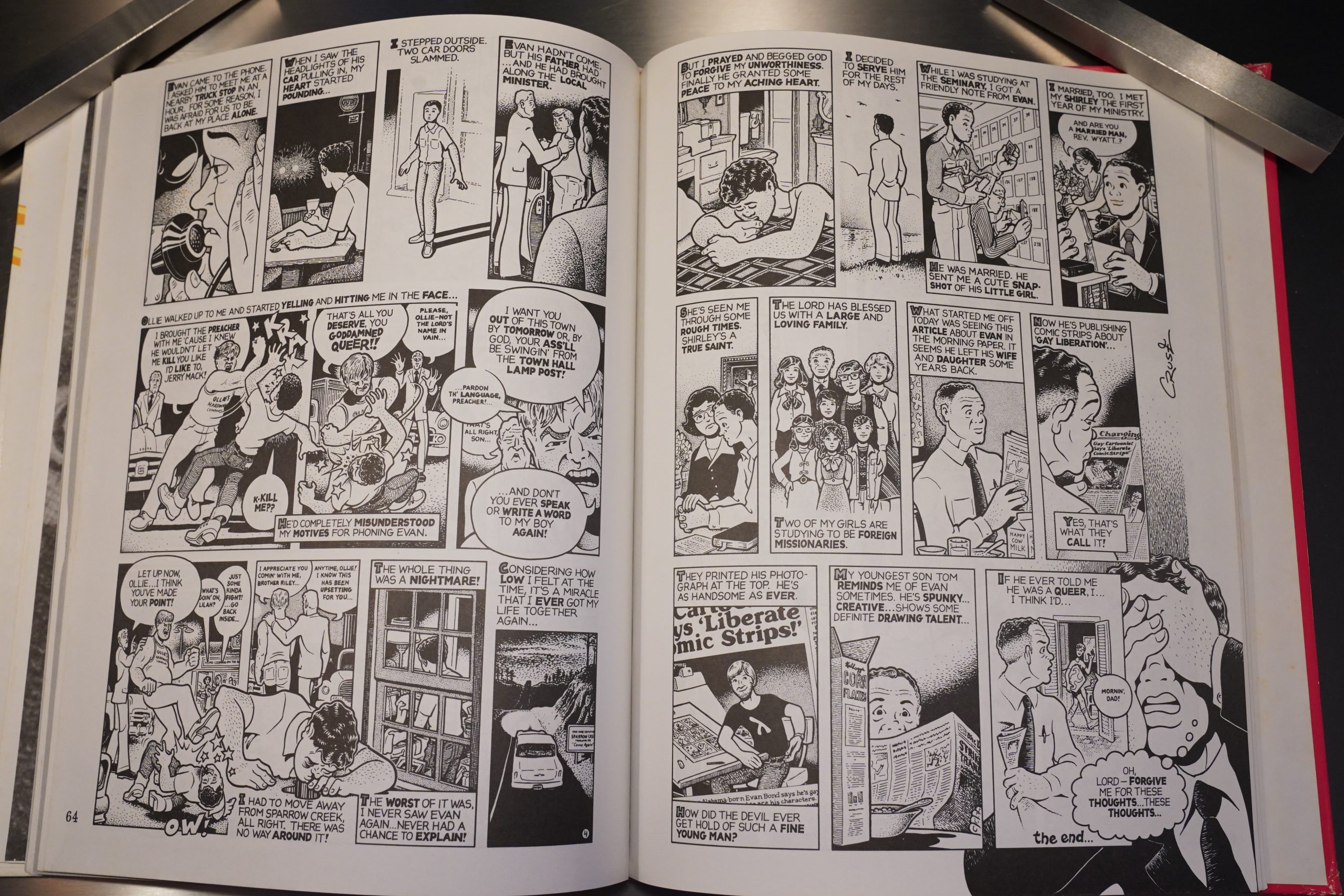 The book includes all the most memorable stories.
I've discovered that my favourite thing about doing this Kitchen Sink blog series is getting to (re-)read all these Cruse comics. He's kinda amazing? His artwork is super cute, of course, but he delivers one emotional sucker punch after another. He's just amazing.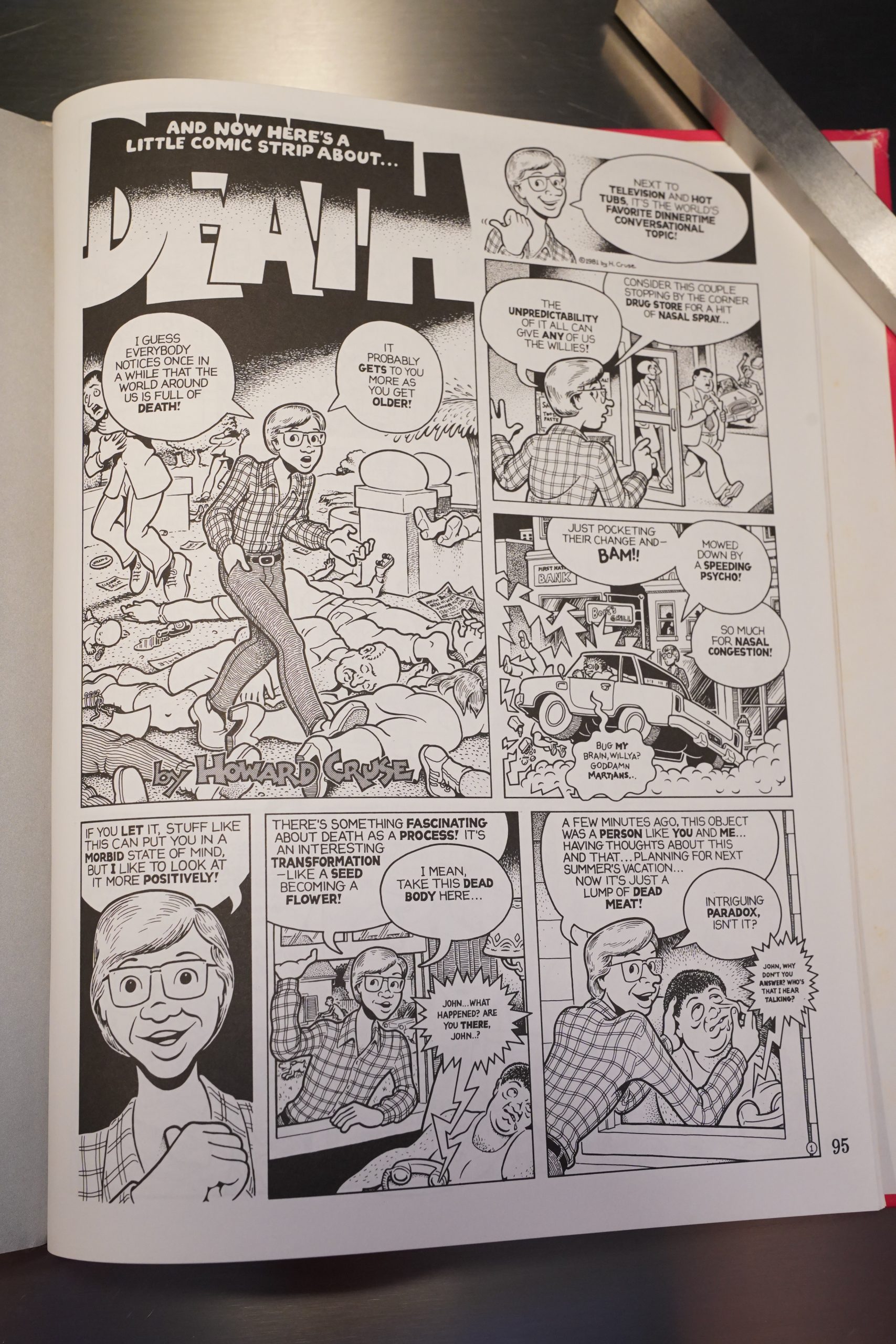 And funny.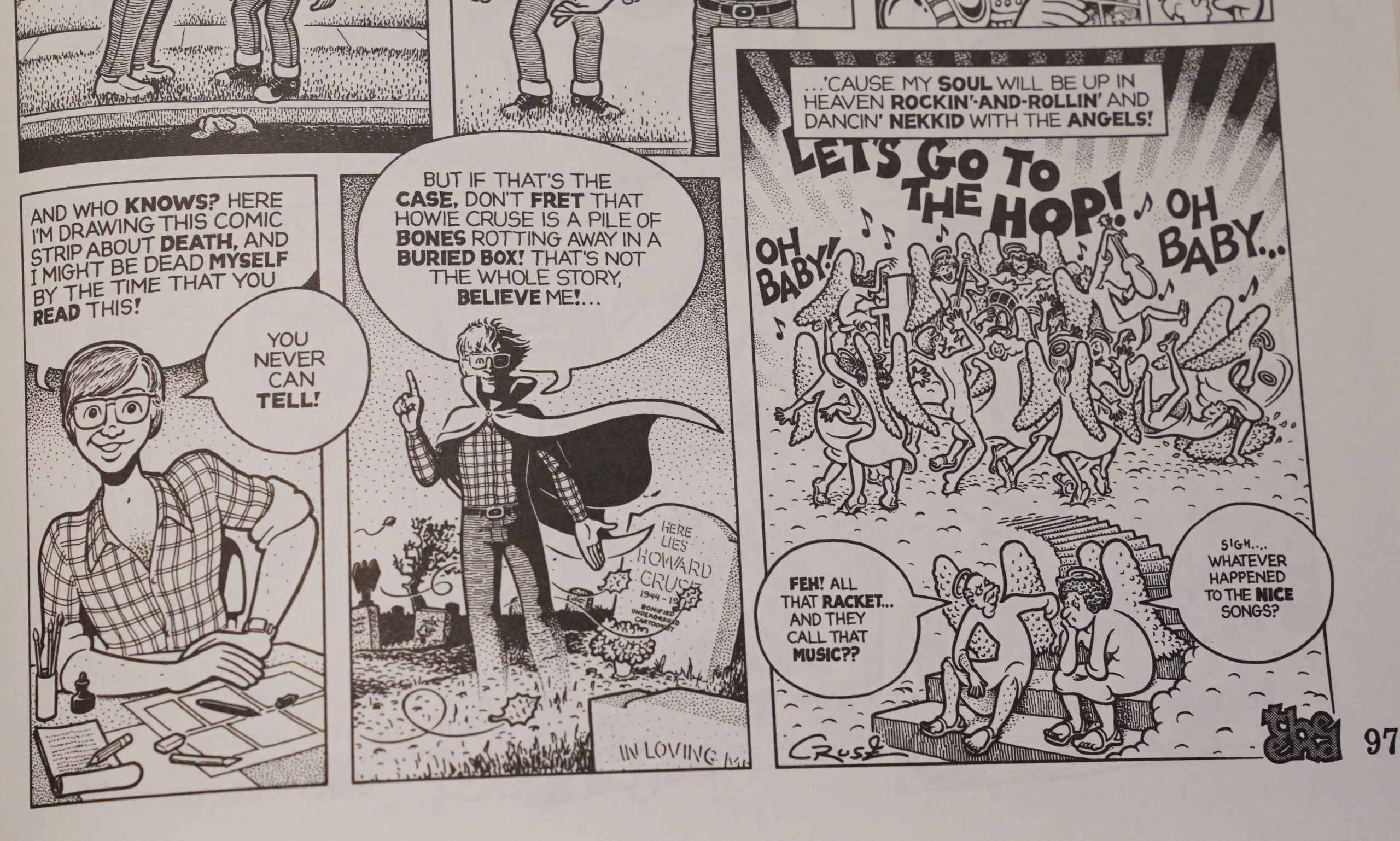 *sigh* And indeed, Howard Cruse is dead now.
*sniff*
Kevin Lowenthal writes in The Comics Journal #128, page 58:
Howard Cruse at his best is a mas-
terful cartoonist. Even the least of the
pieces in Dancin' Nekkid puts most
overground 'treators" to shame. "Bil-
ly Goes Out" is one Of the most ex-
plicitly gay stories in the book, yet it
is also one Of the most simply human.
The Cartoon Story most nearly its
equal as a sympathetic portrait Of a
non-heterosexual — as different as it
is in style, method, and intent — is
Gilbert Hernandez's "Bullnecks and
Bracelets" (I_me & Rockets #19). "Bil-
ly Goes Out" is as good or better,
which is high praise indeed. Certain-
ly some comics fans will be repelled
at the thought Of explicitly gay mater-
ial appearing in comic book form,
despite their own insatiable desire to
devour page after page of strong, qua-
si-fascist men in skin-tight uniforms
beating all hell out of each other. If,
however, you are not squeamish about
graphic depictions of homosexuality,
if you are a fan of love & Rockets or
Weirdo, of underground cartoonists
like Green, Crumb, Pekar, Kominsky,
spiegelman, and Noomin (or of their
heirs like Peter Bagge, Mark Zingar-
elli, Carol Lay, Joe Sacco, Carol Ty-
ler, etc.), then you should own this
book. The best stories in Dancin'
Nekkid are as funny, as tragic — which
is to say, as human — as the best in
any form of the literature.
"Yet".
This collection doesn't seem to have been reprinted? It's a shame.
In case you hadn't guessed, I'm a real fan of Cruse's work. I looked forward to Wendel in every issue of The Advocate, and Stuck Rubber Baby was the first hardcover I'd purchased since I stopped buying college texts 10 years ago. And if these works don't convince you of this man's creative range and genius, Dancin' Nekkid most assuredly will.
This is the ninety-fourth post in the Entire Kitchen Sink blog series.