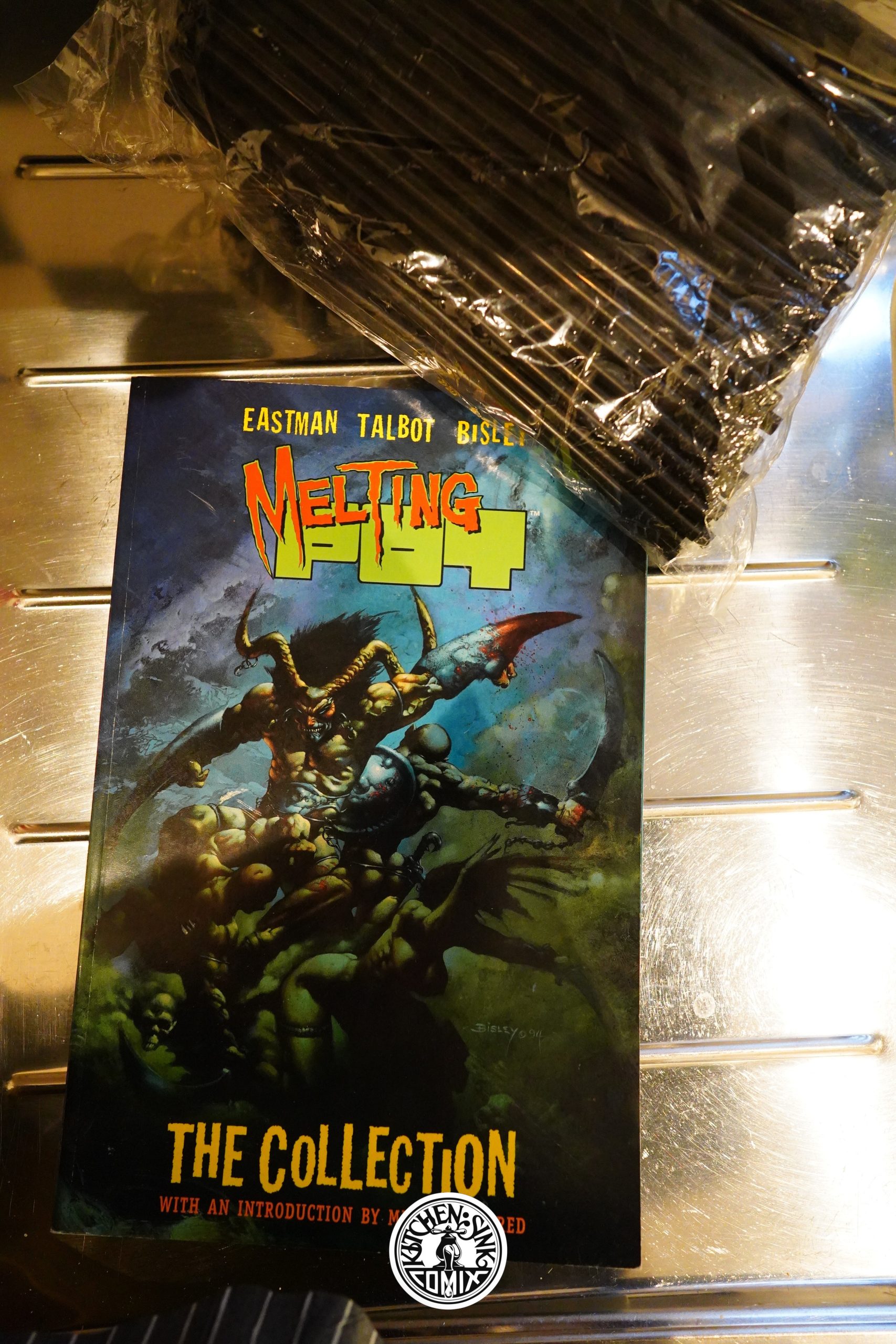 Melting Pot Book One (1995) by Kevin Eastman, Eric Talbot and Simon Bisley
Oh, this is a collection of a series Kitchen Sink published in 1994, so I guess I should have covered this earlier. "Oops."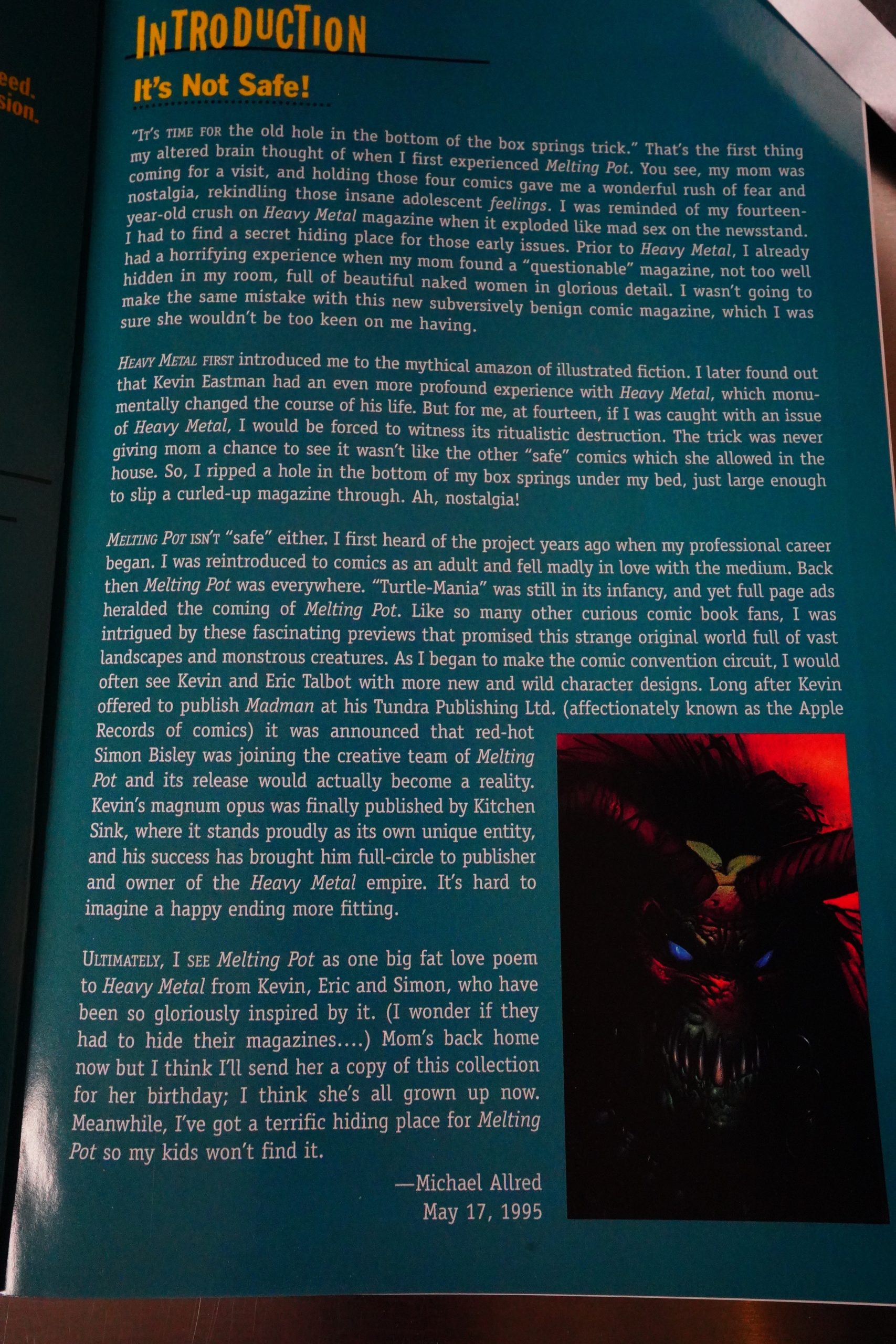 Michael Allred provides the introduction, and explains that Melting Pot has been in the works for a long time, and that it's a homage to Heavy Metal.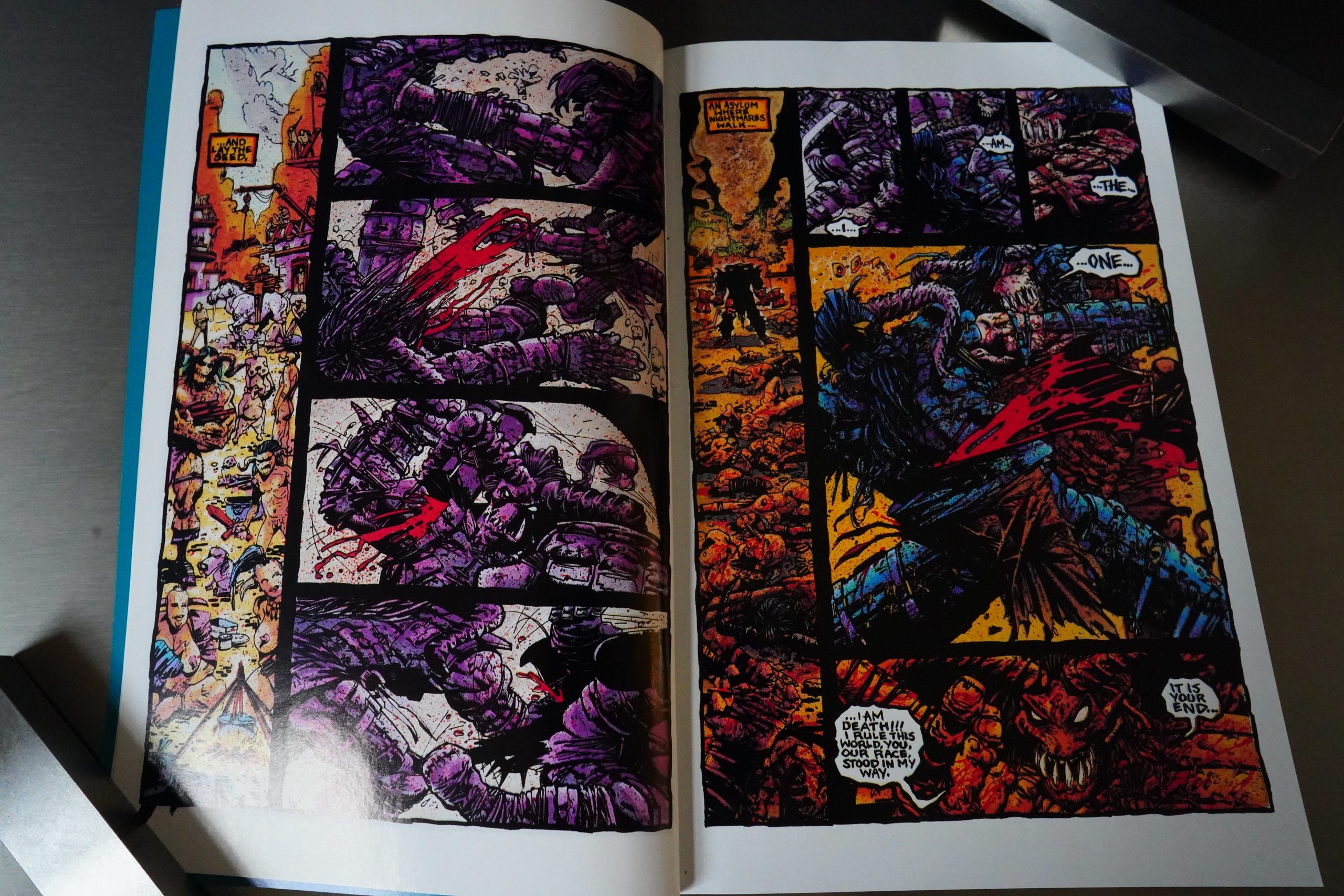 And the first part of this was published in Heavy Metal, and drawn without Simon Bisley.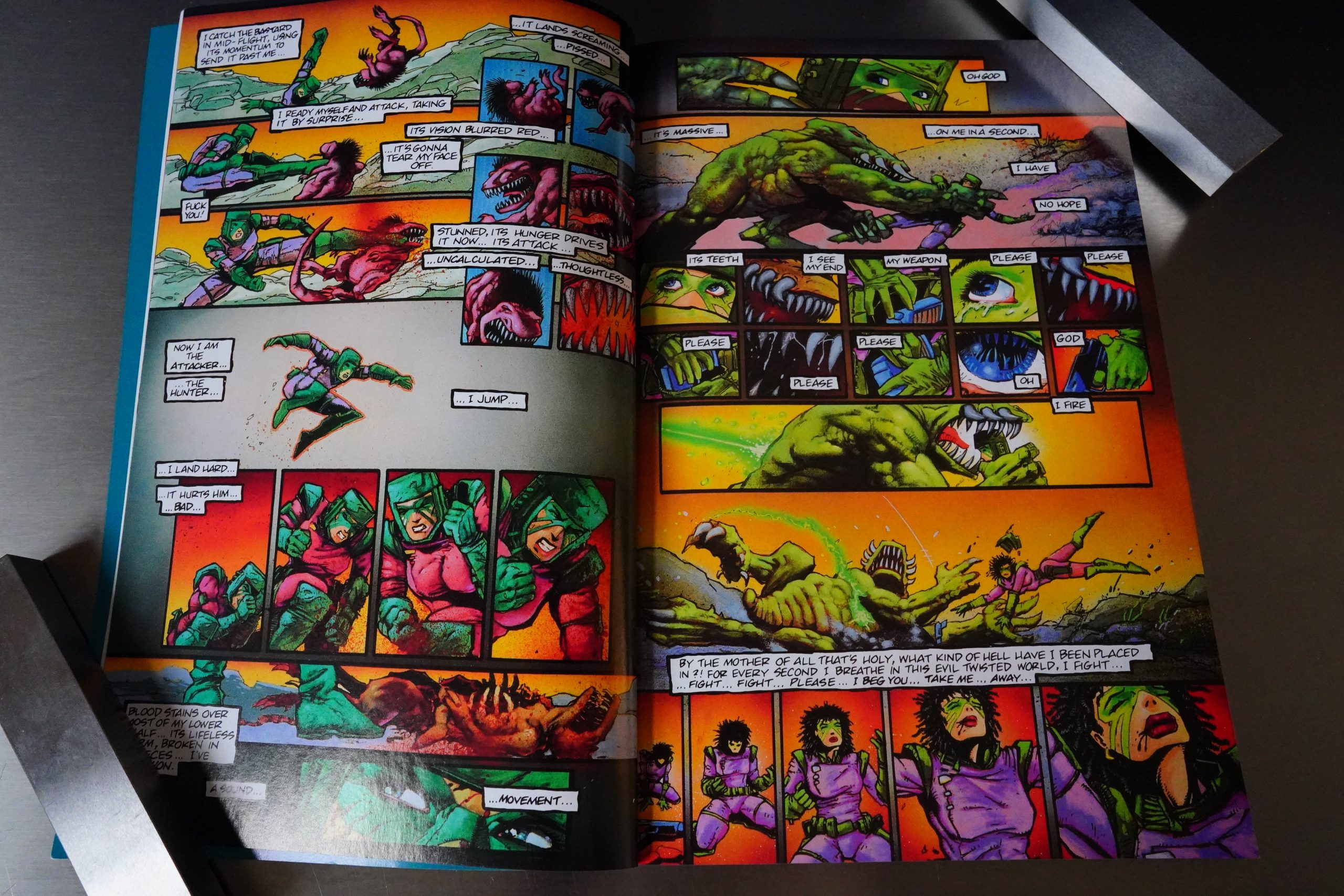 The main part of the book is, though. And It starts of in a kind of choppy way, with the art style morphing from page to page — but this page was apparently pencilled back in 1988, so I guess it's natural to have some development over a six year period.
The layouts are intriguing, but it's sometimes hard to tell whether we're supposed to read horizontally across the pages, or page-by-page. The answer seems to be: Always page by page.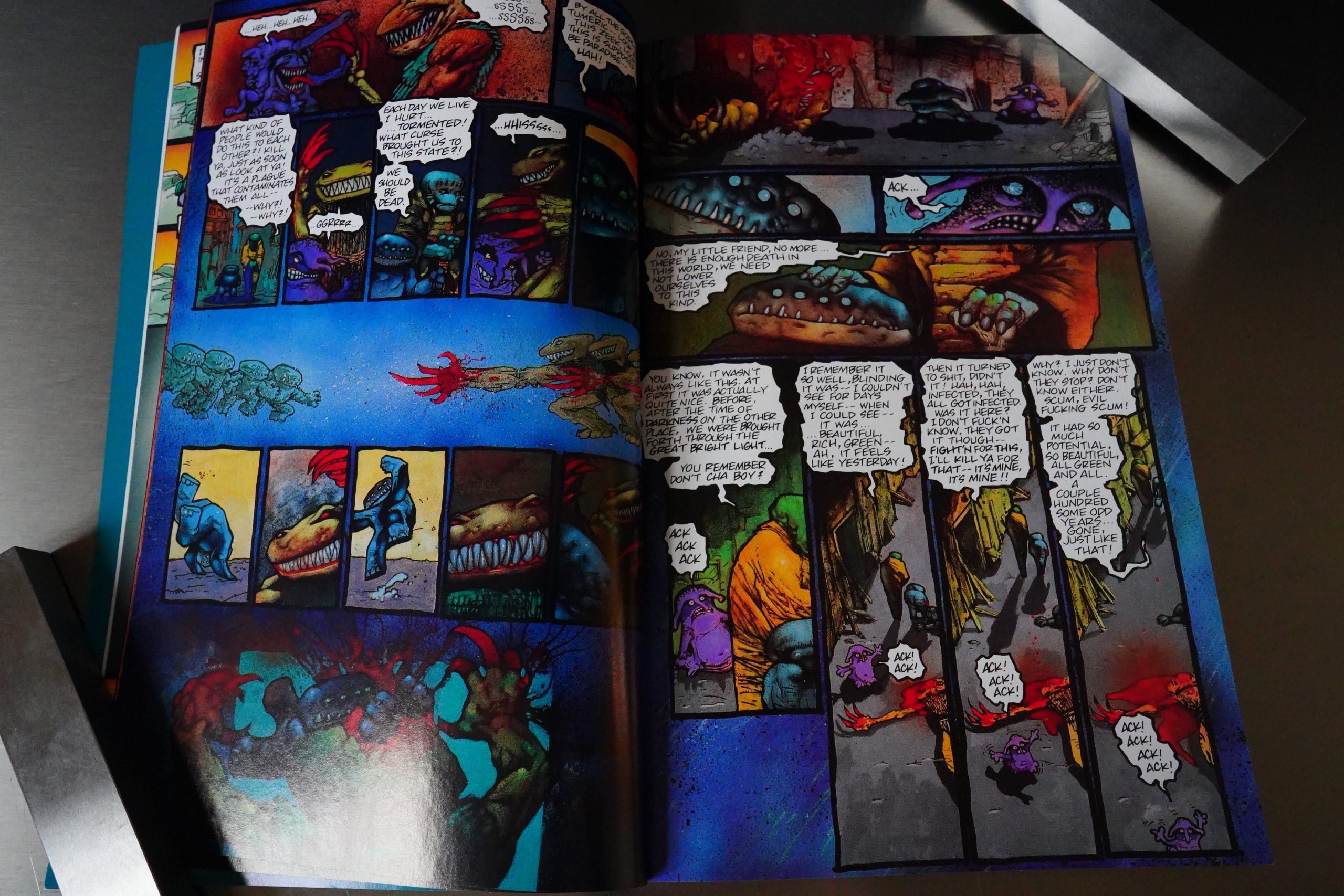 Oh, and this is printed on such heavily reflective stock that it's a bit difficult to get snaps of it. I've switched all the lamps off in the room, so there's only natural light now from the window…
We get these brief bursts of exposition, but the book is mostly fight scenes.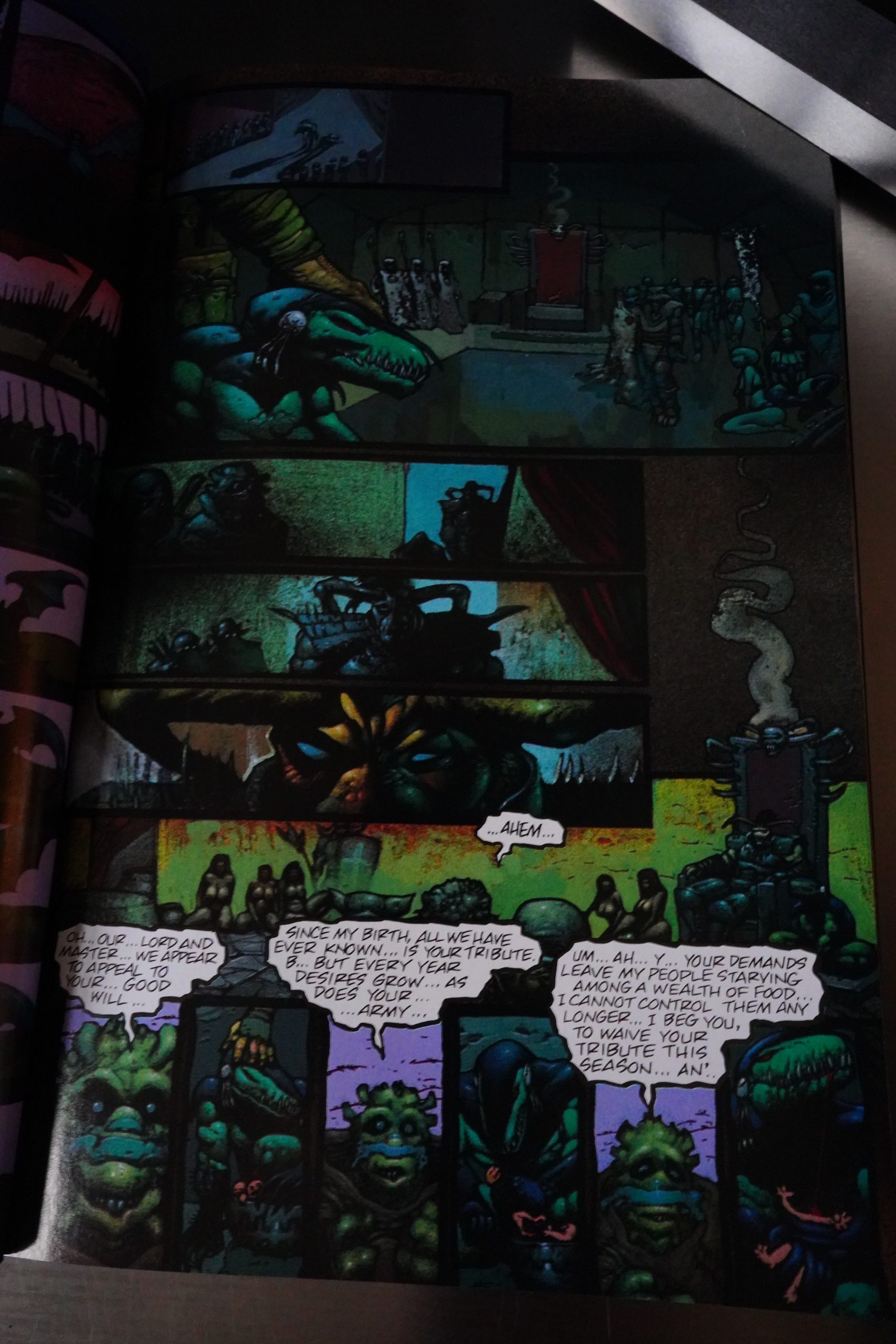 We're getting more to Bisley Mode now — I'm not sure why he's listed last on the cover, because surely he's the selling point here. Without his Corben-influenced rendering, this would be a whole lot less interesting to look at.
Not that the storytelling isn't interesting — it is! It's pretty advanved, with lots of small panels showing character beats, and it works really well.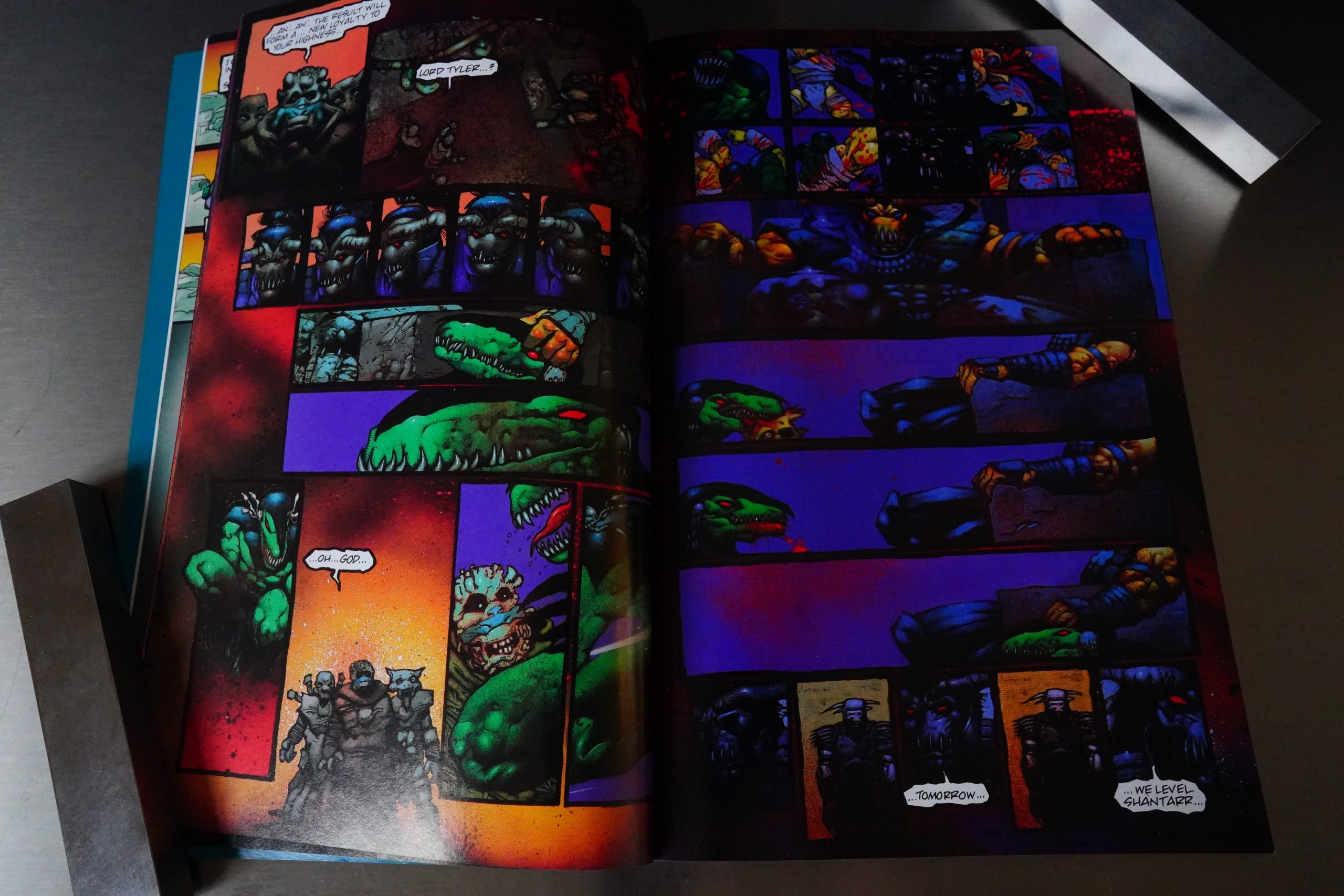 Sometimes it's not 100% obvious what's going on, though, but we get the gist.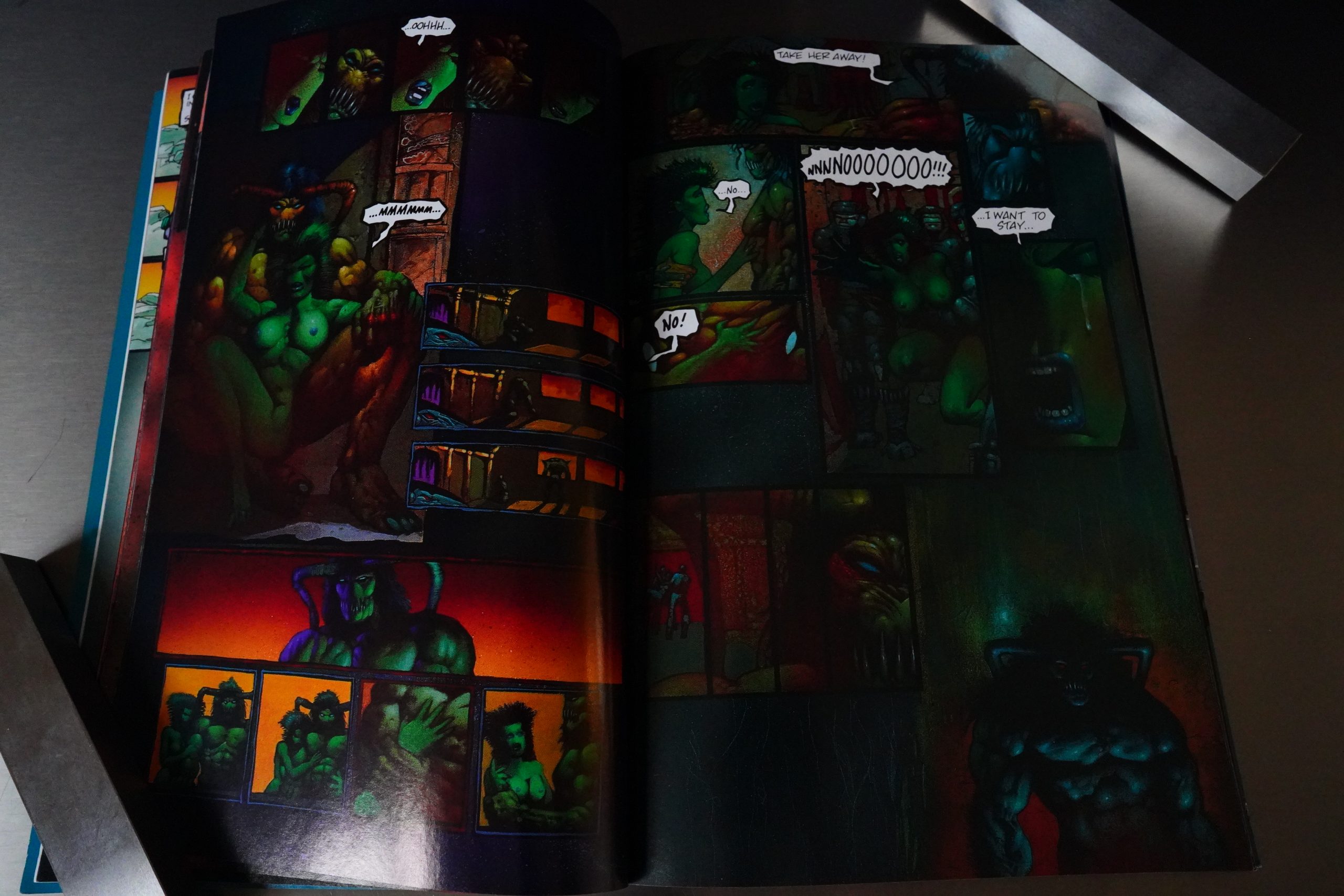 Oh, if you're doing a Heavy Metal homage, you gotta have a scene like this.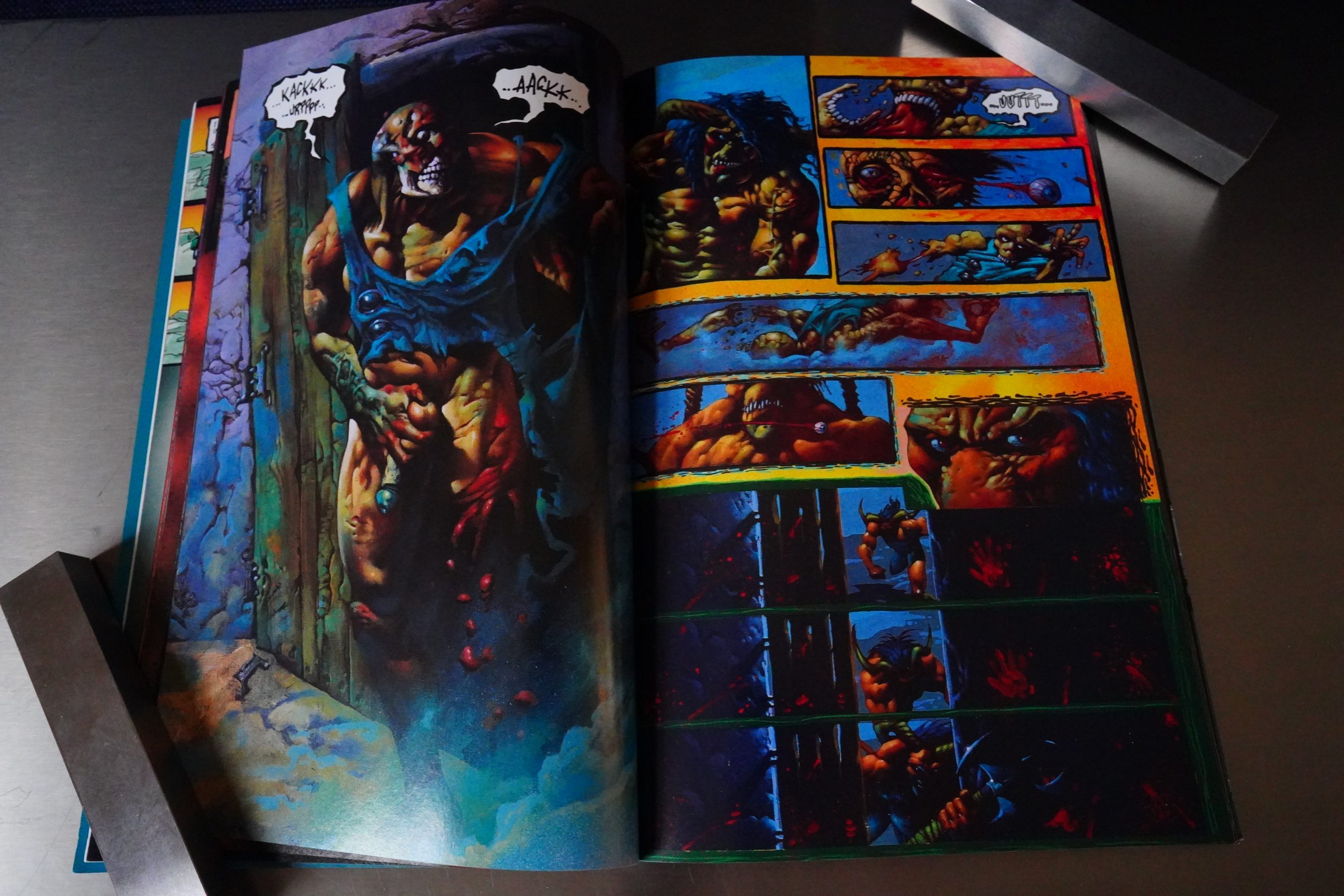 Bisley out-Corbens Corben!
I'm really surprised by how much I'm enjoying reading this book. It manages to depict a pretty interesting world, and the story is propulsive. Bisley's painted artwork helps a lot, of course, but the storytelling is really on point — it feels both like a homage to 70s Heavy Metal, and also feels very modern (i.e., post-Dark Knight).
It is, dare I say it, a good book, and I didn't expect that.
(The ironic ending was very ironic.)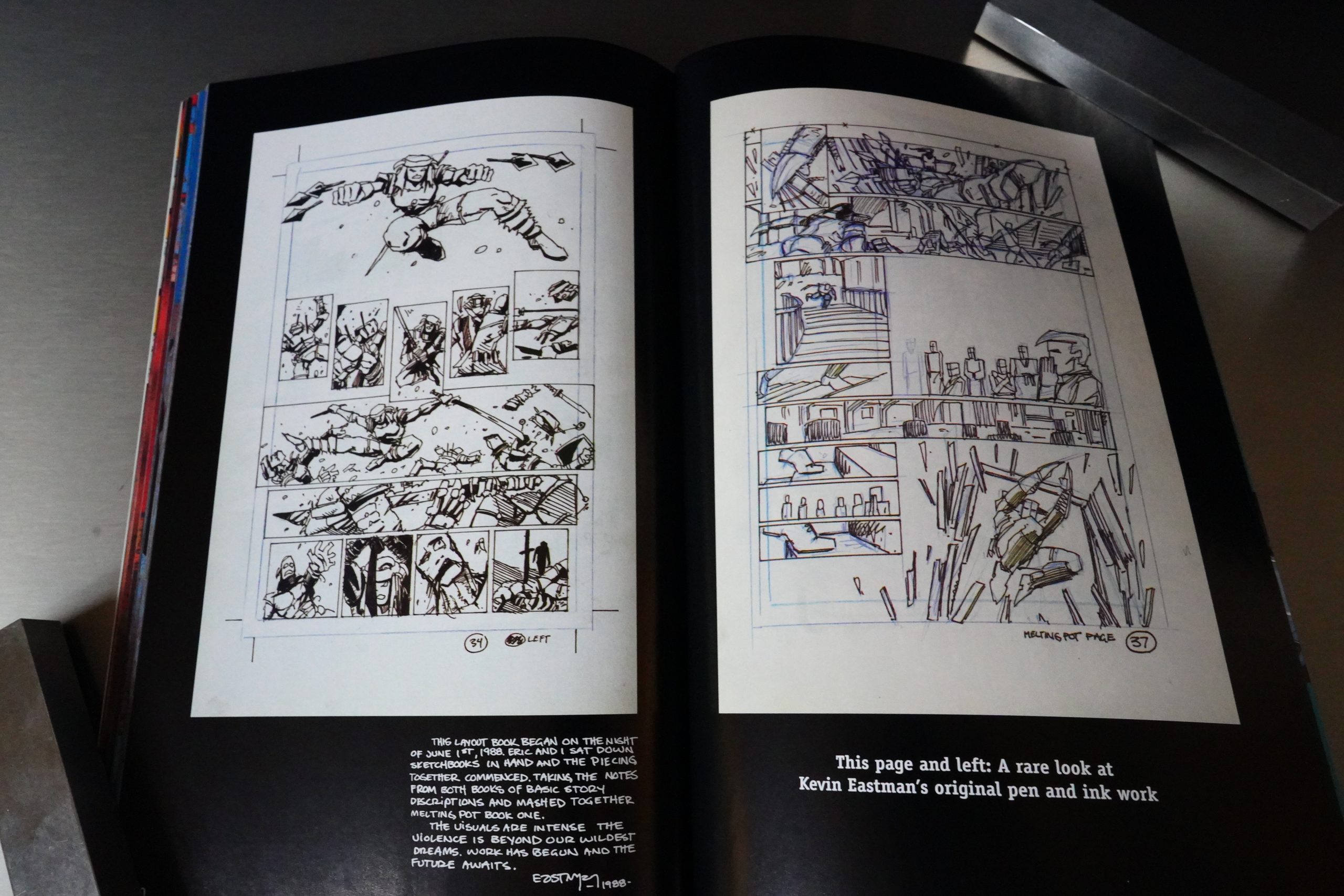 So this is what the pages looked like before they let Bisley at them.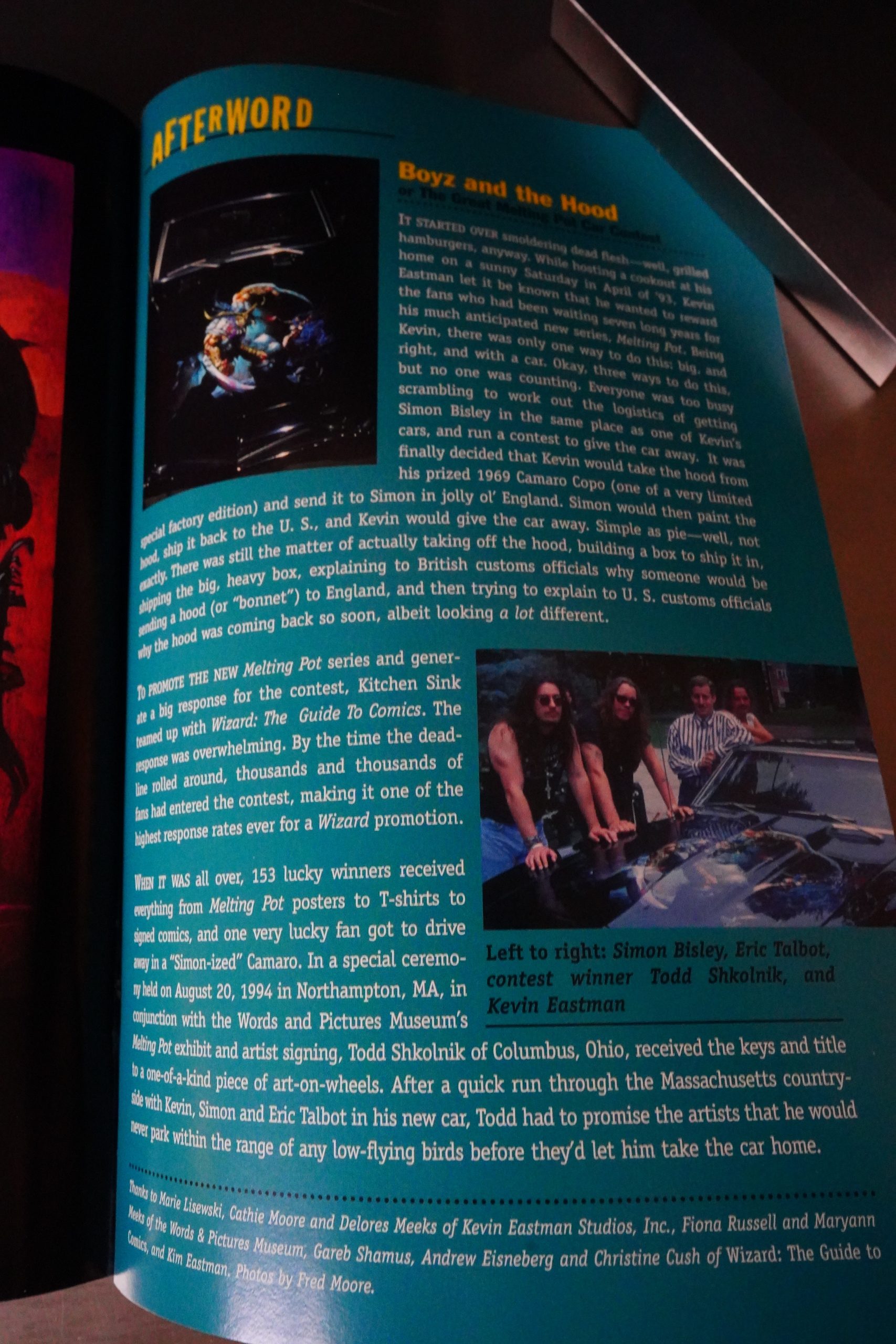 And they had a raffle where the winner won the car. See if you can spot the comics nerd that won the car amongst the creators.
Bissette is interviewed in The Comics Journal #202, page 99:
The same in working with
Simon Bisley, that there's no way Ill ever be able to
draw like Simon. And I have a huge amount of
admiration for what Simon does. Besides him being a
completely ficking lunatic wacko that I adore and
value his friendship, because he makes
me laugh. We have a good time, even
though he up alot ofstuff. He's not
much on consistency [Groth laughs],
and some day I'll point out to you with
Melting Pot some of the greatest fick-
ups ever. But thaes a whole other thing
Another interview. So when I have some-
body like Simon Bisley finishing things
that I start, I feel likel really need to start
all over, almost make myself go back to
square one and learn to draw again. Learn
to tell the kind ofstories I want to tell not
ones influenced by any Turtles or work-
related scenario or deadline, anythinf
but the pure enjoyment of drawing.
started doing that a little bit the last year
and a half.
Steven Bissette is interviewed in The Comics Journal #185, page 61:
Secondly, the temptation of using Tundra to
build and publish studio product insinuated itself — this
was literally embodied by Kevin's pet project, Melting
Pot. Melting Pot started as Kevin's baby, his own project,
to a partnership with Eric Talbot, who fleshed out Kevin's
concepts and characters considerably, to the final product,
completely repainted by Simon Bisley. Kevin' s hand was
in every stage, unquestionably — but my heart sinks when
I see the ad in Variety promoting Heavy Metal 2, the
movie, and plans for Melting Pot "by Kevin Eastman and
Simon Bisley." Where's Eric Talbot's name? Gone, dis-
posable, left behind in the wake of a failed studio and the
debris of Tundra and Mirage.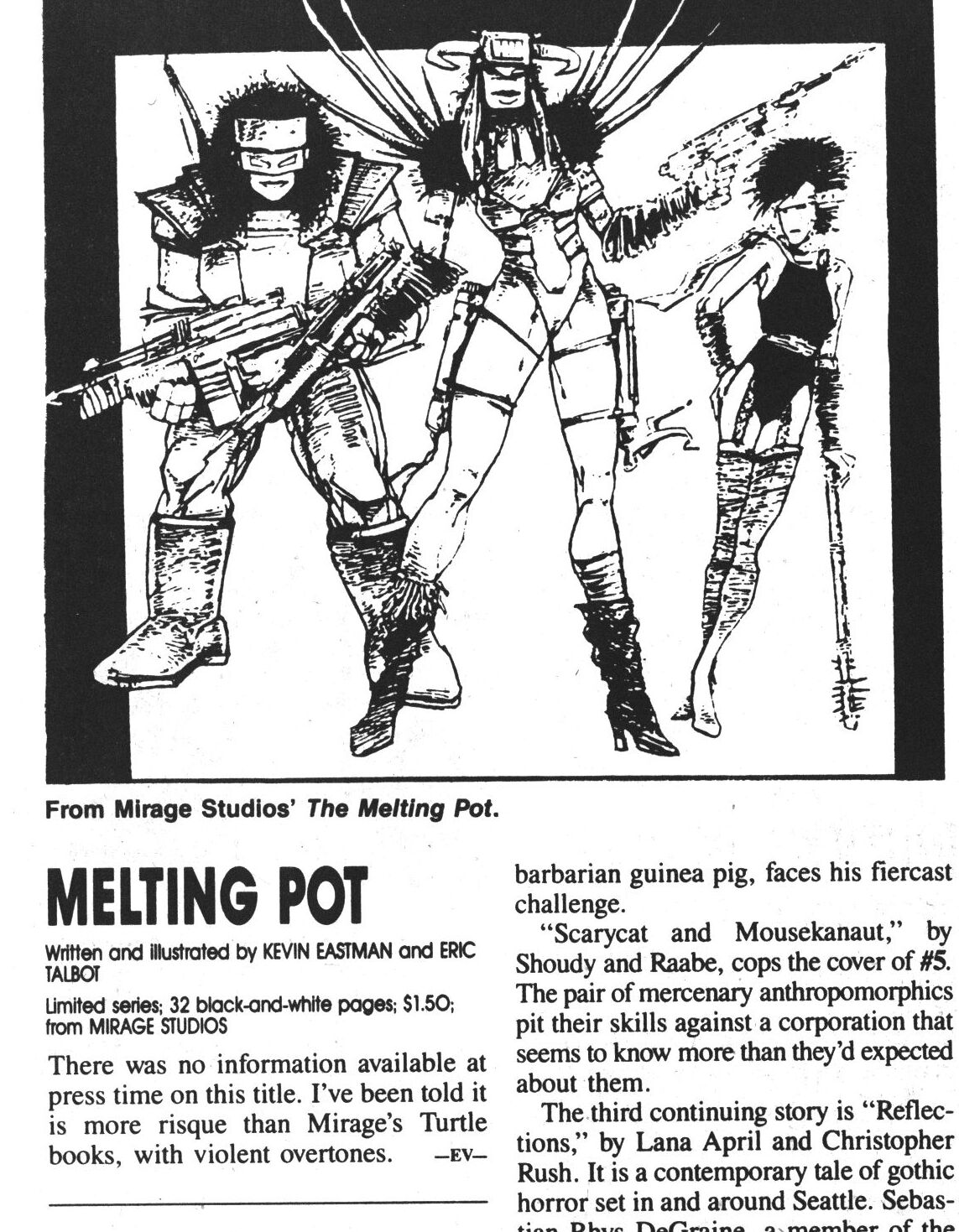 They started announcing this title in the mid-80s.
A recent interview with Eastman:
The Melting Pot project– which was good on the one hand, as that is what we used it to build a working friendship, but also bad because I feel like I hadn't really figured this story out well enough to make it good. I feel it failed as a graphic novel the first time around, and maybe the same on the second version,3 but I feel like I wasted his talent on a project that could have been a lot better, given more time to develop.

There are two distinct versions of Melting Pot. The first was released as a four-issue comic book series from Kitchen Sink Press (which by that point had acquired Eastman's Tundra Publishing) in 1993-94, Written by Eastman & Eric Talbot with art by Bisley & Eastman. A collected edition followed. Then, in the Heavy Metal 30th Anniversary Special (Fall 2007), a vastly-revised version of Melting Pot was published as a single magazine-length story, with new contributions by Eastman, Bisley, Robert Prior & Lorenzo Sperlonga.
Huh. Well, I liked it.
I'm not able to find any reviews of Melting Pot on the interwebs, but perhaps my Google-fu just isn't good enough.
This is the one hundred and eighty-sixth post in the Entire Kitchen Sink blog series.