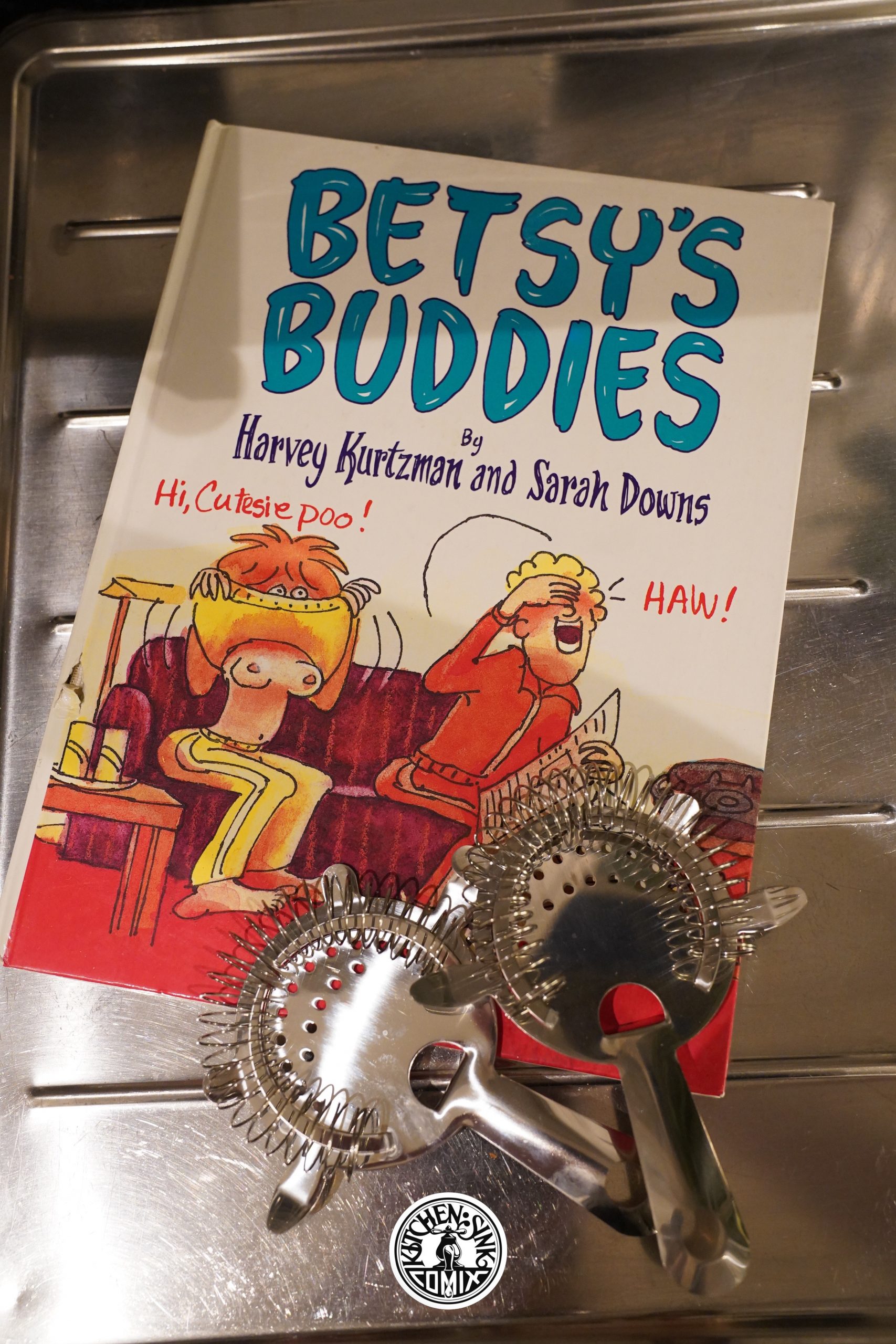 Betsy's Buddies (1988) by Harvey Kurtzman and Sarah Downs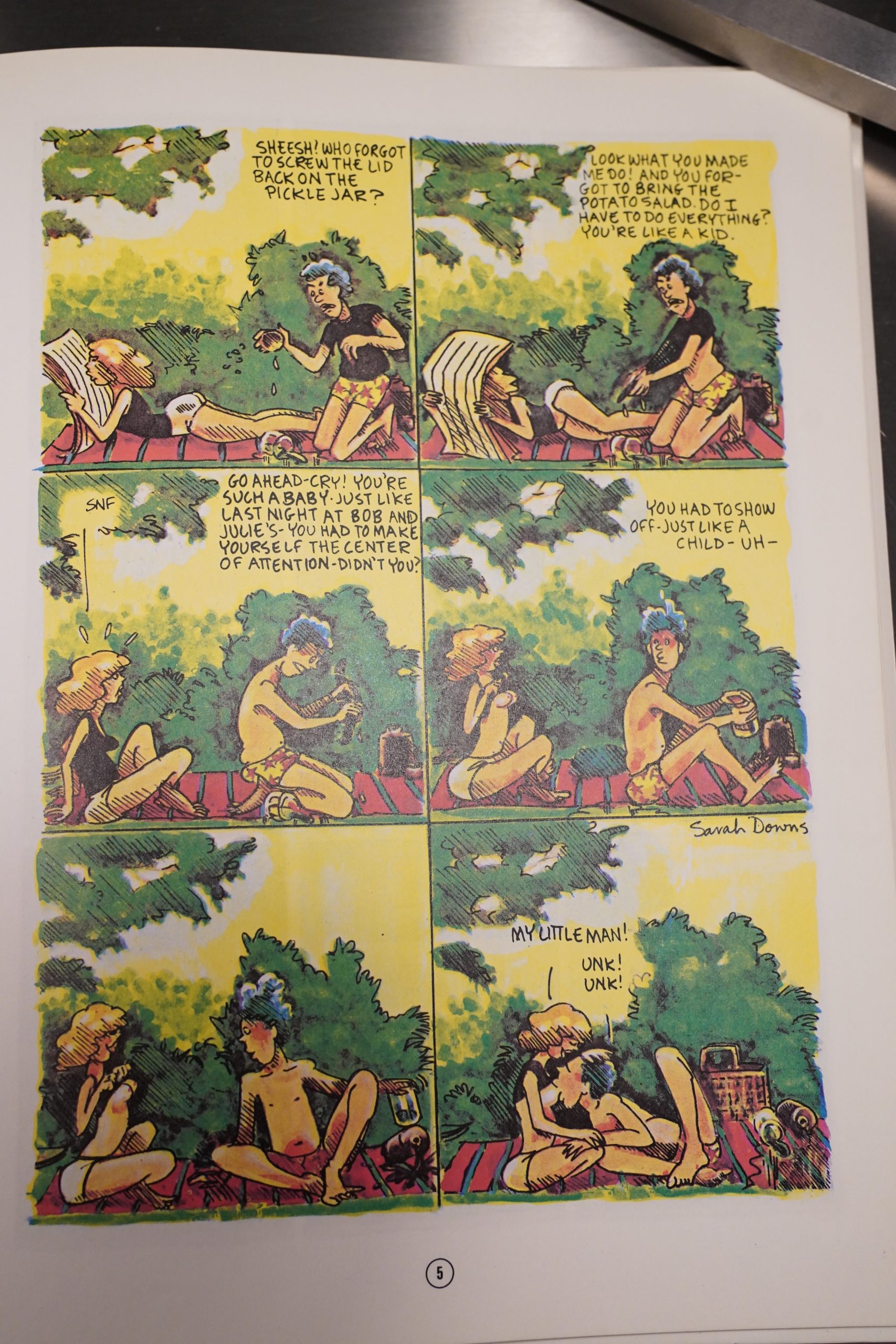 This book (in European album format; printed in Portugal) collects mostly one page gag strips that had originally been printed in Playboy. The book doesn't really say much about who did what, but it sounds like Kurtzman and Downs are both writers on this thing, and then Downs is the sole artist?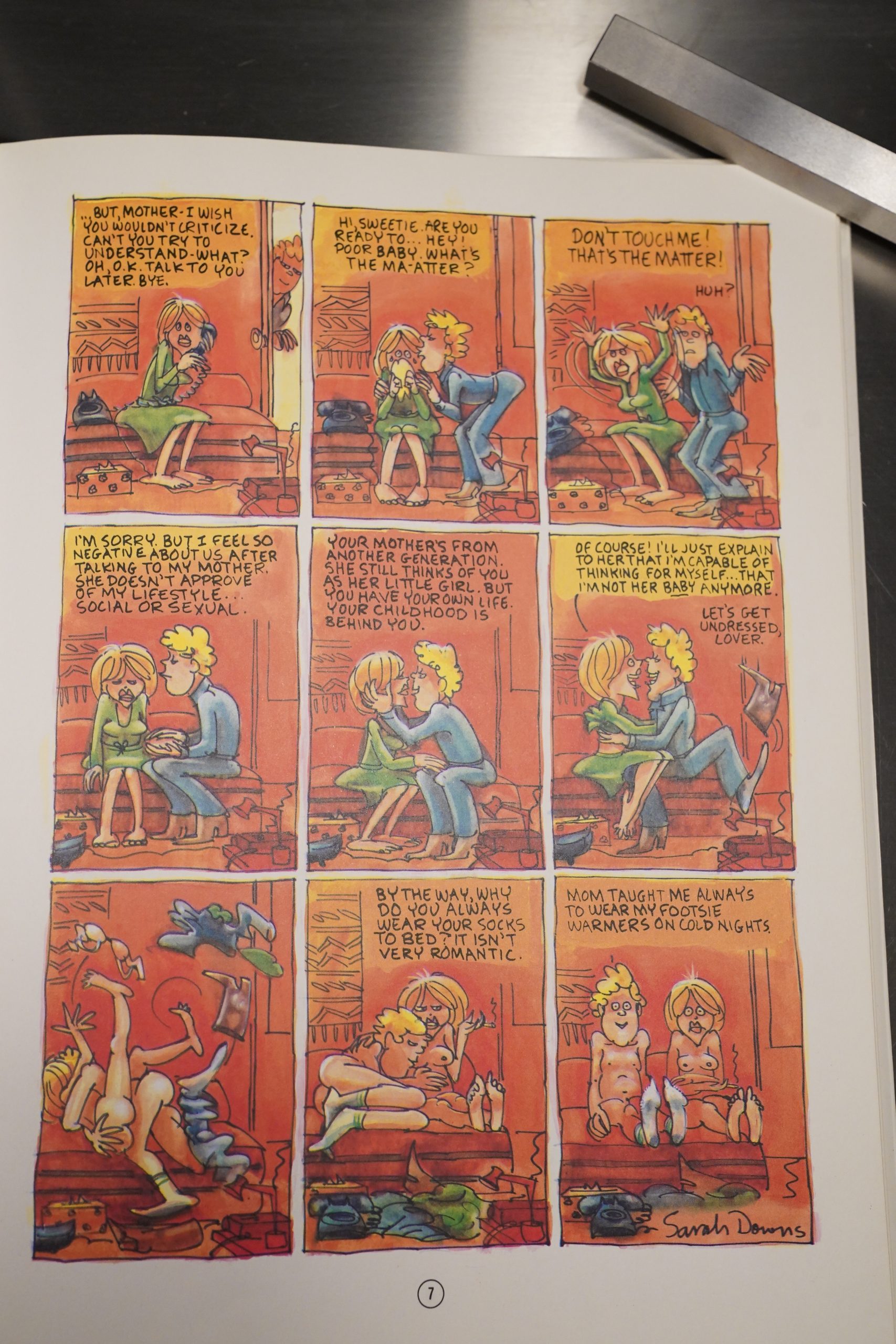 Her figures does sometimes resemble Kurtzman's (and she was apparently his assistant for a while?), but it also reminds me a lot of European strips at the time — Reiser, Bretécher and all those people.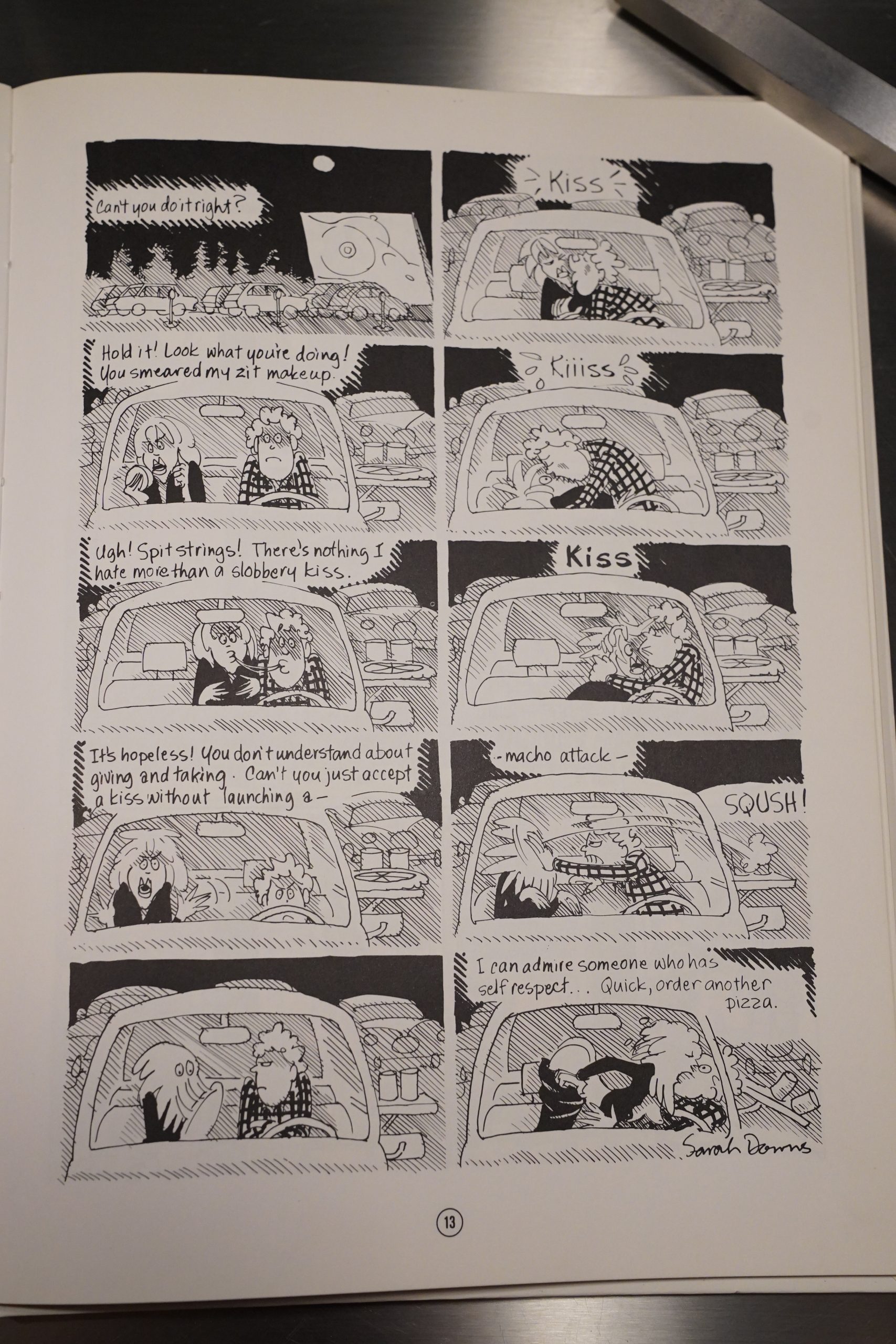 The indicia page says that the colour pages are reprints from Playboy — so are the black and white strips that were rejected?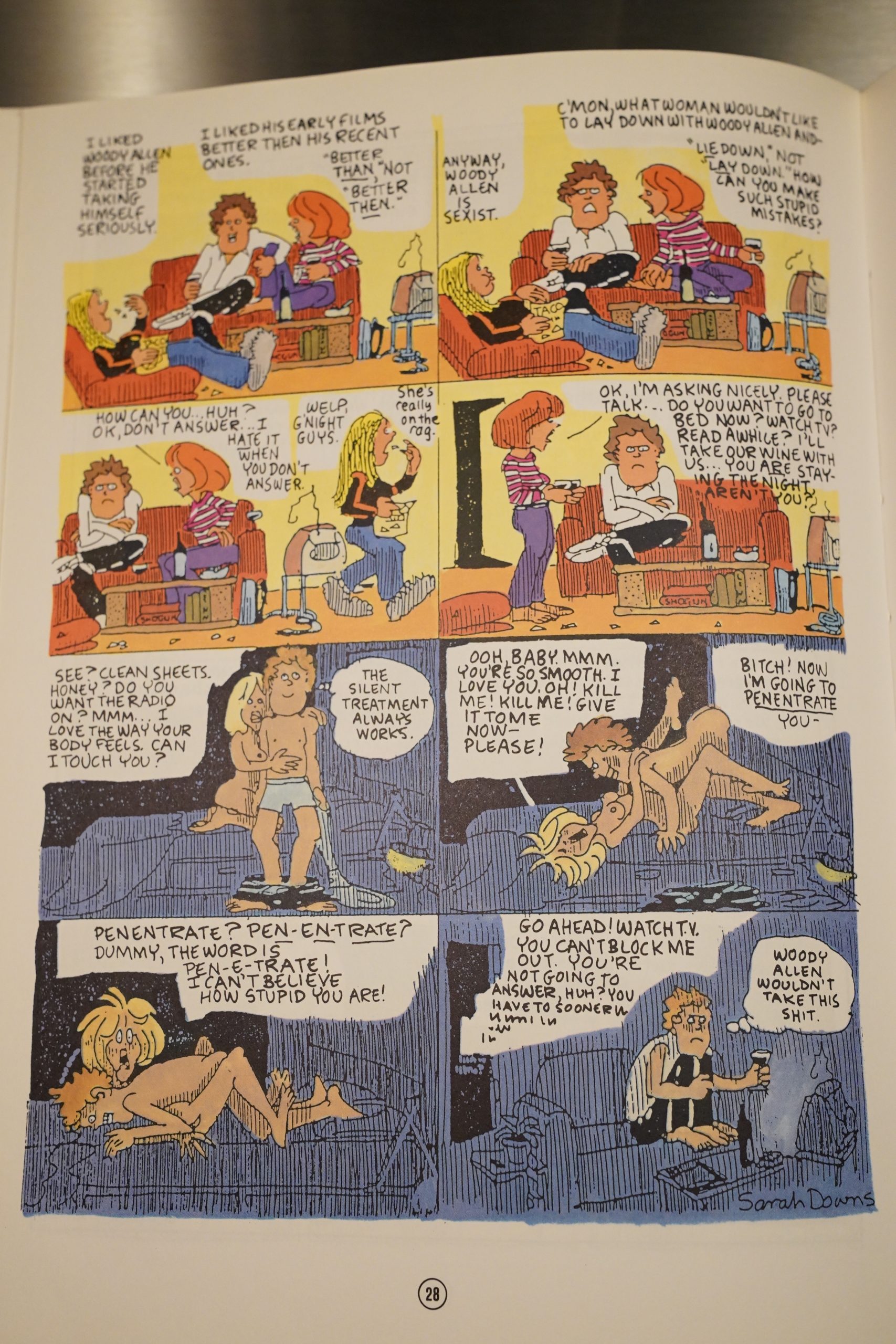 Some of these strips have a more sketch book like line.
Oh, what's these strips about? They're about sex and relationships and stuff, and they're supposed to be funny, I guess, but they usually just reach a level of "vaguely amusing".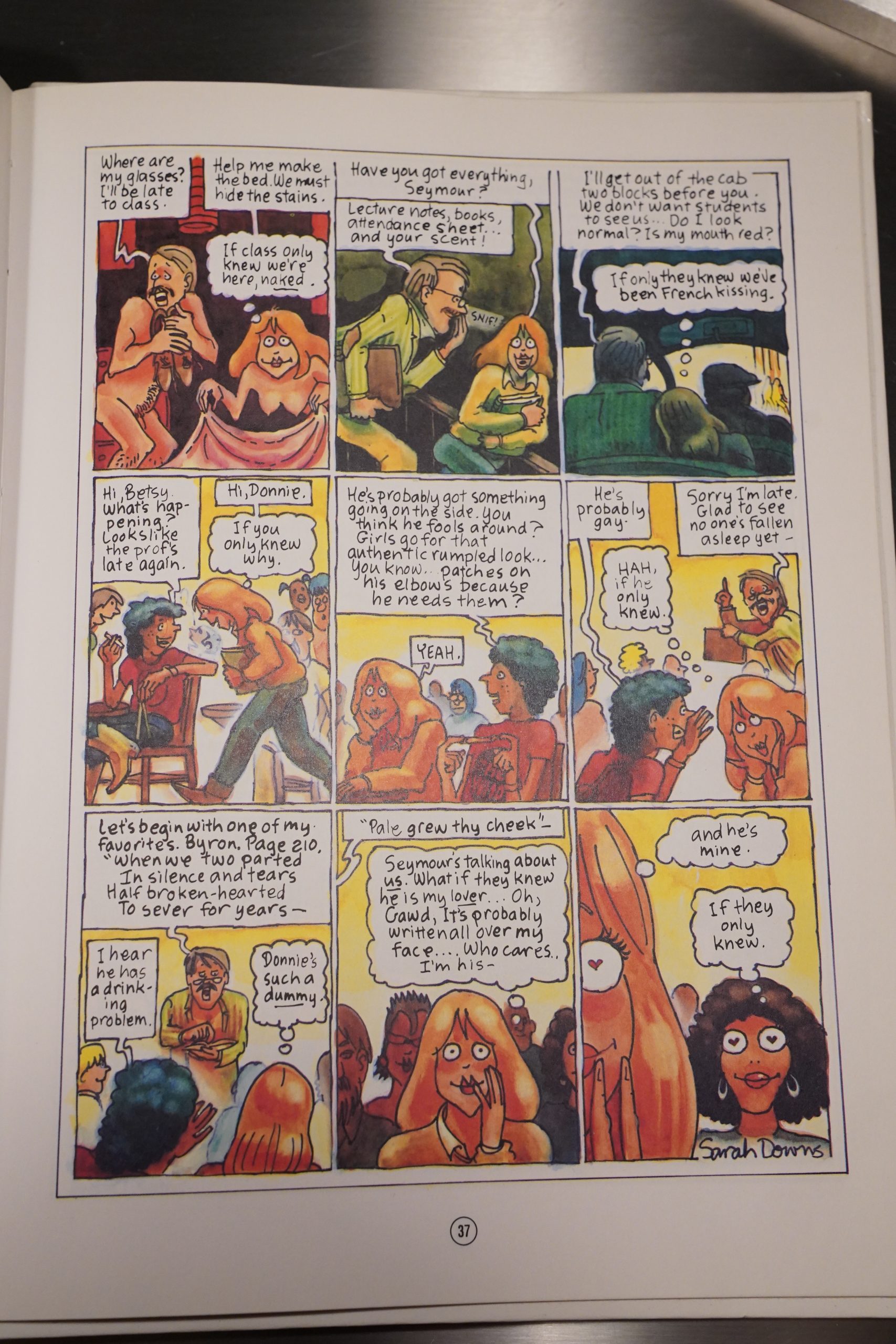 Until we get to the last half of the book, and then all the strips turn into a sort of extended sequence about Betsy hooking up with her English lit professor — and then it all pure tedium. Kurtzman was teaching at the time, so perhaps these are wish fulfilment strips or something?
I asked Kurtzman about the mak-
ing of each Little Annie Fanny comic
strip. "lt was a real ping pong game,"
he said. '61 would write it and lay it
out, make color sketches. Willie
would transfer my tracings and do it
his way when all was said and done.
I'd get the drawing and give it to our
colorist, Sarah Downs. Sarah would
give the drawing to Willie. Willie
give the drawing to me. I'd give
it back to Sarah, back to Willie, and
so it went."
Sarah Downs is a young artist from
Michigan. She attended Denison
University in Granville, Ohio, then
moved to New York City. She was a
student at the School of Visual Arts
from 1975 to 1977. There she met
Harvey Kurtzman. Today she teaches
a class with Harvey once a week in
the illustration department. Her first
professional work was as colorist for
Little Annie Fanny beginning around
1977. When Harvey sold an idea for
a new two-page comic to Playboy, he
asked Sarah to be the cartoonist.
Their cöllaboration was Betsy's
Buddies, the vivid and graphic ac-
counts of a pretty blonde student's sex-
ual athletics in the big town away from
home. Playboy carried Betsy and her
buddies from June, 1980 until April,
1985. In 1985 they co-produced the
Laurie and Versella stories for the two
numbers of a paperback comics series
called Nuts!. Those little books were
the brainchildren of Byron Preiss,
who will issue Harvey Kurtzman's
Strange Alventures in 1990. Harvey is
scripting this volume for a number of
artists, including Robert Crumb and
Sarah Downs.
"Harvey is an incredible person,"
Sarah told me. "He is amazing. A
saint! He treats people well, he's fair-
mindd He is very good at letting you
find your way while following his in-
structions. He always knows what he
wants. He has a definite vision, knows
exactly where he's going. If I do
something that pleases him it gives me
great satisfaction. It's also exasper-
ating! He's not a linear thinker. He
thinks in a strange way. You follow in
his steps and do what he wants. In the
end it makes perfect sense."
Amazing Heroes #133, page 220:
Making its appearance in March will
be Betsy 's Buddies by Harvey Kurtzman
and Sarah Downs, a collection of full-
color pages of social satire that originally
ran in Playboy during the late '70s and
early '80s. Publisher Denis Kitchen
describes the work as a true collabo-
ration between Kurtzman and Downs—
"they co-wrote it, co-pencilled it, co-
inked it, co-colored it, right down the
tniddle." The 44-page collection will
include all of the, pages that ran in
Playboy, as well as several the magazine
rejected. Available in hardcover only, a
tentative price of $13.95 has been set.
This is the ninety-ninth post in the Entire Kitchen Sink blog series.