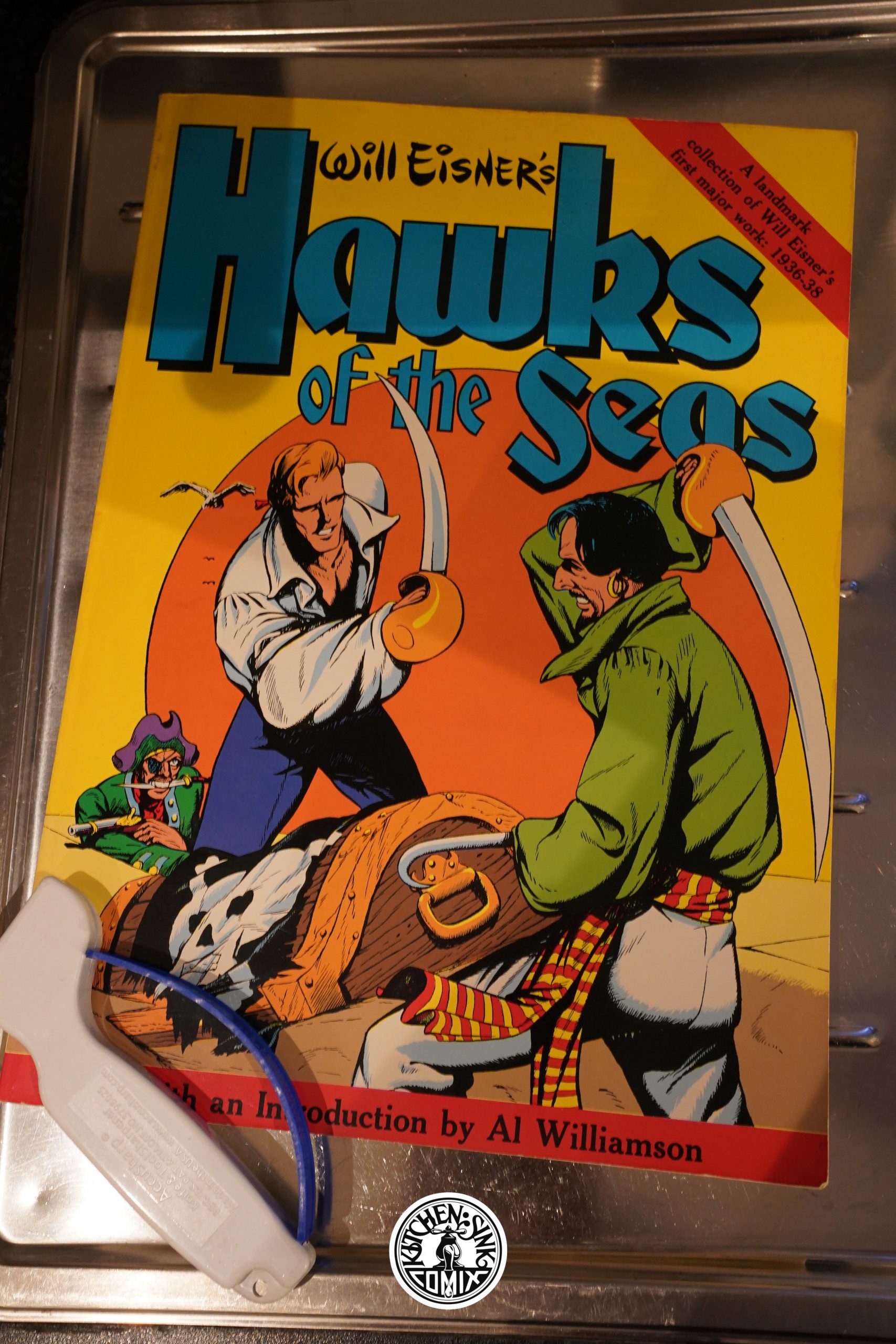 Will Eisner's Hawks of the Seas (1986) by Will Eisner
Oops. There was an unscheduled one month pause in this blog — I guess I got sidetracked with other things.
And it was in the middle of reading this book, so… er… I don't have much idea what I was going to write about this book, so this is gonna be an even dafter post than usual.
Perhaps I'll be reminded when I see the snaps from the pages I marked.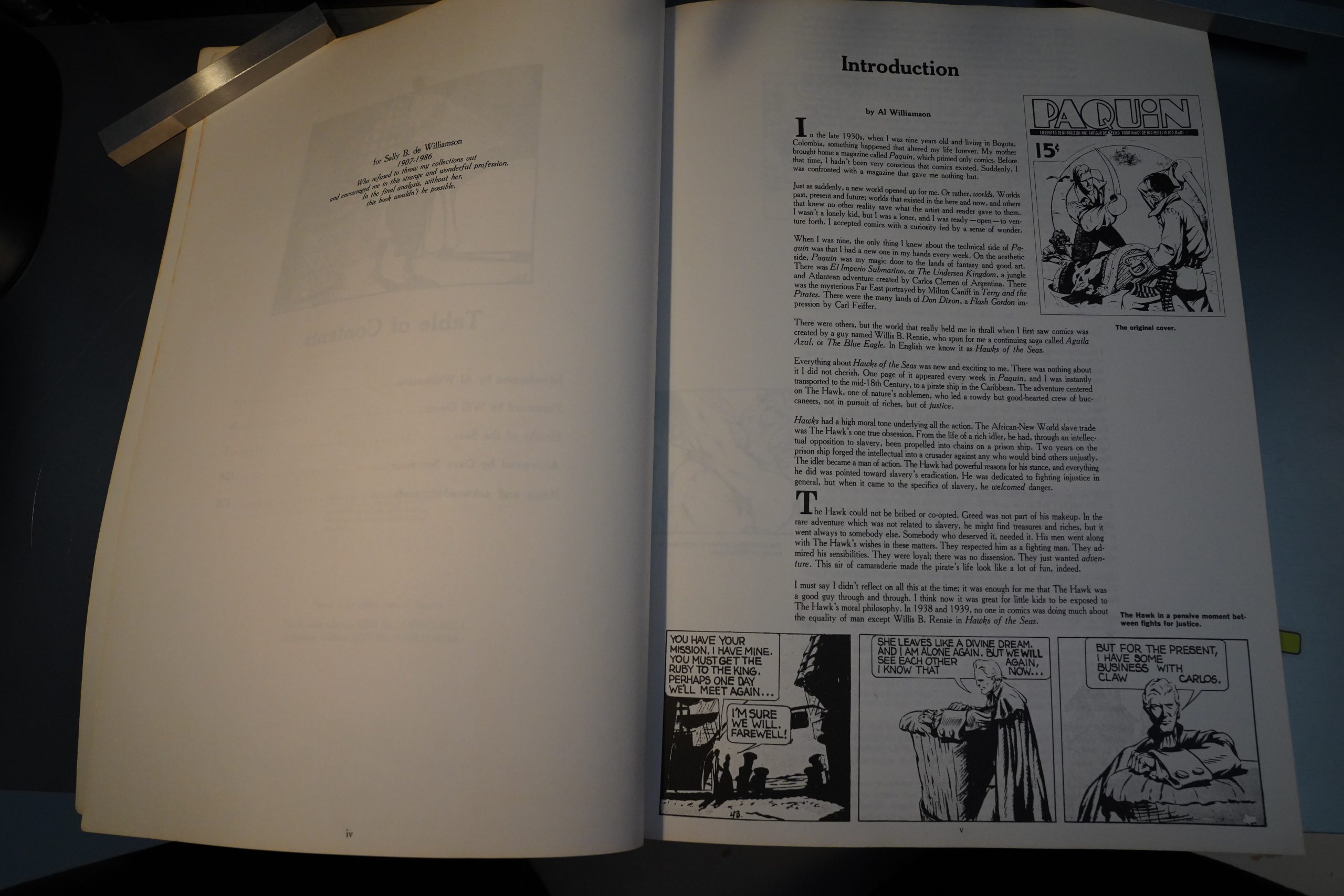 Ah, yes — Al Williamson dedicates the book to his mother. Which you may think is pretty odd for a book that Williamson didn't write, but Williamson collected the proof sheets for this book when he was a child, and it's printed off of those.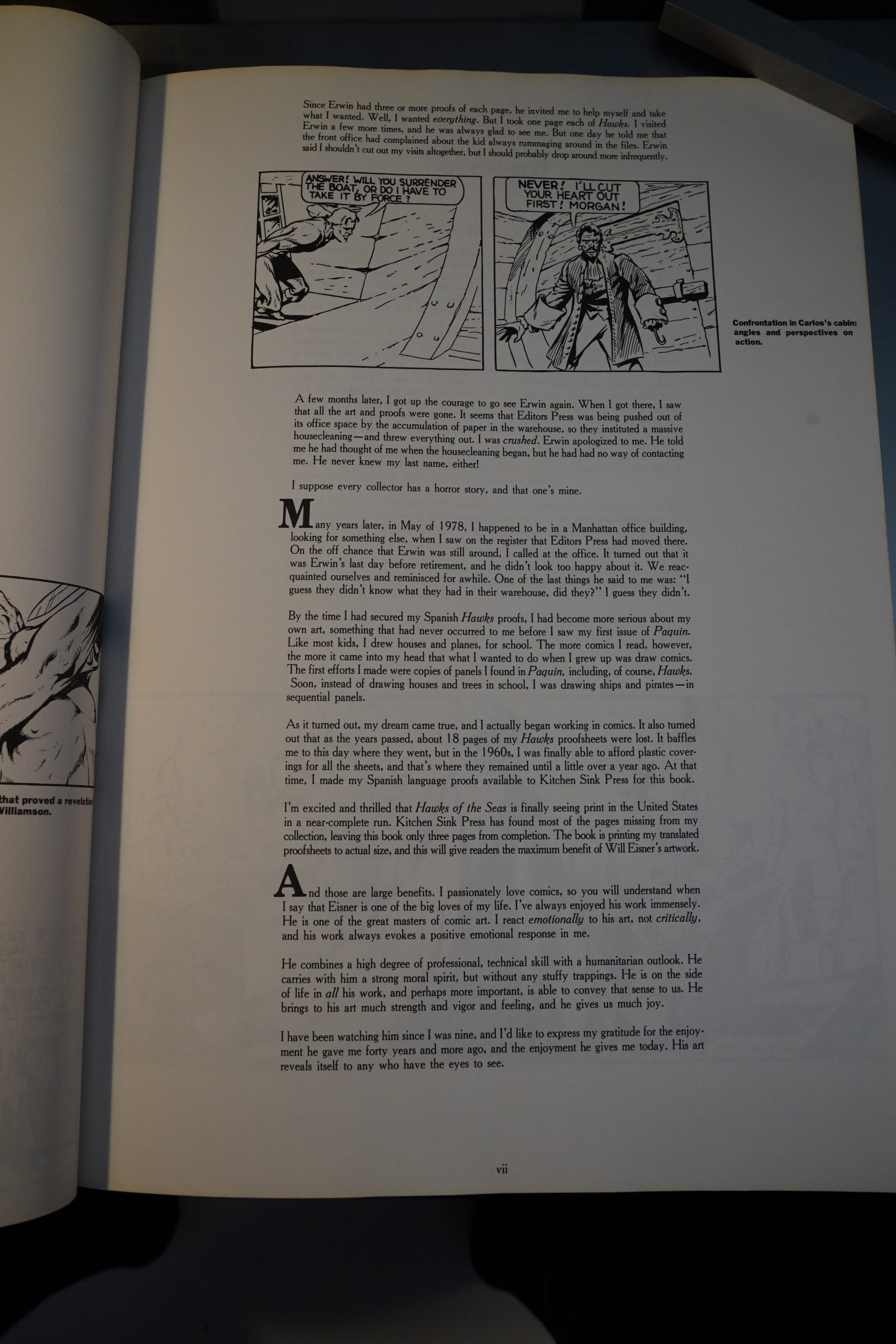 The strip was published in Brazil and France (in Portuguese and French), and Williamson explains how a kindly editorial staff guy allowed him to root through the archives and make off with the proofs. But then they decided to get rid of the archive, and threw out all the rest! Nooooes!
Anyway, it's dedicated to Williamson's mother, because she, at least, didn't throw the comics out.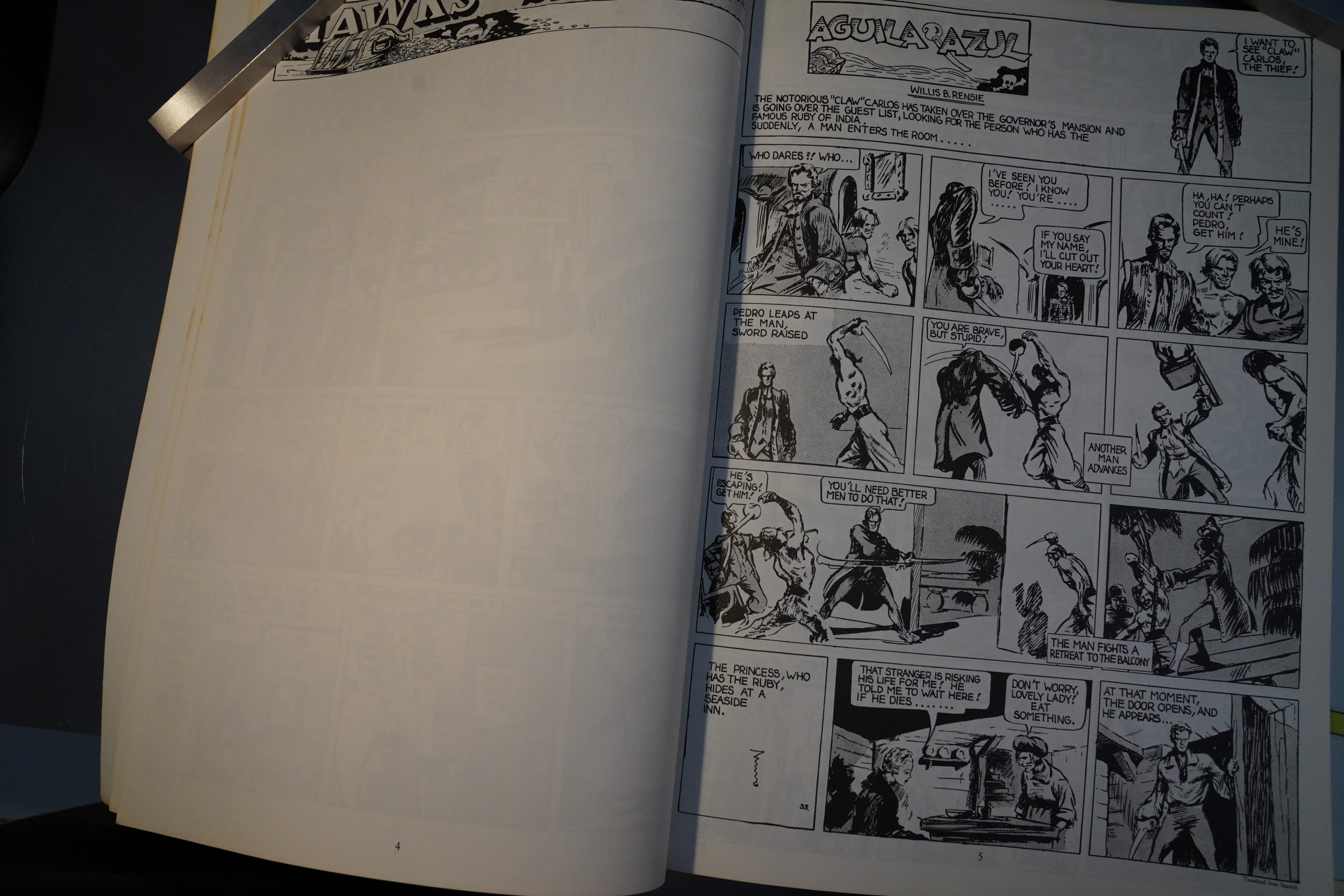 This is an unusual book for Kitchen Sink, format wise — it's huge, almost tabloid size.
"Willie Rensie" — Yes, that's Eisner backwards. This was produced for the foreign market, and for contractual reasons, Eisner couldn't use his real name.
Most of these pages have been translated from Portuguese or French and relettered for this edition. A handful of pages are missing, and are left blank, which is classy.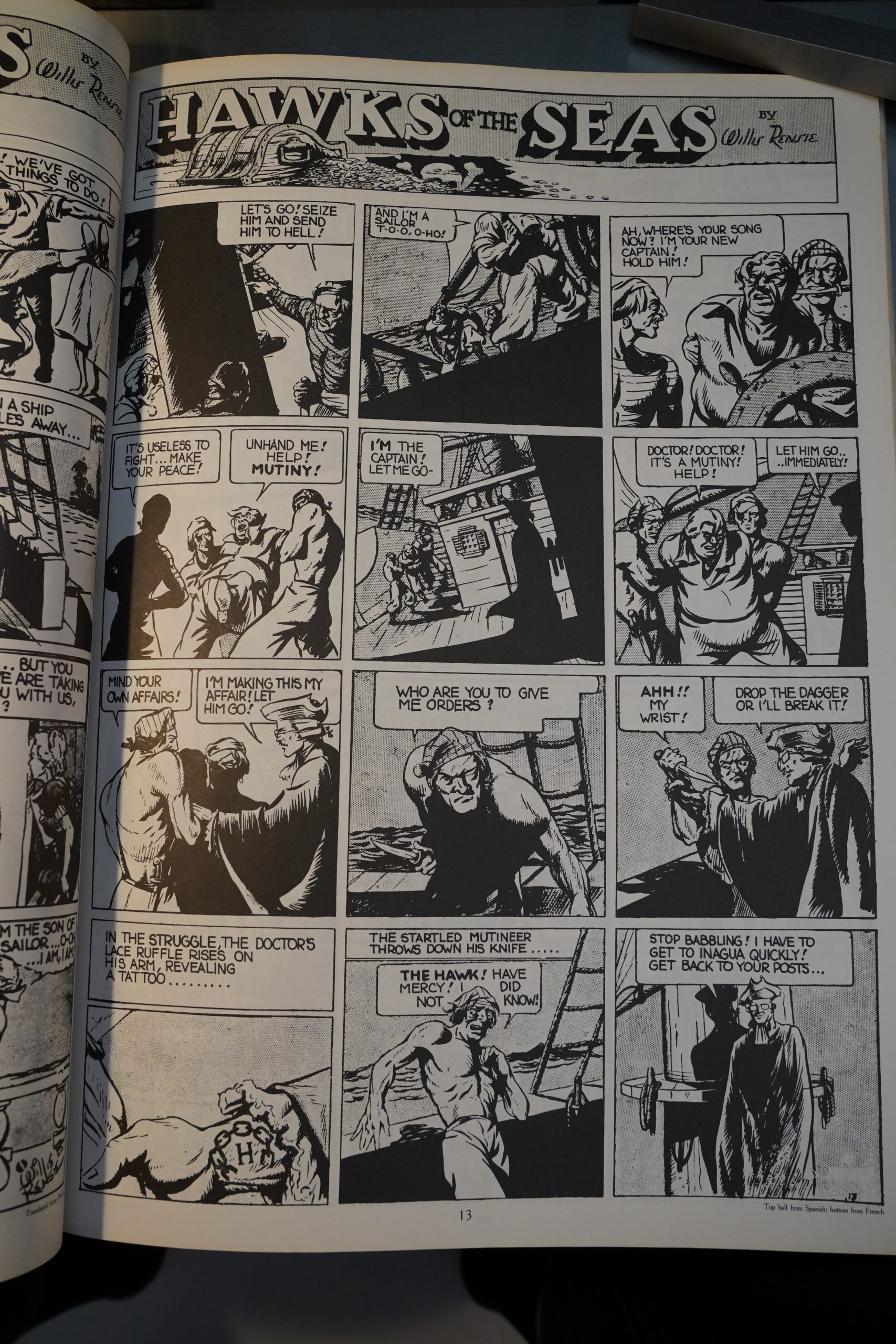 It's a surprisingly sprightly story of pirates and stuff. It's from the late 30s, and it's a whole lot less stiff than most adventure comics from that time.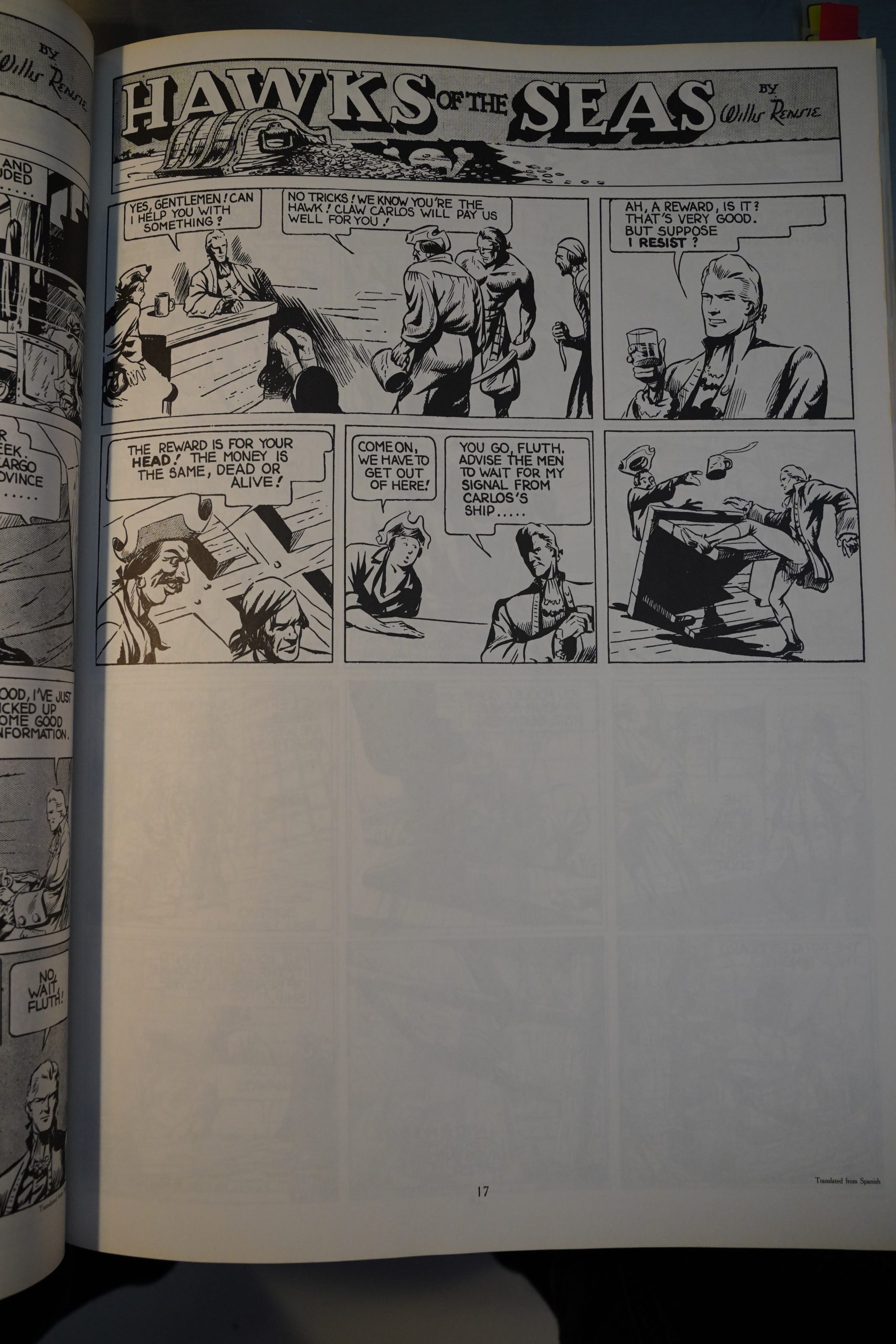 Huh. They couldn't find the bottom half of the page anywhere?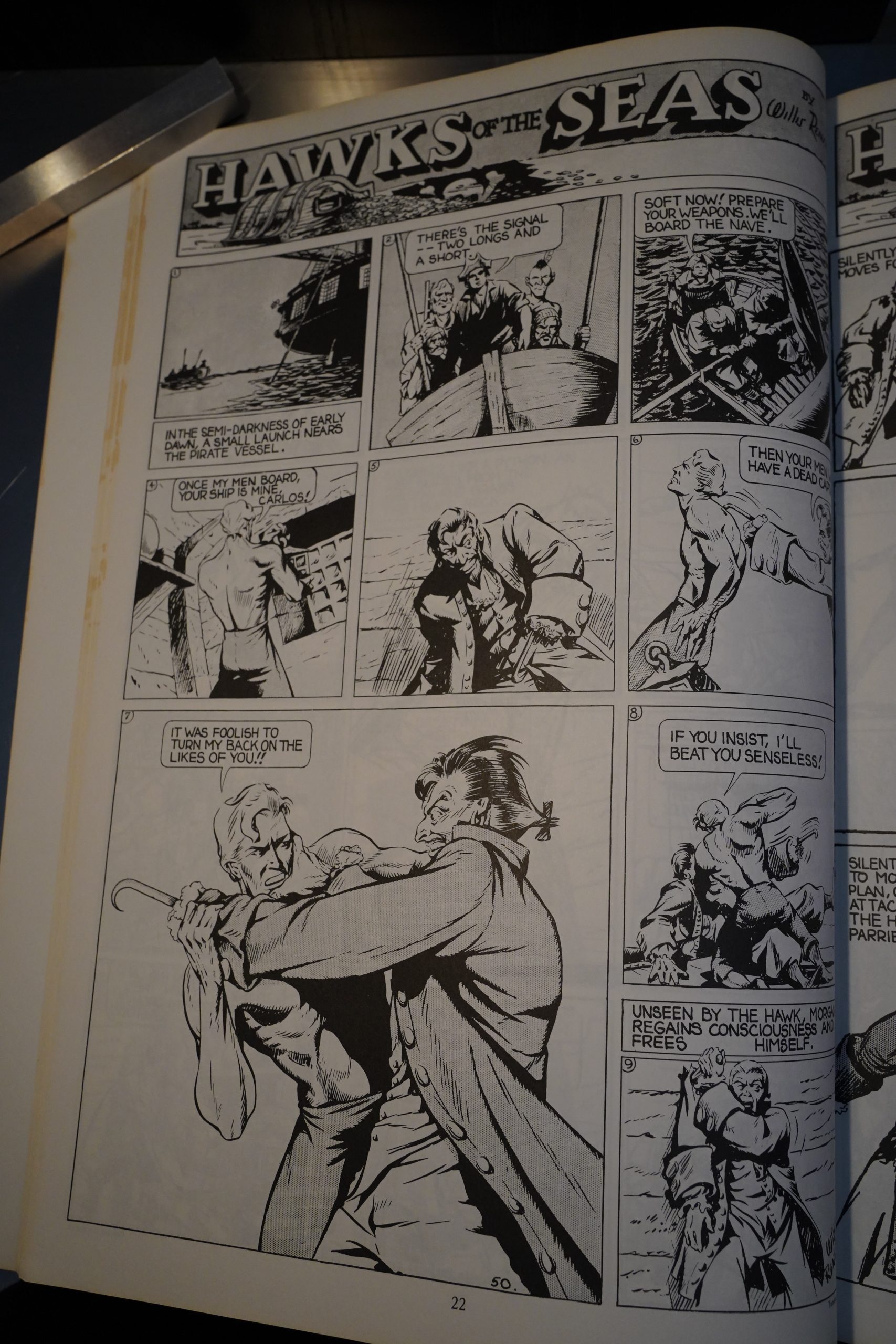 I guess if this had been made for American newspapers, it would perhaps have been a bit risque? There's a lot of action.

And The Hawk (our hero) is a staunch abolitionist — which wouldn't have played well in many parts of the US in 1937, I guess.
Eisner also has a Native American as a significant member of The Hawk's gang, and a freed Black slave fights alongside him in the last half of the series.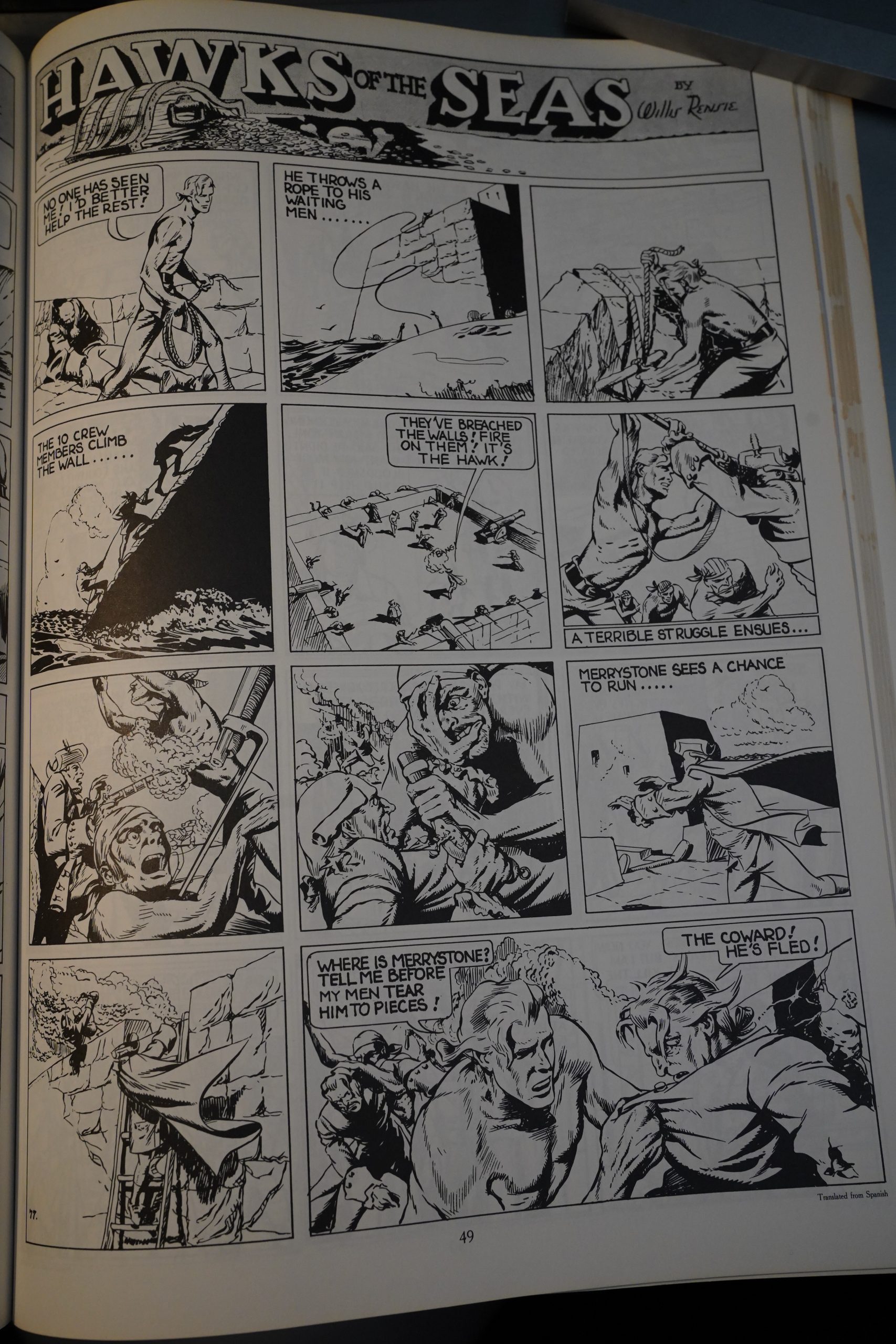 Eisner's artwork keeps improving, but he's not doing much with the panel layouts. He sticks to the twelve panel grid throughout the series, and only deviates ever-so-slightly, like on this page, from time to time.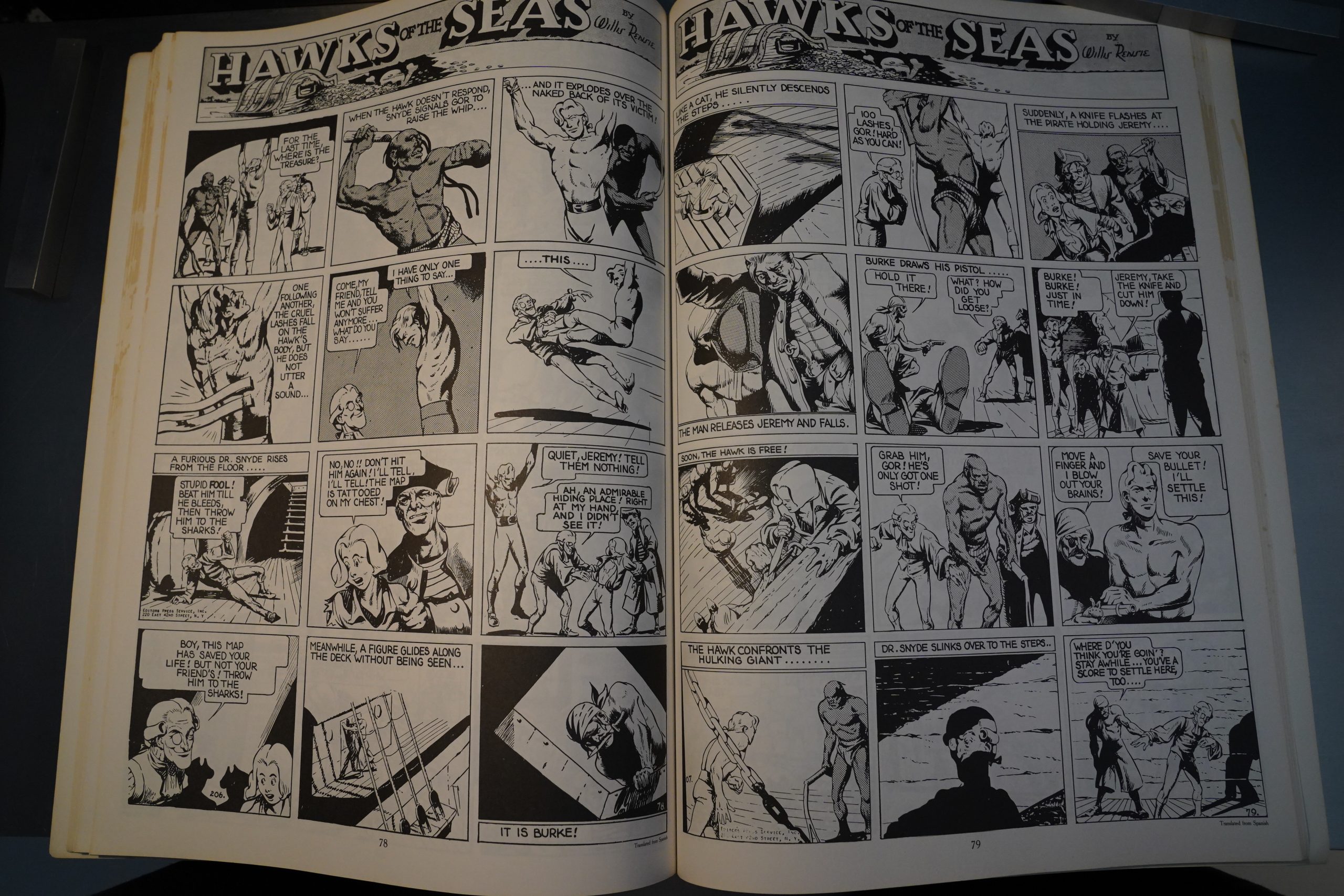 Did I mention there's action? It's a lot of action. But more surprising is that it's all one story — OK, it takes a few detours — that continues throughout these two years' worth of strips.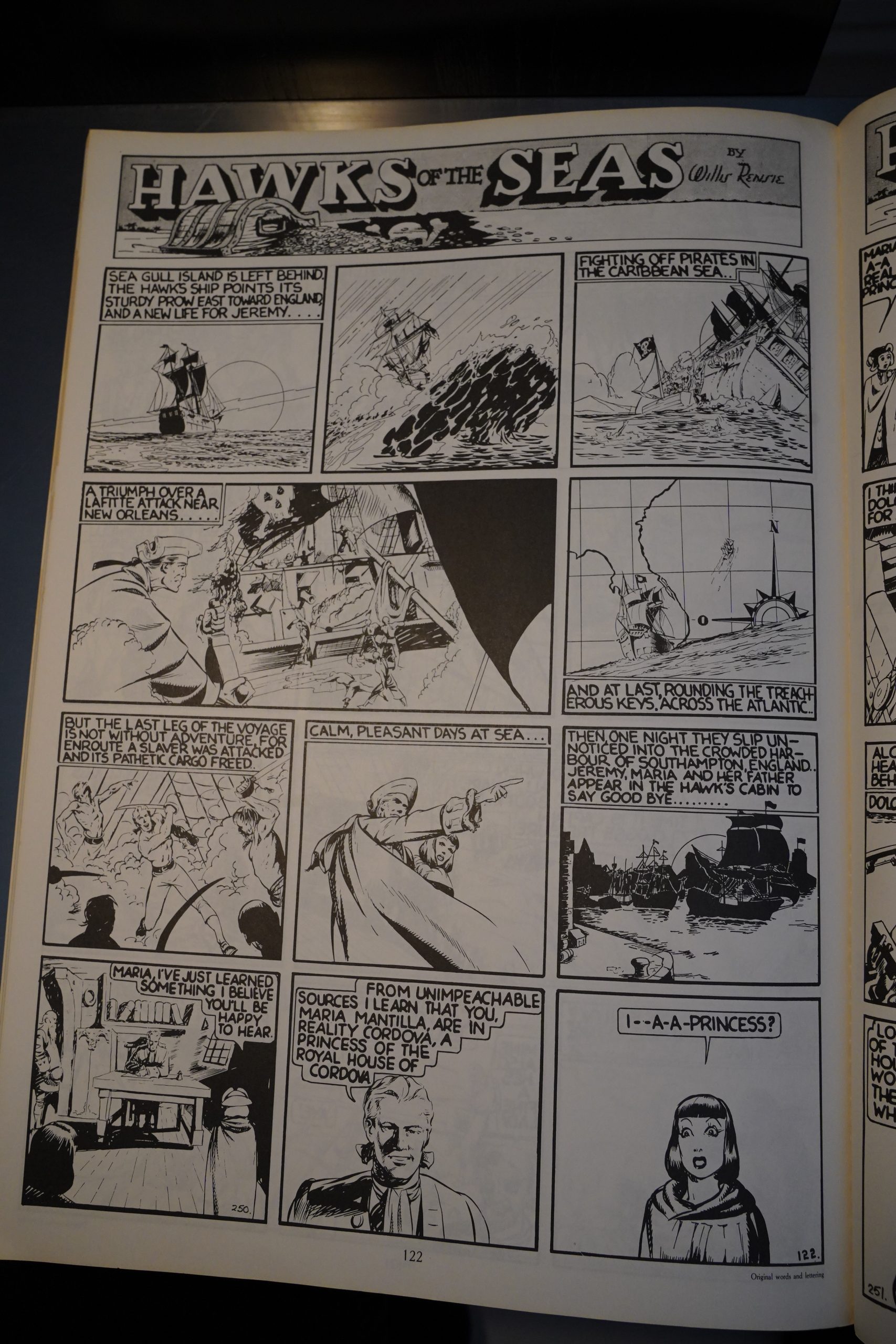 And there's even an ending! I had assumed that it would just … stop … but no; Eisner ties up all the plot threads.
The Comics Journal #117, page 54:
For its third significant release, Kitchen
Sink has combed healen and earth to pull
together an oversized (10h " x 14h col-
lection of some of Eisner's earliest work,
the Hawks of the Sea strips produced out
Of the Eisner-lger studio between 1936
and 1938. (Yes, they appear to be crank-
ing Out some Of these very strips in The
Dreamer.) These are swashbuckling,
seafaring tales featuring the exploits of an
18th Century pirate-hero dubbed "The
Hawk" by his enemies.

[…]

For fans and students of Eisner's work,
Hawks of the Seas is an important and
long-auaited volume. It clearly represents
the young writer-artist at an early but
pivotal juncture in his development. You
can trace the progression in Eisner's con-
fidence and skill as you read through the
various installments. If you study indi-
vidual panels, you can easily surmise what
problem of composition, motion, or
nuance of human expression Eisner was
concerned with and actually see how he
solved it. (In his introduction, A1 William-
son notes that some of his own earliest
efforts at art involved copying panels
from the Hawks strips.) As you leaf
through these strips, you take notice of
real leaps in sophistication from the crudi-
ty of the earliest strips to the development
Of a distinctive, Eisner finesse in line,
treatment Of anatomy, and composition
within the panel, It's a veritable hand-
book of basic pictorial storytelling
techniques.
The strips themselves put you in touch
with an earlier era in which the adventure-
strip concept of heroic action inspired by
the work of Rafael Sabatini and Robert
Louis Stevenson flourished in an Ameri-
can popular culture not yet affected by
the pervasive cynicism of later decades.
And. as Williamson notes, what gives the
Hawks series an added dimension is the
central character's moral opposition to the
African-New World slave trade. The sig-
nificance of the Hawk's adventurous
exploits is always underscored by the char-
acter's moral quest for eradication of a
System that perpetuates inequality and in-
justice among men. The egalitarian ideals
that provide the underpinninys for Hawks
Ofthe Sea have their basis in 18th Cen-
tury thought, of course, but it is note-
worthy that Eisner—a green kid of 20
sweating out a buck for himself during
the Depression years—would place the
exploits of his outlaw pirate hero in this
moral context.

[…]

Kitchen Sink's Hawks Of the Seas has
been assembled by editor Dave Schreiner
with painstaking care, Williamson has
provided a loving introduction, and
Eisner, proclaiming himself "unashamed-
ly pleased" that these strips are seeing
the light Of day again, has contributed
a brief, modest foreward. Across the
board, this Kitchen Sink volume is a first-
rate effort, a worthy contribution to the
body Of highly entertaining and historical-
ly significant comics literature that might
otherwise remain consigned to oblivion.
This is the eighty-first post in the Entire Kitchen Sink blog series.