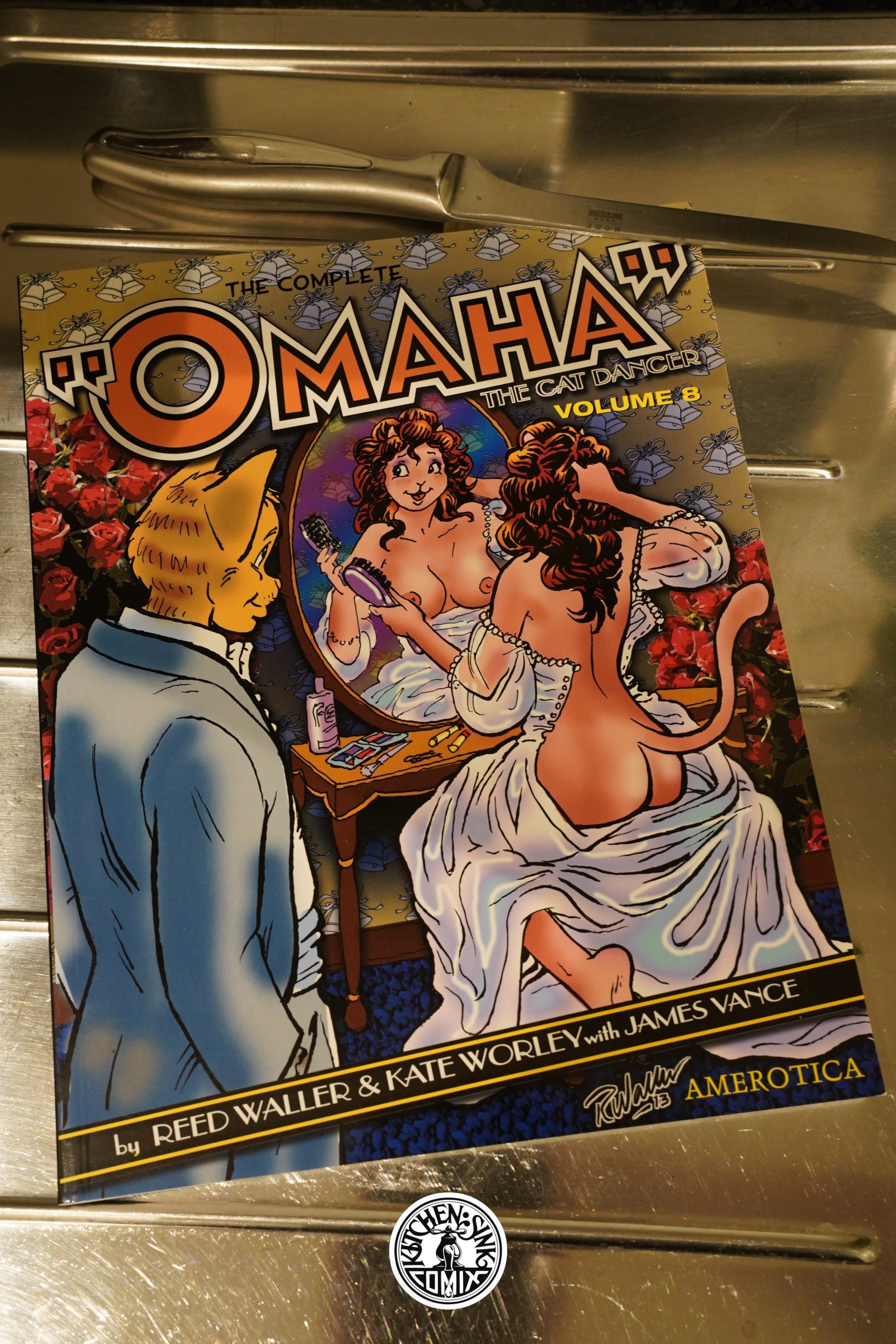 Omaha the Cat Dancer (1986) #1-21,
Images of Omaha (1992) #1-2 by Reed Waller and Kate Worley
I wrote about Omaha in the Fantagraphics blog series, so I'm not going to repeat myself here. But since I covered these mostly-Kitchen Sink comics in the Fantagraphics series, so why not talk about the NBM volume of The Complete Omaha in the Kitchen Sink blog series?
You know it makes sense, eh? Eh?
I ended my previous blog post about Omaha doubting whether I'd ever read this book, but I guess I changed my mind at some point, even though I have no recollection of doing so. I found this book while looking for Kitchen Sink books on my shelves, and my eyebrow went all *hmmmm*. Nothing about it seems familiar — I may even have bought it before I did that blog post, but then decided not to read it until after I've re-read the rest of the series, and by the time I did that, I'd forgotten I'd bought it.
I know! Fascinating stuff.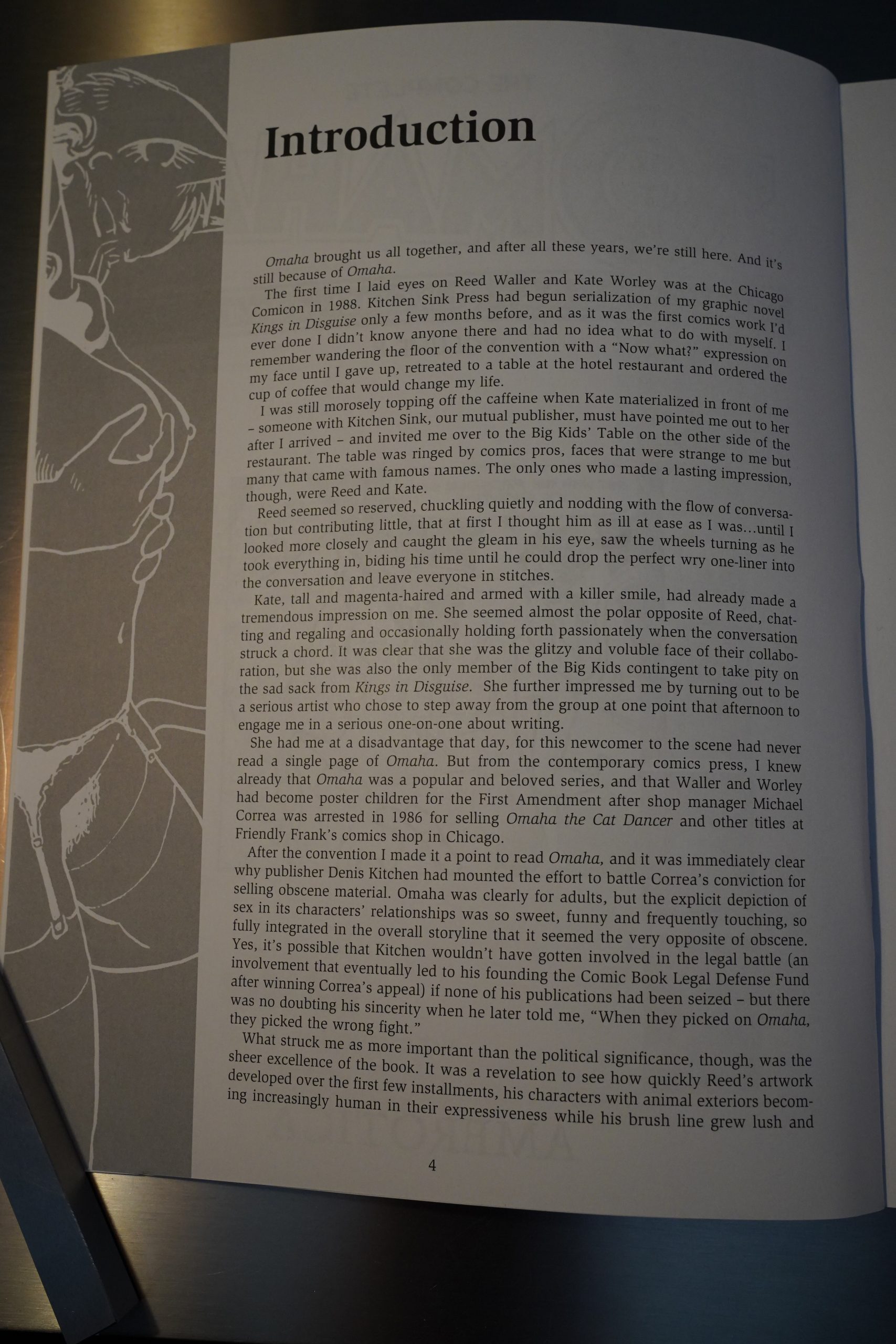 Anyway, Omaha the Cat Dancer stopped in 1995 because Reed and Worley had broken up, and Worley had married James Vance. A decade later Reed and Worley patched things up and started talking about finishing the series… and then Worley got cancer. Reading Vance's introduction here, it seems like Worley wrote a bunch of scenes, and a general overview of how the book was going to go, but then she died.
So Vance took over the scripting, and then Reed Waller drew the whopping 160 page book, and then NBM finally published it in 2012.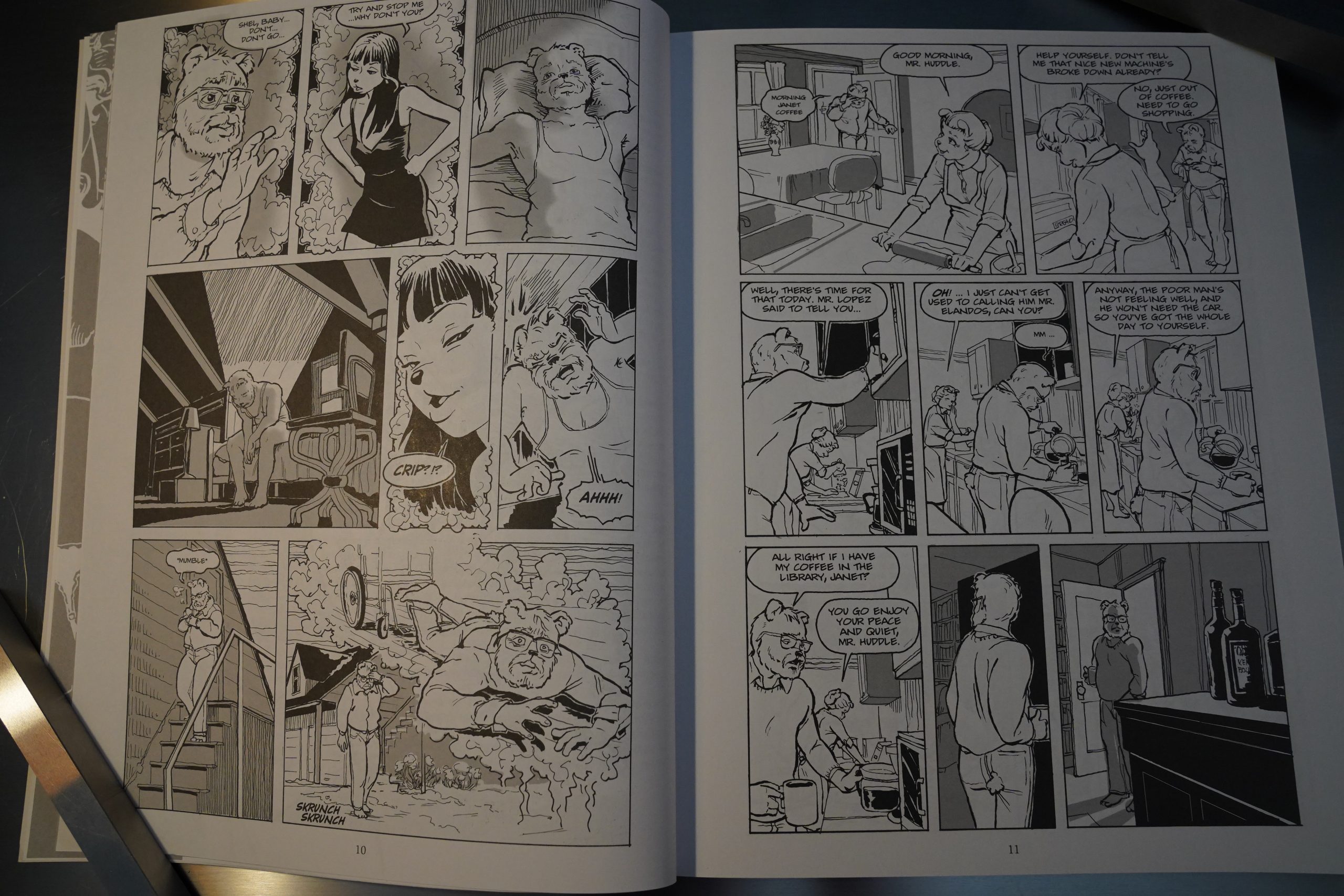 And I was really surprised that they went for it this way. Many other uncompleted comics have gotten a new final chapter to make it possible to publish a collected edition, but they usually feel pretty tacked on, and try to get to the end in as few pages as possible.
The Omaha series had glacial plotting, though, so anything less than 160 pages would have felt like a jarring transition.
This book opens, after a one-page recap (because that's pretty much all you need, even after all those years of… not that much happening), right into where we left off, with a minor character, of course. Not really pandering to new readers.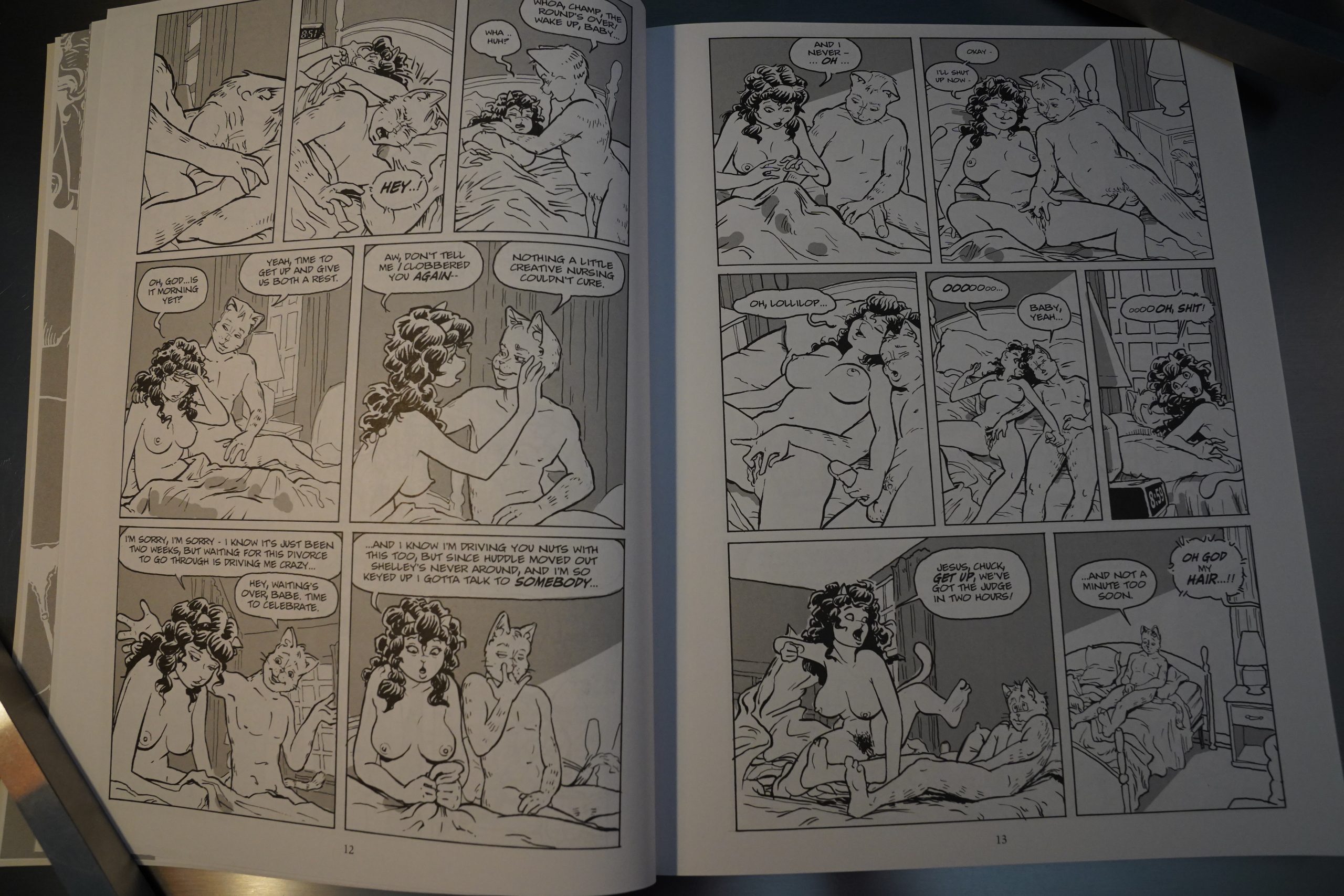 And then the next two pages are Omaha and whatisface having sex. It's just like the olden times! I'm impressed!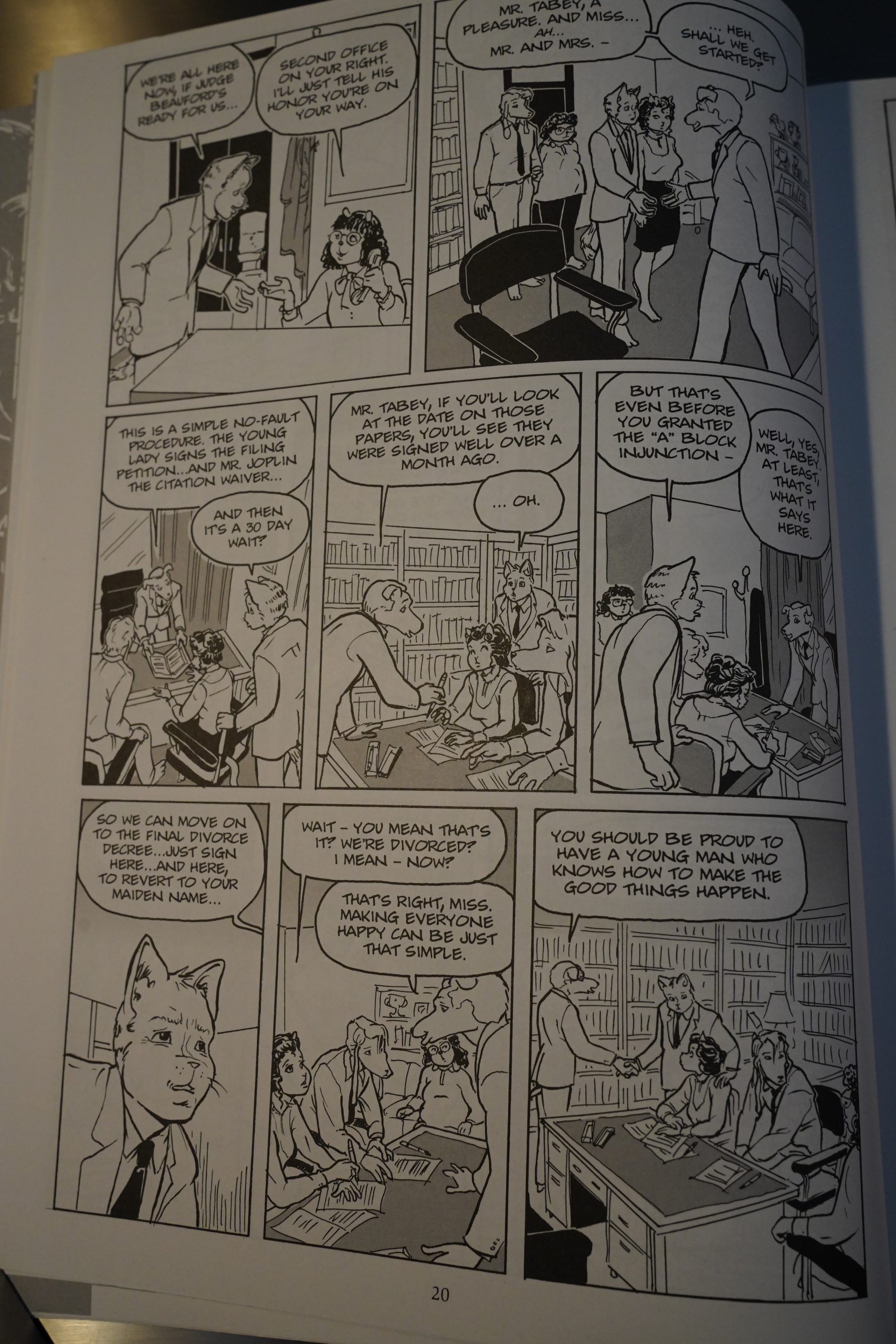 And Waller's artwork is as attractive as ever. Perhaps a bit simplified? But nothing really jarringly different.
They do pack in a lot of plot here without us even much noticing. Something like the above would have taken 35 issues to be resolved in the olden days.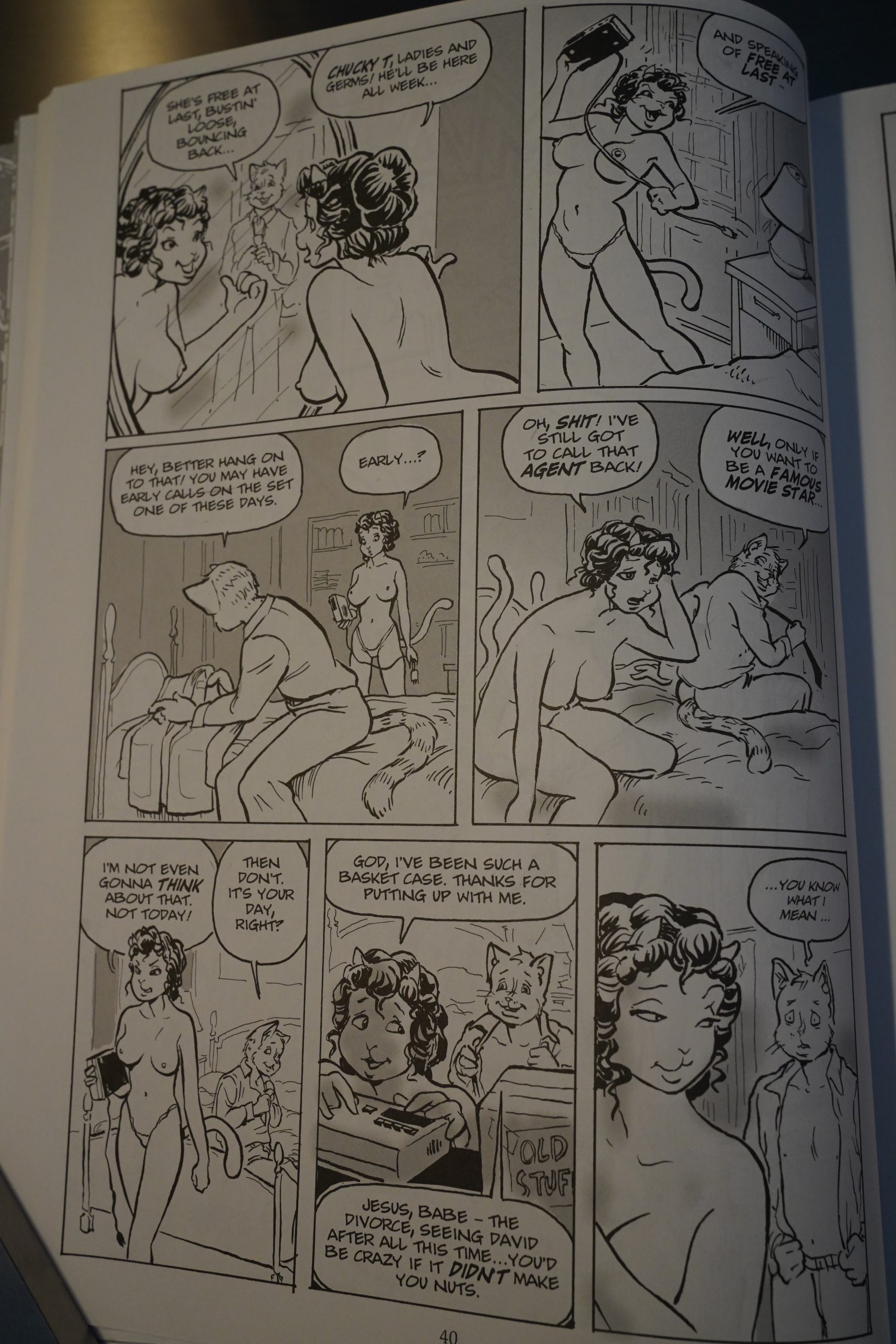 Time is strange in Omaha. The series started in the late 70s, and the entire plot unfolds within less than a year, I think? Perhaps just a couple of months, even. But they keep the era vague — but Omaha has an answering machine, so they're not trying to pretend that it's taking place in 2012.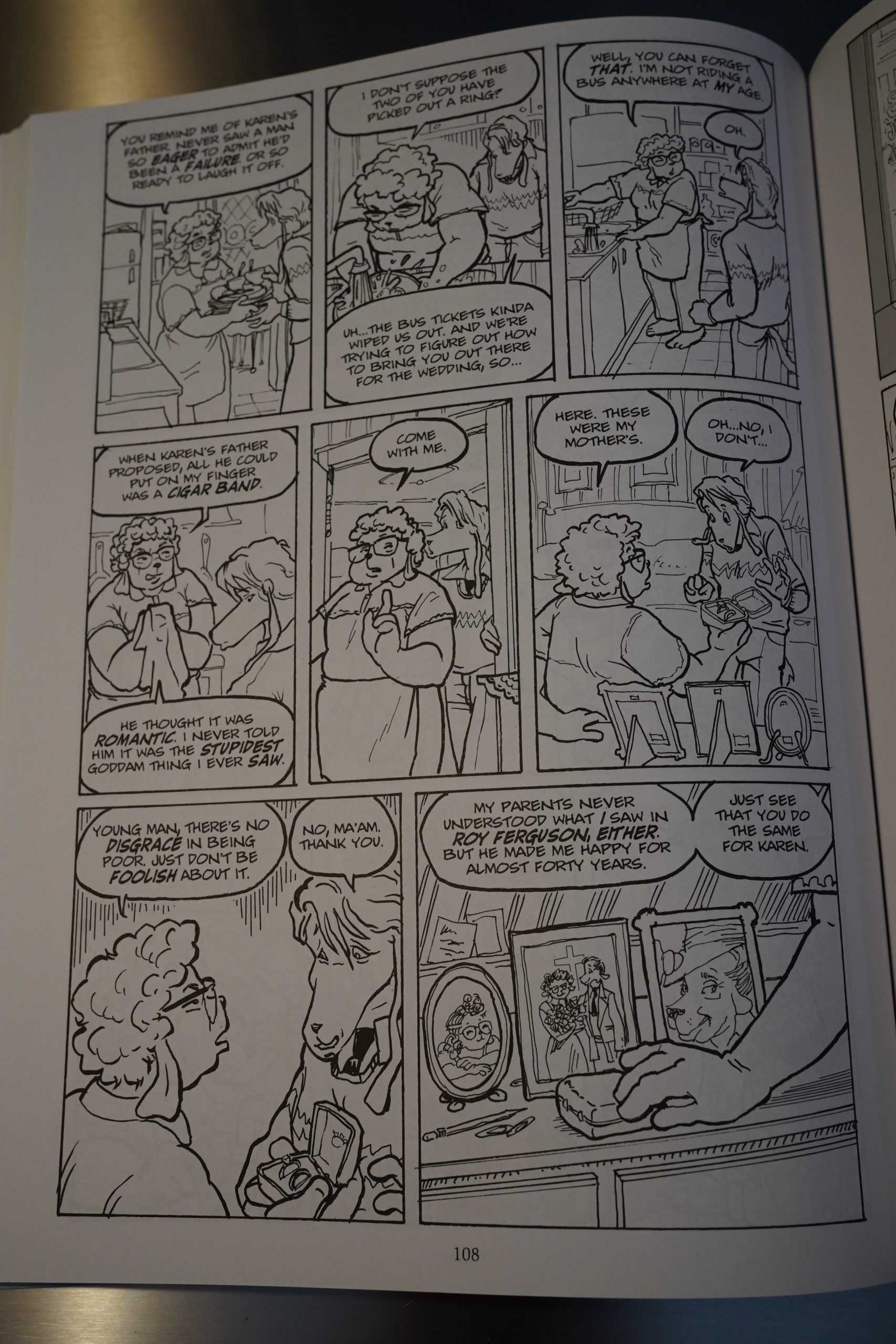 I was surprised at how much time they spent with characters that I barely could remember at all, like Omaha's ex husband.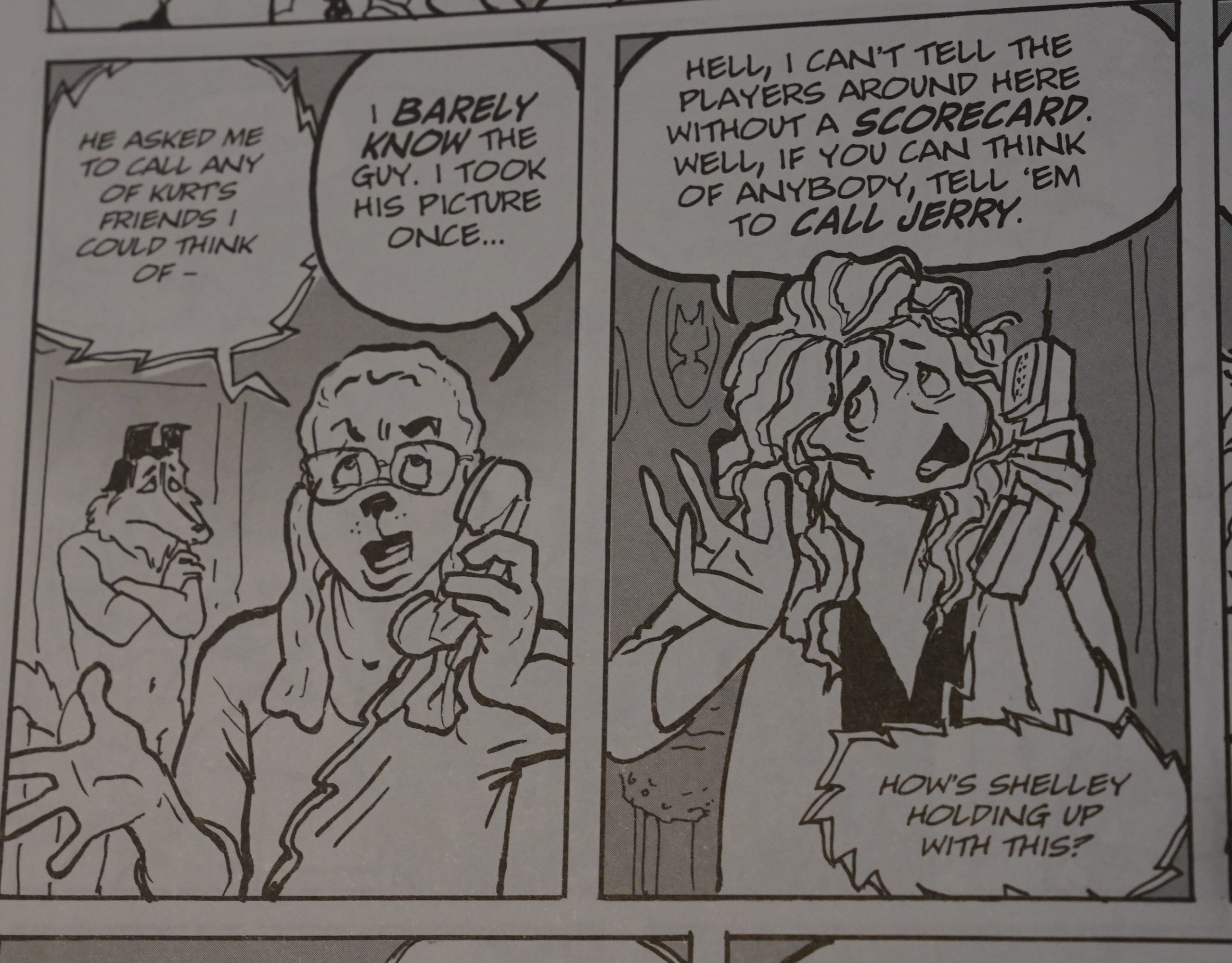 The storytelling is really crystal clear, though. No scorecard needed.
So — is it any good? I don't think people that were really into Omaha would be disappointed. I think it's fine, and it manages to do something pretty incredible: Give a satisfying ending to all the main plot threads, without making things overly tidy, either.
Good job.
But wait, there's more: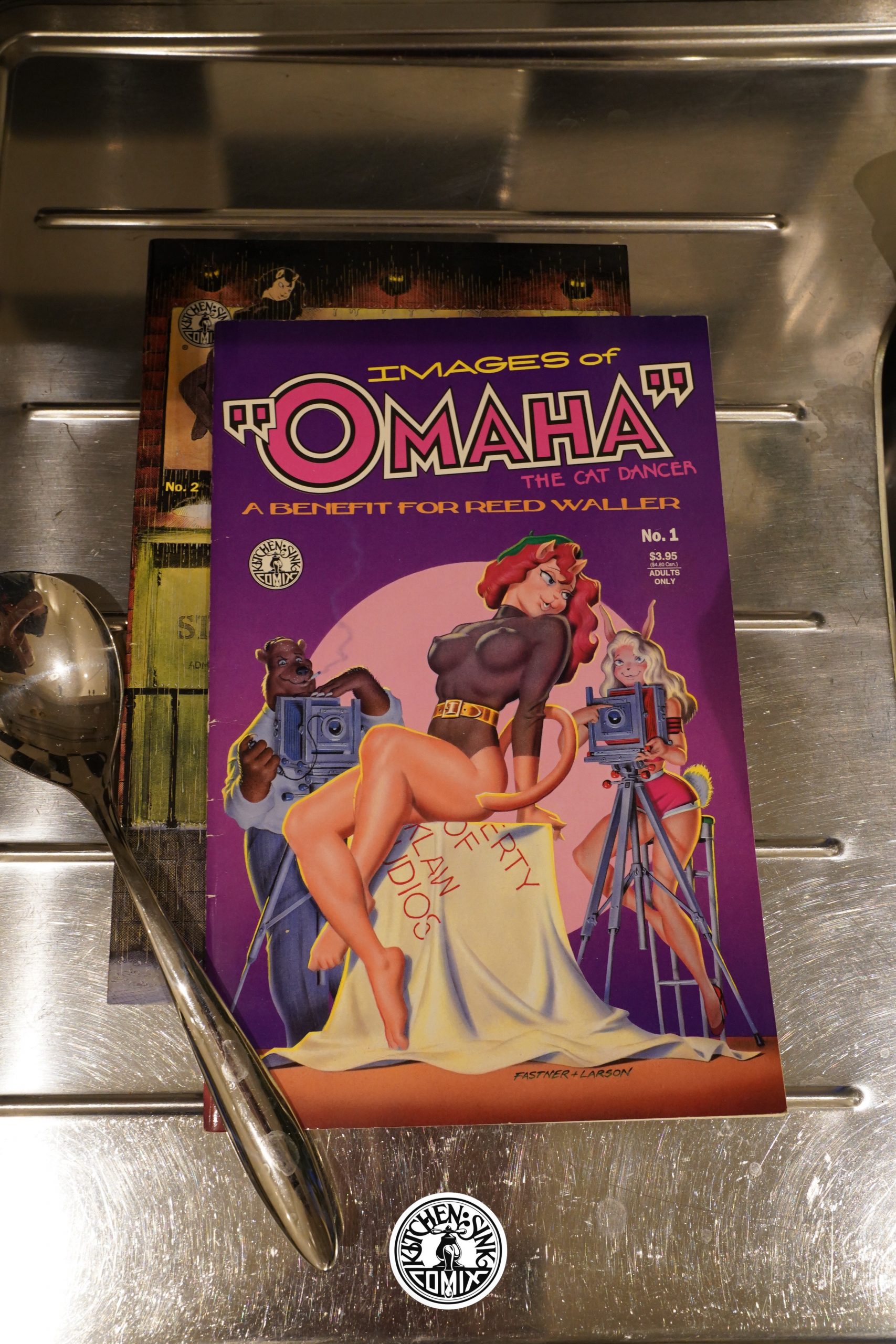 Reed Waller got cancer in the early 90s, and couldn't pay his hospital bills. So Kitchen Sink arranged this benefit series, to pay (some of) his medical costs.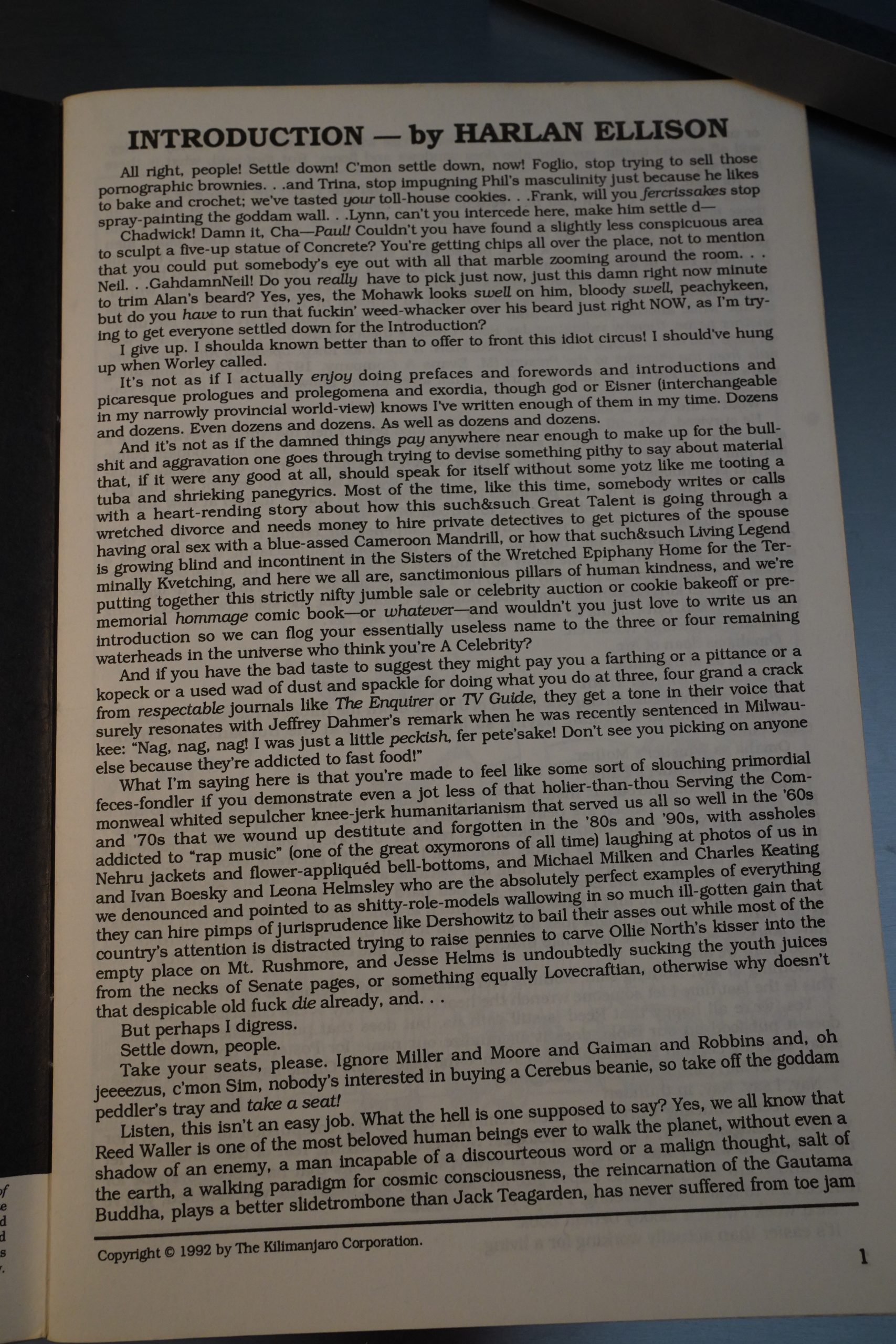 The first issue is excellent. You've got some pretty big names contributing, like Harlan Ellison.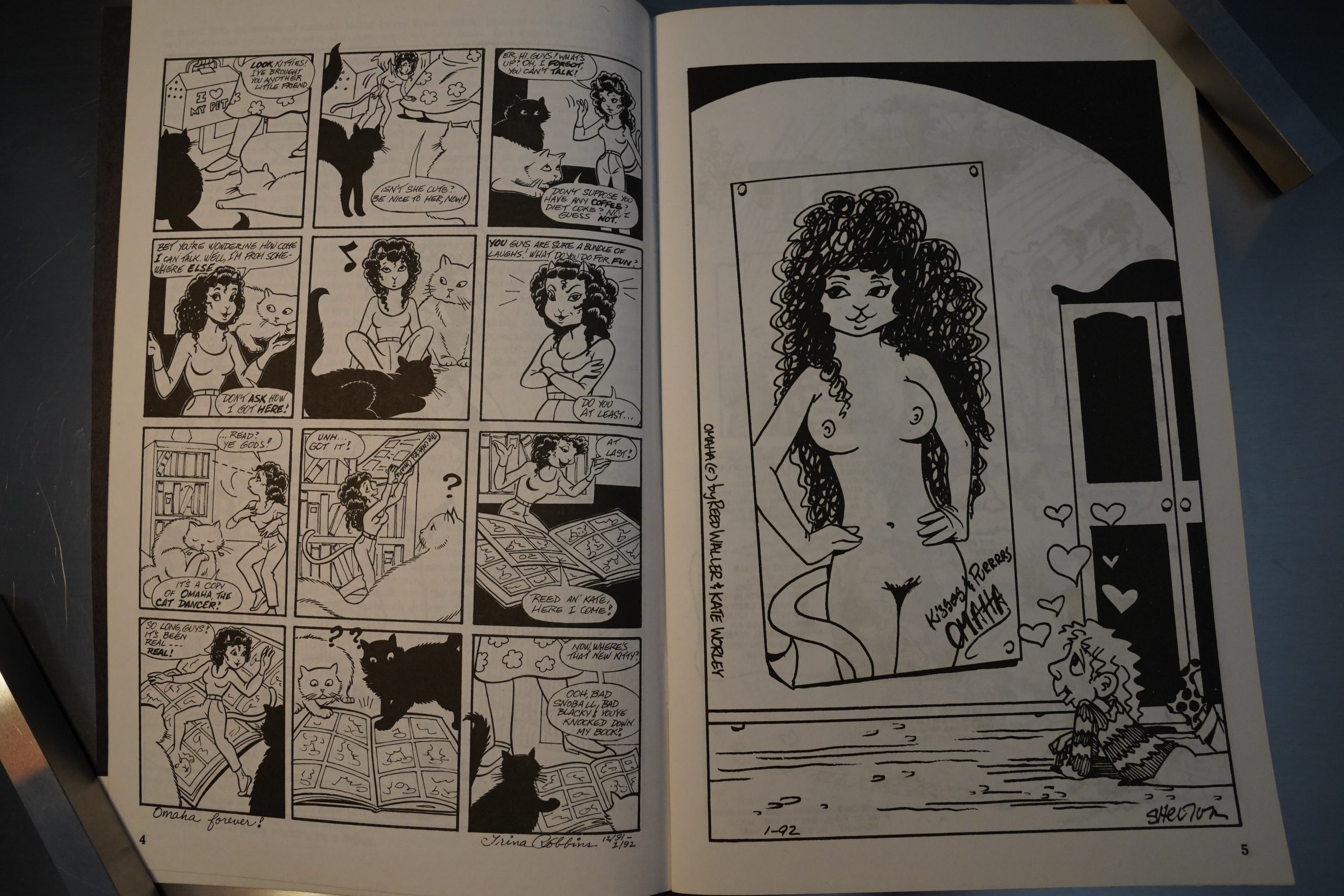 It's mostly one to three page pieces, and about half opt for doing pin-ups, while the rest do comics.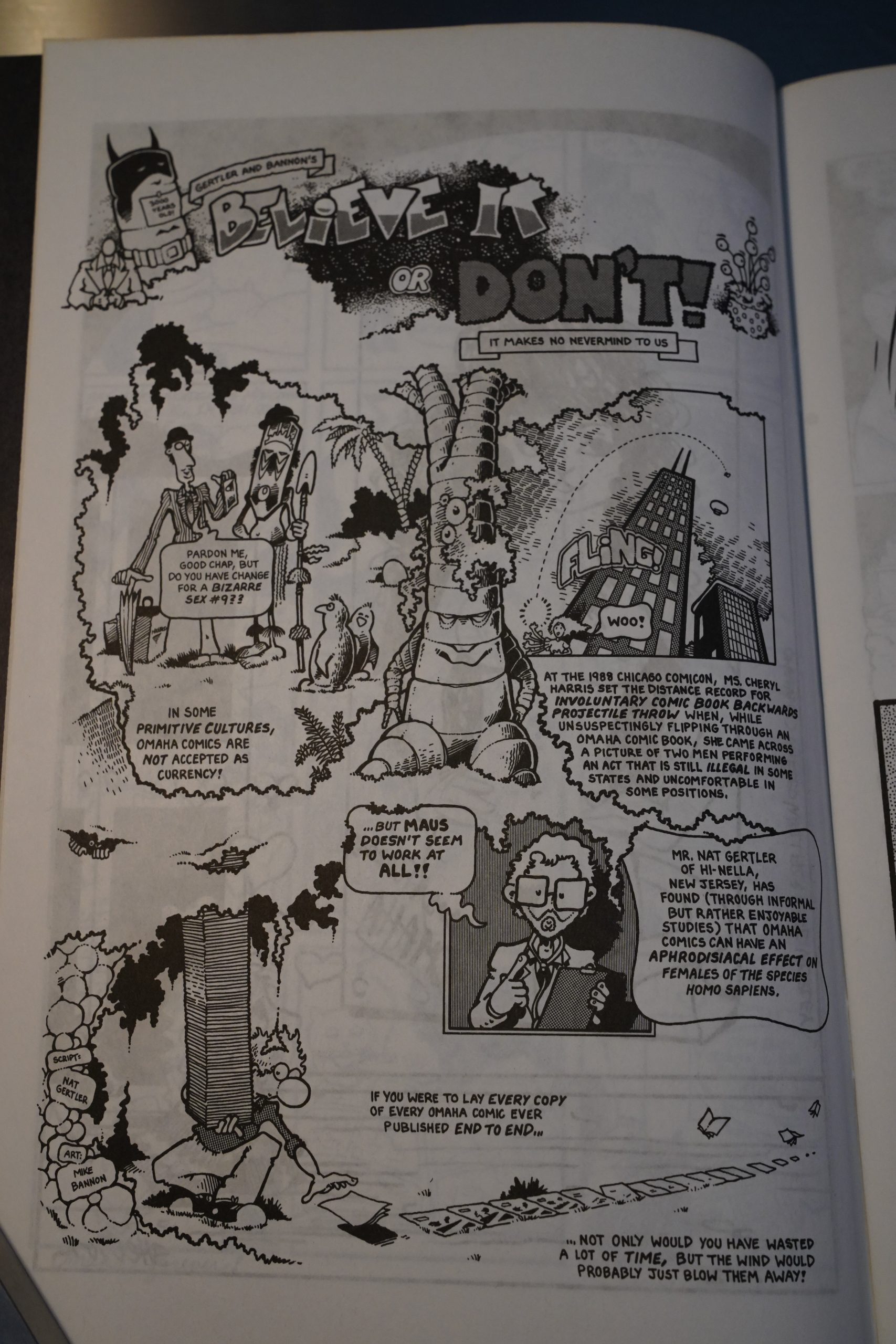 Some are pretty funny.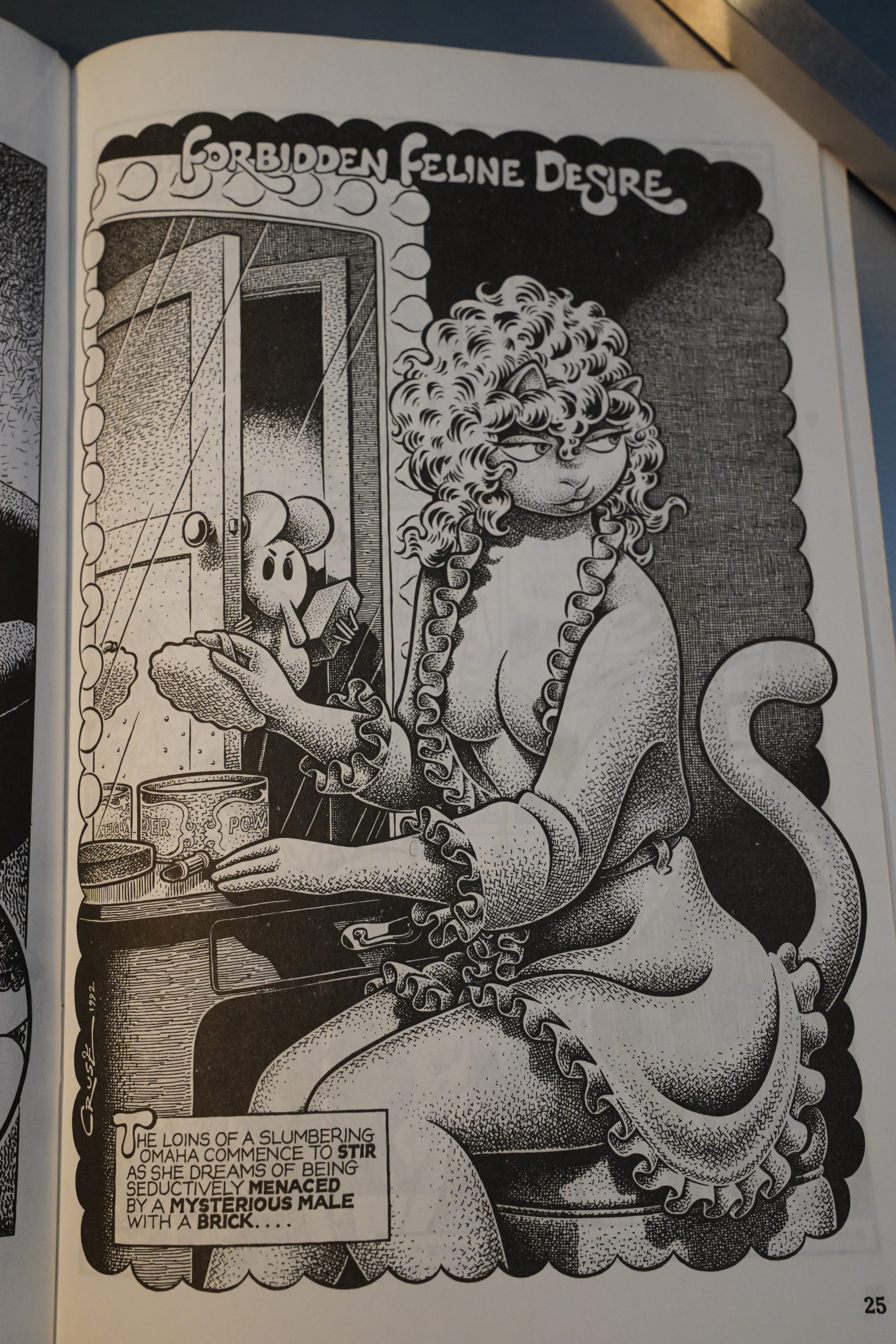 And people seem to be, in general, not just dashing off something they had lying around, but creating thoughtful, interesting things, like Howard Cruse here, riffing on Krazy Kat.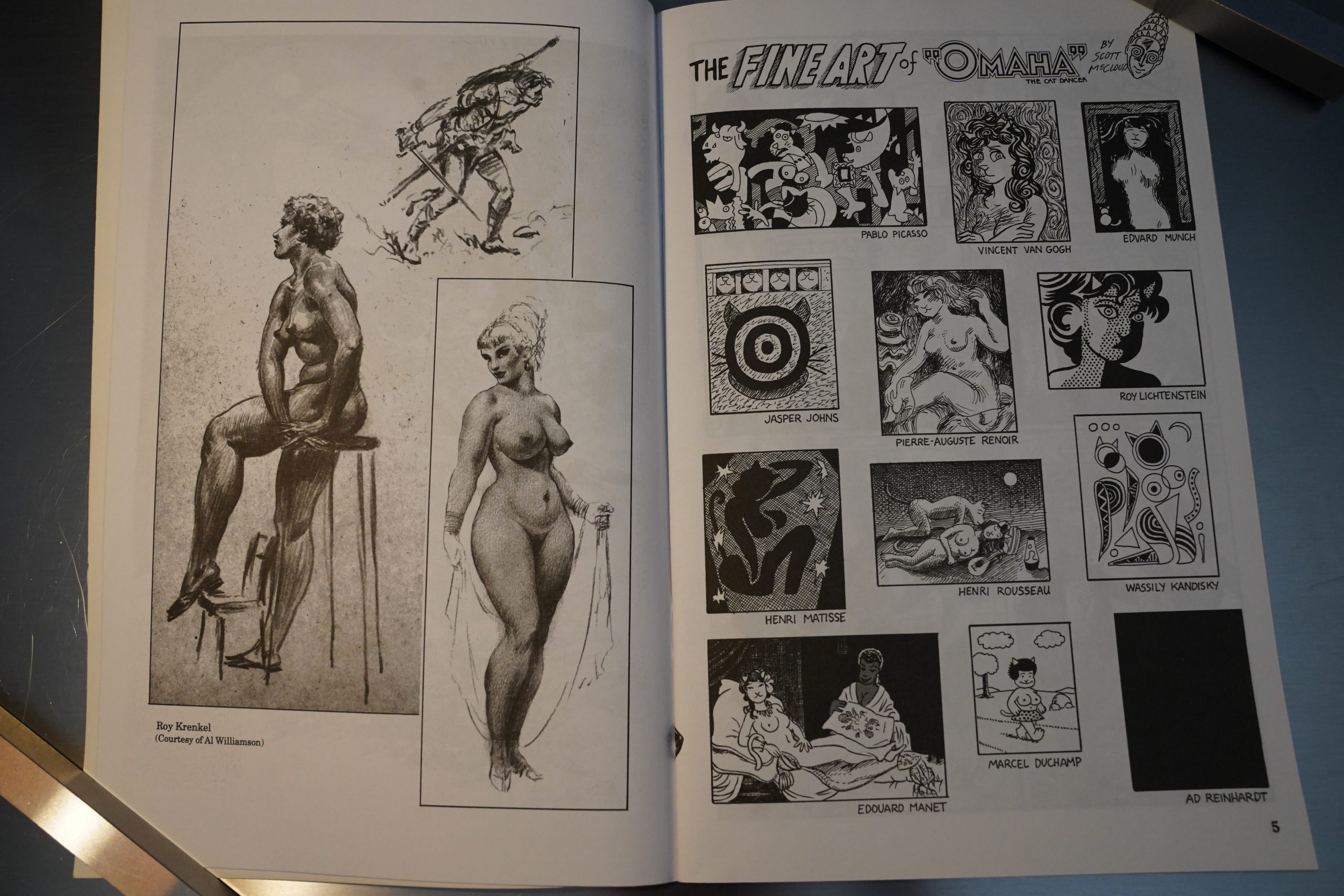 The second issue, though, is another kettle of… cats. Here you get many pieces that seem totally irrelevant (to the left) among the more fun ones (Scott McCloud to the right).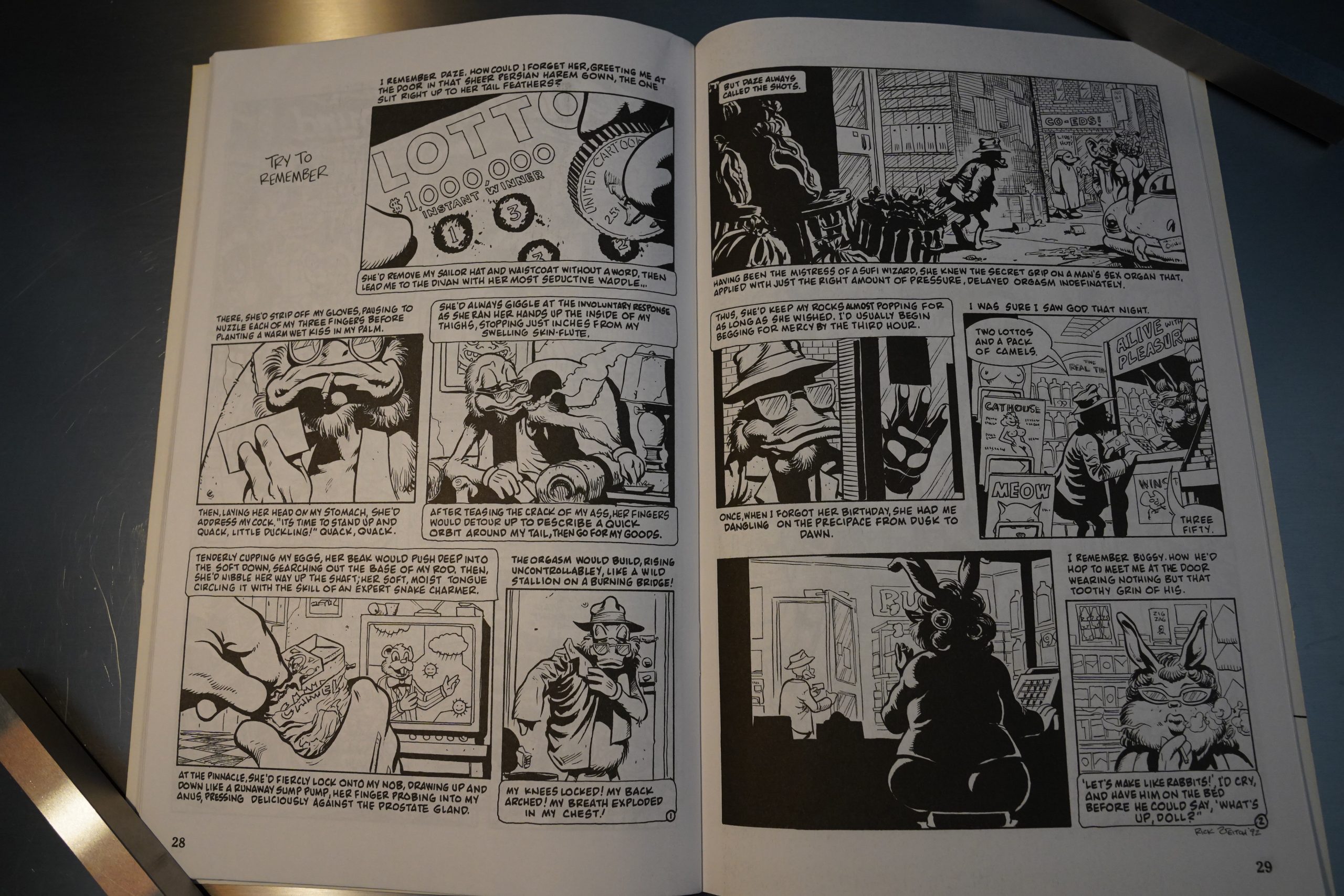 And what on Earth is Rick Veitch doing here?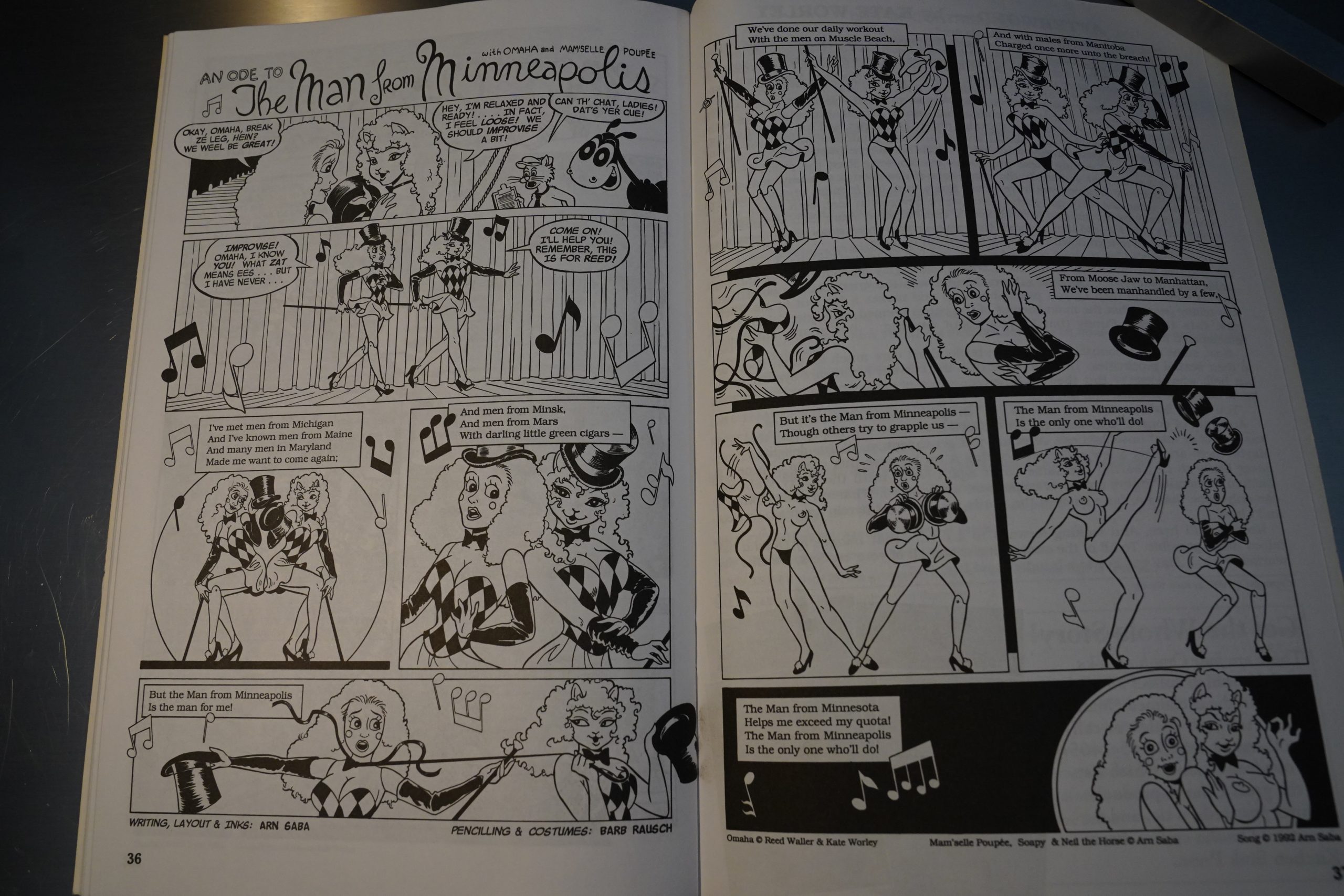 At least we have Arn Saba to bring some class to the proceedings.
The Comics Journal #147, page 19:
Reed Waller, creator and artist of Omaha the
Cat Dancer, is fighting for his life. Stricken with
colon cancer and unable to obtain medical in-
surance, Waller has enlisted the comics com-
munity to help out. Omaha's publisher, Kitchen
Sink Press, is rushing together a benefit in book
to support his living and related expenses while
he undergoes intensive medical treatments.
Also. a Waller Crisis Fund has been established
to help pay his massive medical bills.
The benefit book, Images of Omaha, has
been solicited for a March release at a $3.95
price. Kate Worley, Waller's life and work part-
ner. is organizing the project, which will include
art donated by at least 30 major creators. As the
title implies, many (though not all) of the il-
lustrations will feature the guest artists' rendi-
tions of the Omaha characters. Contributions
have been confirmed thus far from Dan Clowes,
Howard cruse, Will Eisner, Phil Foglio, Bill
Fugate, Terry LaBan, Larry Marder, Scott
McCloud, P. S. Mueller, Trina Robbins, Steve
Rude, Arn Saba, Stan Sakai, Mark Schultz,
Donald Simpson, Larry Welz, A1 Williamson
and Kitchen Sink publisher Denis Kitchen (in
his first original cartooning in several years).
"I am managing to get some medical assist-
ance," Waller, 42, told the Journal on Dec. 4.
He is scheduled to go into surgery in February.
"In the meantime, I'm completely disabled. My
productivity has been restricted. I'm already
in debt from being uninsurable. I've had
epilepsy and asthma for about 30 years; that's
already costly. I've had to pay out of my own
pocket for hospitalization and drugs from my
other disabilities; this (cancer) is sort of the last
straw.
"So far, the response has been awfully grati-
fying from so many people. There was a benefit
auction last weekend at Loscon (a science fic-
tion convention in Los Angeles), so we're pay-
ing the rent." Worley had been the couple's main
breadwinner in between infrequent Omaha is-
sues, thanks to her regular writing stint for
Disney Comics, but that ended when Disney cut
most of its line this fall.
Waller's plight underscores the larger issue
of freelance artists and other "contract workers"
in the U.S. health care system, often called one
of the most inefficient and inequitable medical
organizations in the industrialized world. Worley
has said that she hopes to set up a health crisis
fund for other artists with any funds left over
from the Waller fund drive.
This is the eighty-fifth post in the Entire Kitchen Sink blog series.