Blood Club (1992) by Charles Burns
This was apparently originally serialised in alternative weeklies in the 80s?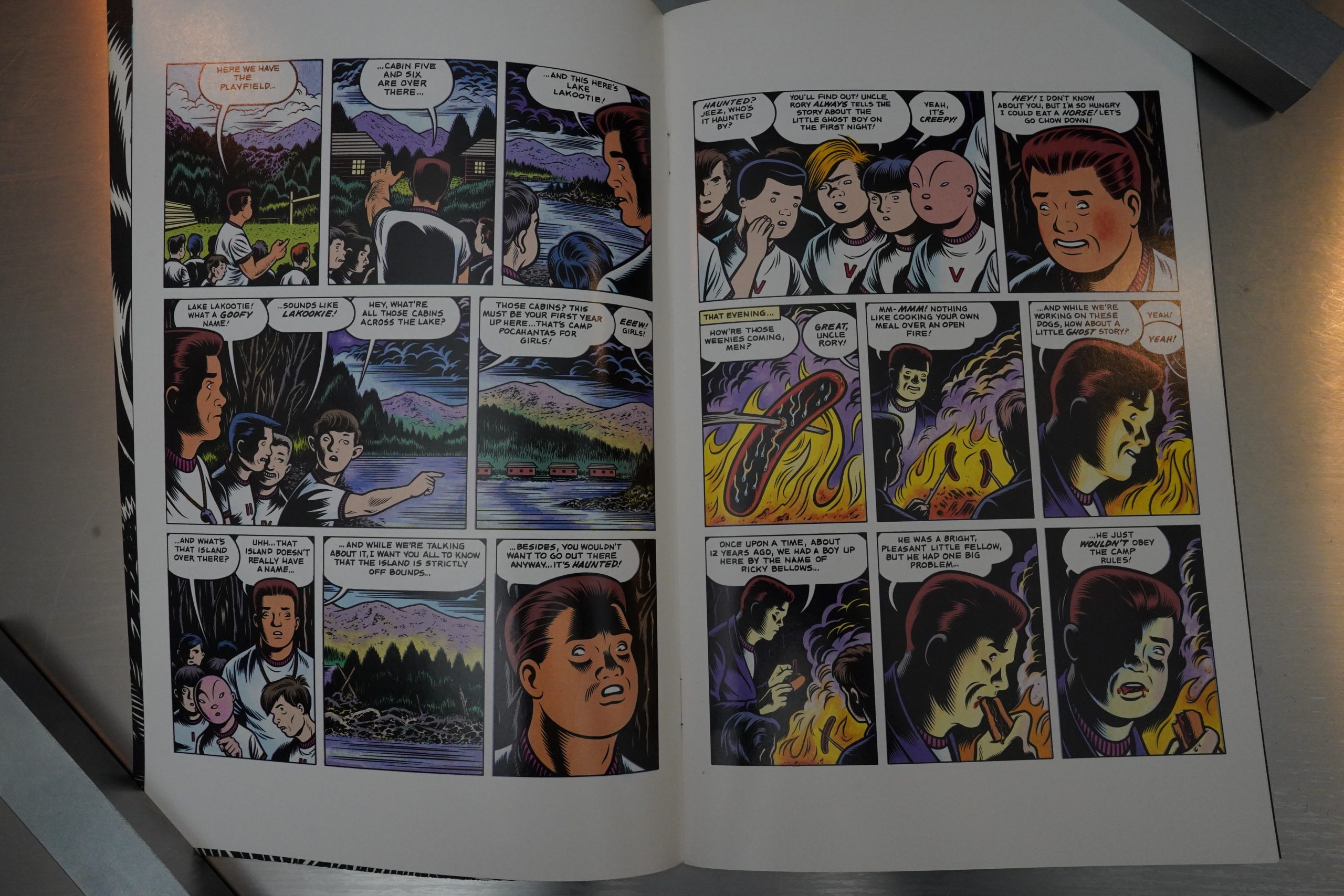 But here it's in colour, and printed on super shiny paper, so everything looks inhumanely sharp.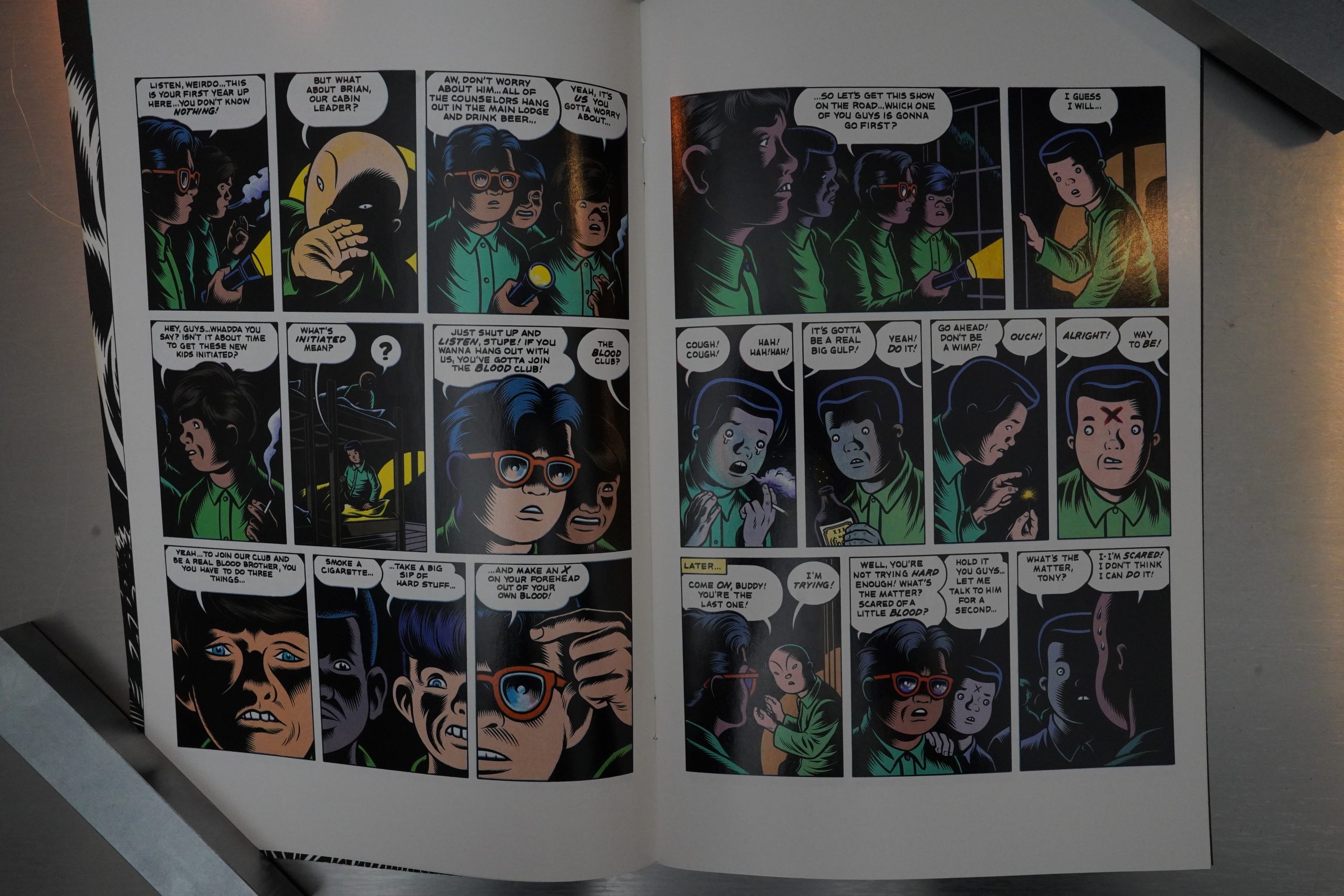 It's a simpler story than the previous Big Baby story (which was originally printed by Raw as a one-shot), and it's a lot more straightforward.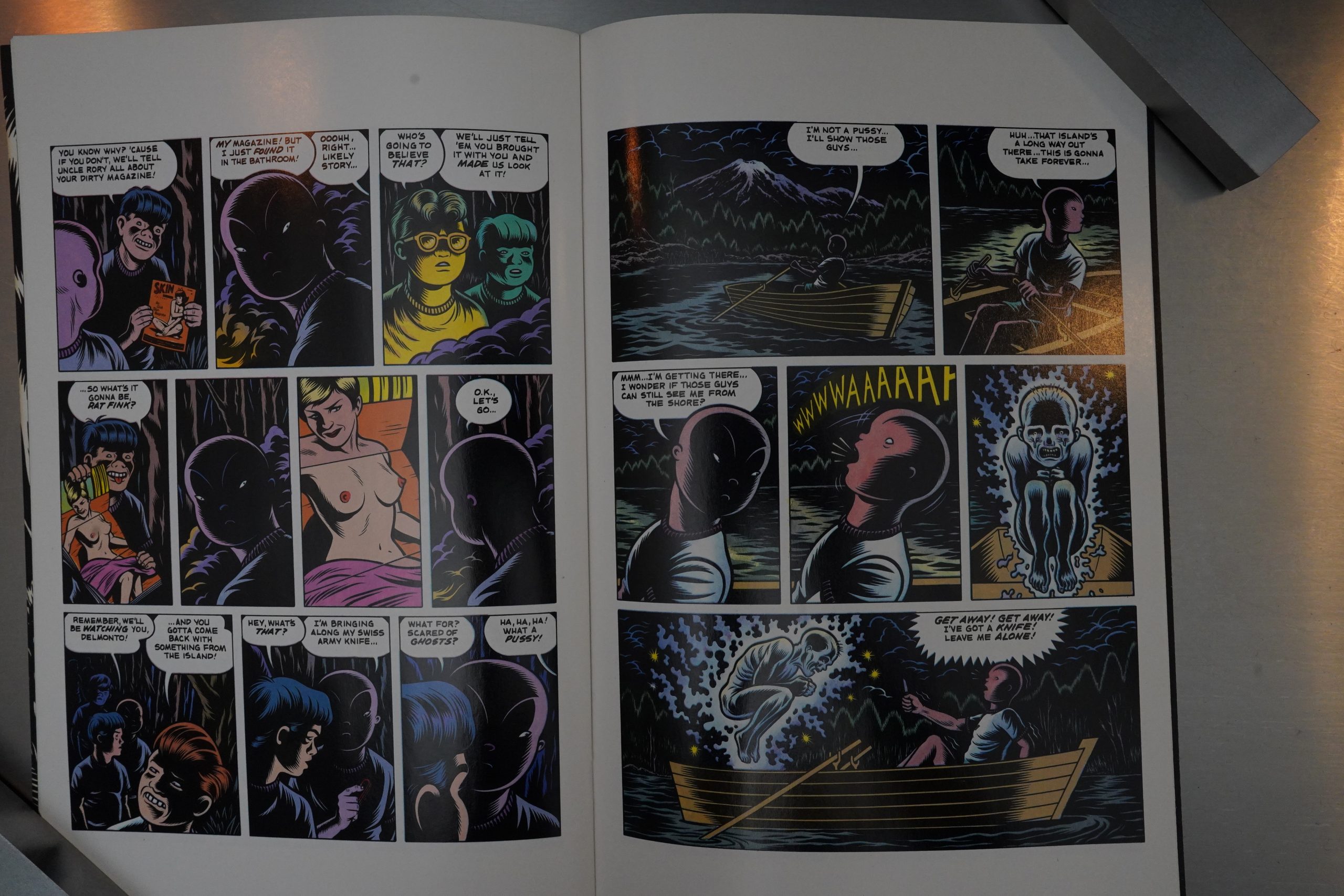 Big Baby goes to summer camp and encounters a ghost and that's pretty much it, as far as the plot goes. But Burns manages to make every page so creepy that it's a thrill to read — even if it's a slight let-down after finishing the book.
Fantastic stuff.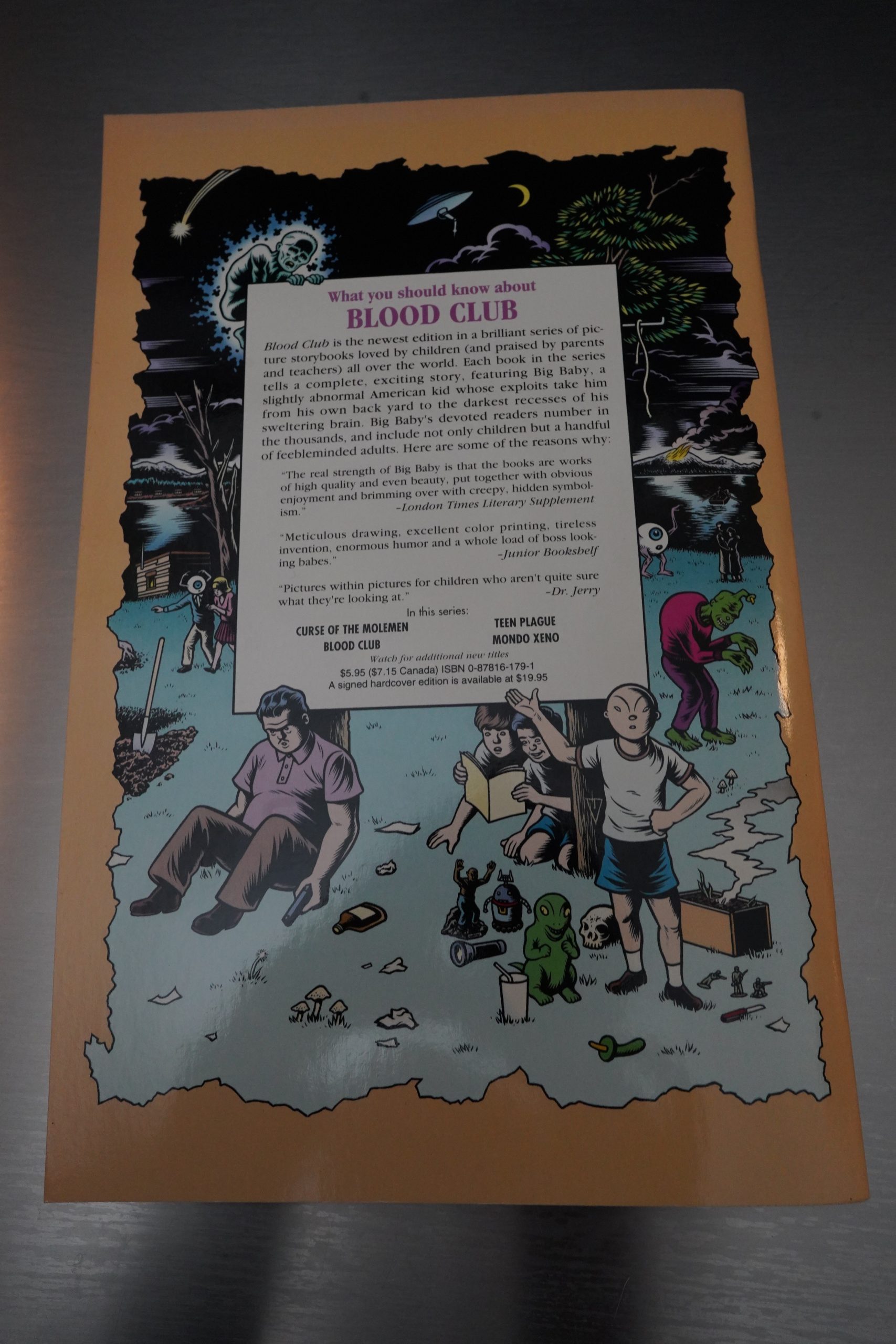 Wow, that's a perfect Tintin homage… Hm… they list four books there. Curse of the Molemen we've covered earlier, but I don't think Kitchen Sink ever got around to reprinting Teen Plague? And… Mondo Xeno? I've never heard of that.
Let googling commence:
I've always suspected they were to be forthcoming entries in the series, but never happened before KS went under! My guess is Teen Plague would have been a reprint of the tale from Raw V2N1, only in color, and I'm unclear about Mondo Xeno, which could have been all new or even a comp of previously uncollected stories, but again, with color!

EDIT: I also now recall that Big Baby was a syndicated strip that appeared in various free weekly's around the country. The other two books may have been uncollected tales, as I seem to recall that may have actually been how I first saw Teen Plague!
Seems likely. Perhaps Mondo Xeno was a working title for that story about those alien worshippers?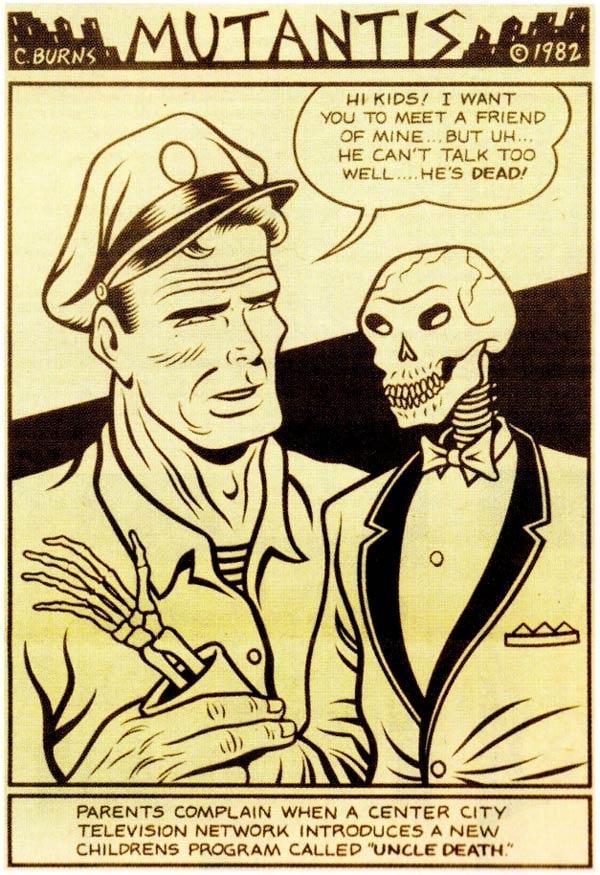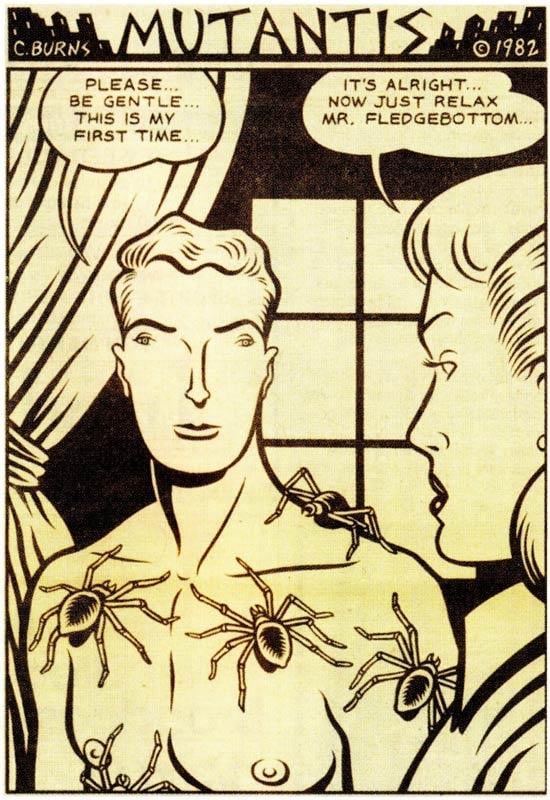 Wow, there are some awesome early Burns things on that I can't recall seeing before?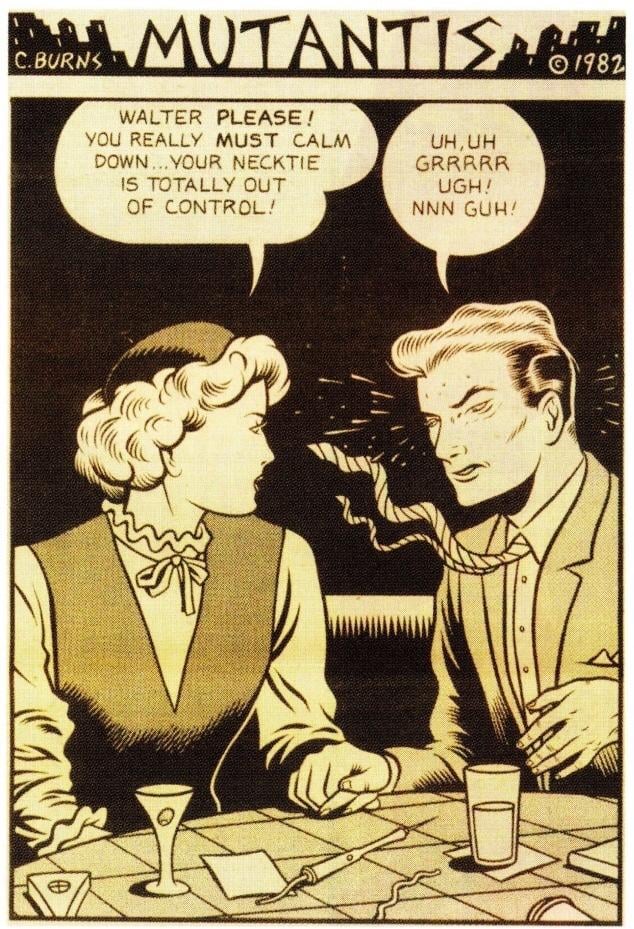 Heh heh.
But back to Blood Club. It was nominated for two Harveys.
The Comics Journal #158, page 90:
This full-color comic by Charles Burns is the • •newest
edition in a brilliant series of picture storybmks loved
by children (and praised by parents) all over the
ghost story which hones in on the tat» yet traditional
features of the all-American summer camp experience
and features Bums famous character, Big Baby. Burns
fans will note that a version of this story has appeared
in serialized format in various alternative neuspapers.
This particular tale is rife with pre-pubescent squir-
miness and revolves around Big Baby's edgy romance
with the forbidden and the unknown. The eerie nar-
rative becomes more •extreme when coupled with
Burns' drawing, which has a razor-like quality infus-
ed with a retro '50s look. The overall effect is both
macabre and stylish.
It's a good story and an equally good scare. You
never heard this one around the campfire, and prob-
ably never will.
This is the one hundred and thirty-sixth post in the Entire Kitchen Sink blog series.